Discover more from Jefferson Graham's PhotowalksTV newsletter
Jefferson Graham's photo meets tech updates, Photowalk travel photography and videos and an occasional guitar tune.
Over 2,000 subscribers
A second look @San Pedro
It's not like exotic travel was in the cards this week
As we're hunkering down at home, I'm dreaming of lying by the pool for several days in Palm Springs, hoisting a chair in the river that runs through Big Sur at the River Inn or just jumping in the car and driving across country.
But those dreams stop pretty quickly when you realize there is no escape. COVID is everywhere. And the motels are closed too.
Well, there's always San Pedro!
I mean no disrespect. Pedro is one of the hidden gems of Los Angeles. If you haven't paid a visit, consider stopping down once the COVID thing blows over. There's so much there.
Or stop by today if you're willing to keep your distance.
Point Fermin park is still open. It's a great place for a short walk. And a Photowalk, of course, in post COVID times.
In February I spent two days exploring the Los Angeles port city, again, with my newfound friend Ginni McNeeley, who lives in San Pedro and documents it daily for her @ginnigabu and @losangelesgrammers Instagram feed. (You gotta catch her morning "Ginnicams.")
We were in Pedro before "social distancing" became a thing, and published our first video from the visit on March 1, our exploration of the forbidden "Sunken City" of San Pedro.
This week, I finally edited part 2, the second video from our Photowalk, starting in Point Fermin Park and moving onto Cabrillo Beach and White Point Beach. (You'll recall that I also did a deep dive on San Pedro in 2019, visiting the historic waterfront, downtown, Los Angeles port and more of this gritty, urban, yet also incredibly beautiful coastal town. It's really a one-of-a-kind L.A. find.)
San Pedro sits at the tail end of the Harbor Freeway, with Palos Verdes Peninsula and Long Beach as her immediate neighbors.
Point Fermin has one of the great walking paths in Los Angeles, with a wonderful view of a dramatic coastline and a certain magical island that just happens to be 22 miles across from the park. There's also the historic Point Fermin Lighthouse, one of two in San Pedro. It's closed now, due to COVID, but we did get to explore it in the Photowalk video above. Check it out!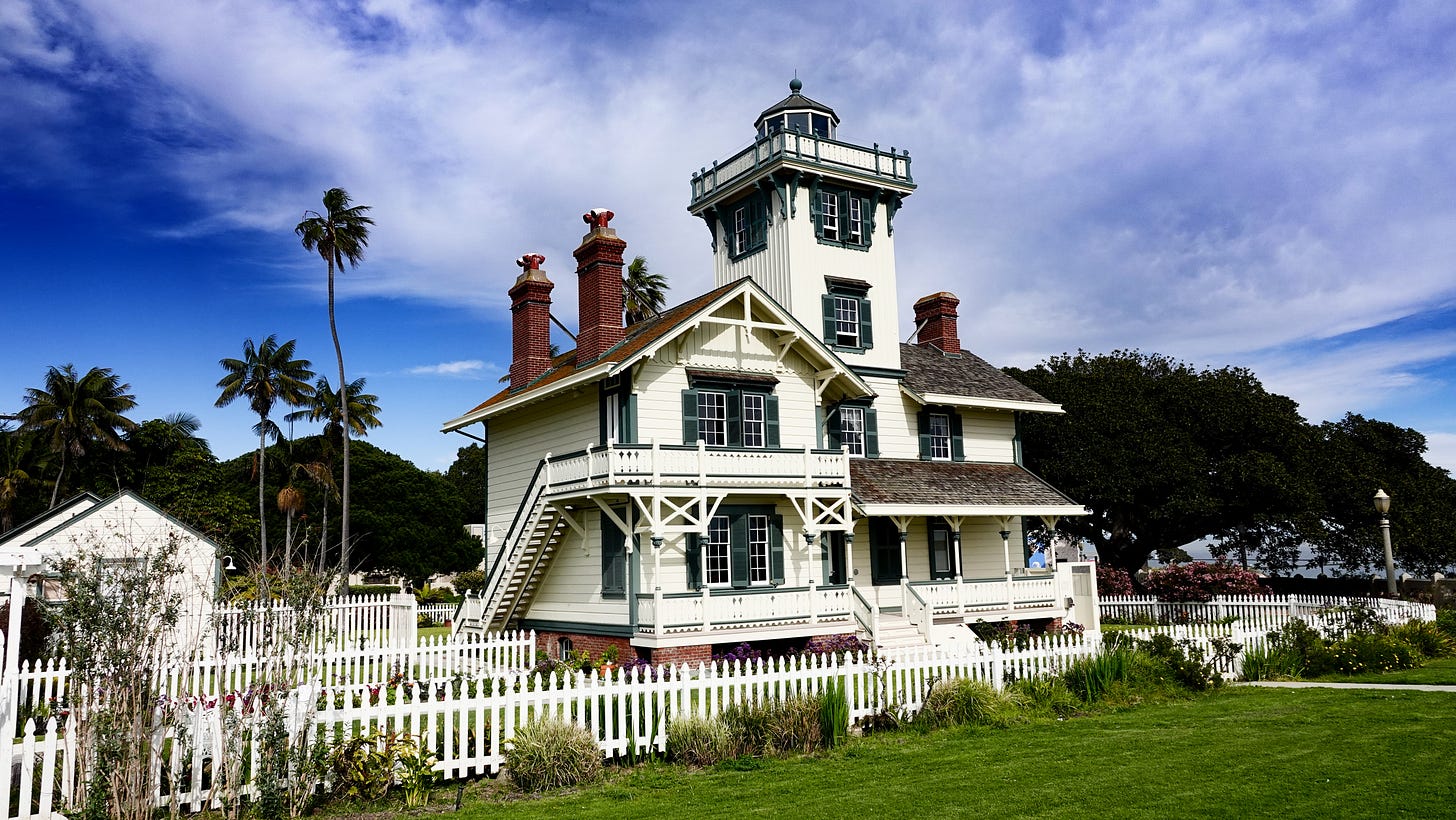 I stopped by Fermin Thursday night to confirm, and there's still plenty of walking space available, something that's missing right now in the South Bay beach cities of Manhattan, Hermosa and Redondo, which are all closed to beach walkers and cyclists.
In the spirit of "Stay at Home," maybe take a short walk to exercise now, or keep Point Fermin in the back of your mind for when things go back to normal.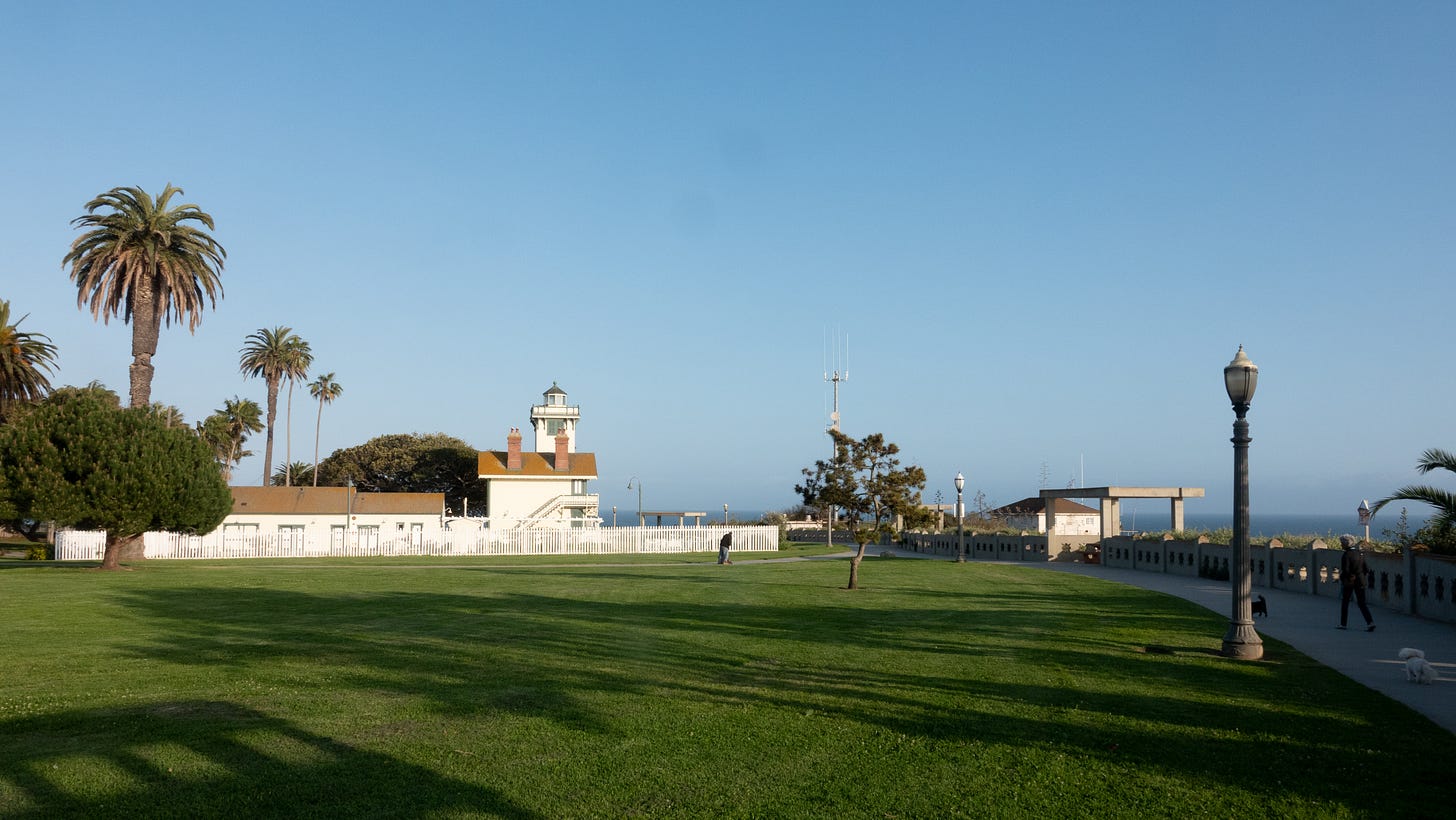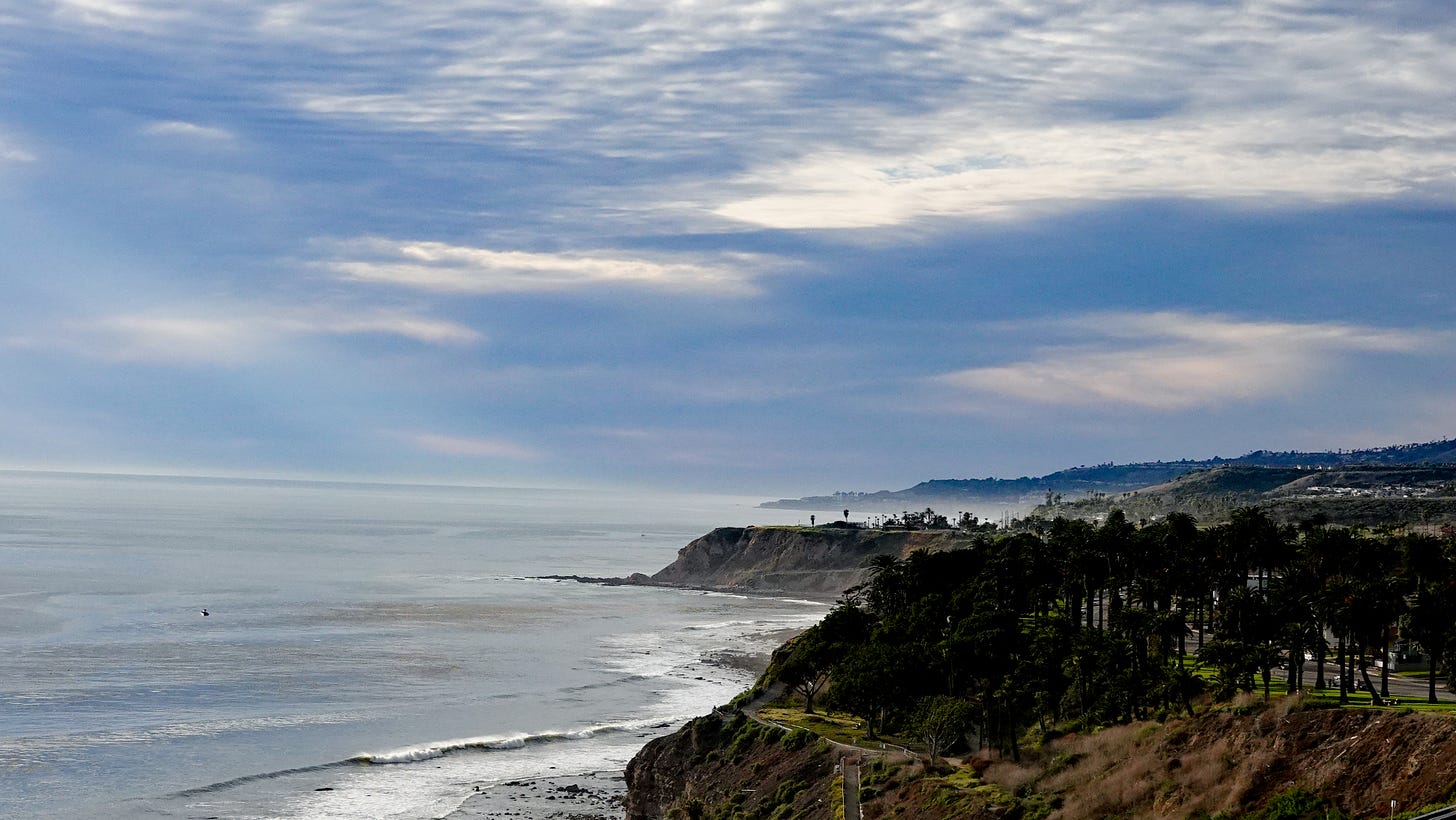 Photowalk videos worth checking out:
Tweet of week
A few weeks ago I was in glorious Big Sur (you know, where the river runs through it) which was a haunting ground for the acclaimed, legendary late Ansel Adams. He loved shooting Big Sur on a big ol' 8x10 view camera, the kind photographers shot with in the 1920s and 1930s before single lens reflexes changed everything.
I'm no Ansel Adams, but how about this shot of Pfeiffer Beach, which was done, very quickly, on an….iPhone? It was developed in Nik Silver Efex Pro 2 software. There's one more trick in there as well. Which loyal reader will point out that one to me \first?
Remembering the beach back when it was open!
That's a wrap for today's edition. As always, thanks for reading, watching and listening.
Ready for my laundry list of favors?
First—please click the link and subscribe to the Photowalks video series on YouTube. Stay up to date on the latest and make my Saturday a special one!
Secondly: if you enjoyed today's edition, please let me know, by clicking reply or hitting the heart button. And tell me, now that you've been cooped up at home all week, how will you celebrate the weekend? From home? A challenge, right?
Just 25 more days `til May!
Jeff