Mall Mannequins + Portugal Update
Have you taken a good look at today's dummies?
Good Monday morning everyone!
I'm diving back into the land of Photowalking Dummies today and have a cool Portugal update for you. But first—when's the last time you took a good hard look at today's mannequin?
My latest #Photowalk video is set at the Westfield Century City mall, and I owe it all to my friend Ron for this.
Ron invited me to lunch at the mall, which I hadn't visited since November, 2017. That's when I checked out the new parking tech, which takes a picture of your license plate when you enter and bills for the time via a smartphone app.
Since then, the mall has had yet another swanky $1 billion makeover, with a Disney like virtual reality experience, upgraded food court and the fancy Italian market meets restaurant named Eataly. That's where I saw Ron.
But en route, I couldn't believe what I was seeing on display in the windows. Mannequins of all colors —white, gray, red, you name it, looking unlike any store dummies I'd ever seen before.
Check out these patterns below. Whatever happened to facial expressions and a nice wig? They are so yesterday, right?
Speaking of wigs, I did find this old-fashioned dummy from another era recently in a storefront from Seville, Spain, during my April visit.
Below, you see patterns, yours truly in a picture window photographing a dummy (Thanks Matt Krantz) and my favorite of the bunch, the stylish red and gray mannequins of Century City.
Finally, from across the globe, a collection of Japanese mannequins. Notice the unique stance of the dummies on the left. This is to show how your pants look to the world while bowing.
Portugal Music Update
You'll recall a few weeks ago I told you about falling in love in Portugal. Her name was Amarantina, and she was hanging on the wall of the Casa da Guitarra shop in Porto.
She now lives in Manhattan Beach, too.
While it looks like a guitar, in Portugal these are known as ten-stringed violas (as opposed to what we think of as a large violin) and they hail from Amarante, in northern Portugal, in the Porto region. They sound similar to a mandolin, one with two more strings.
This particular hand-crafted model is a "viola de dois coracoes," or in our translation, the two-heart guitar.
To refresh your memory, I met Amarantina as we preparing to go home from the Spain/Portugal trip. I had two full bags, Ruth had another two, and there were simply no free hands to carry any more. I asked about shipping, was told the fee would be 200 euro and I passed.
But I regretted the decision.
Deeply.
Back home, I found the Casa da Guitarra Facebook page, made contact, agreed to the (200 euro!!!) shipping, and within about ten days, she had arrived.
Now I just have to learn how to tune her!
Is it just me, do you find it creepy when you look something up on Google and the search engine reminds that you were just there two days ago? I weigh in.
Coming up: Photowalk Morro Bay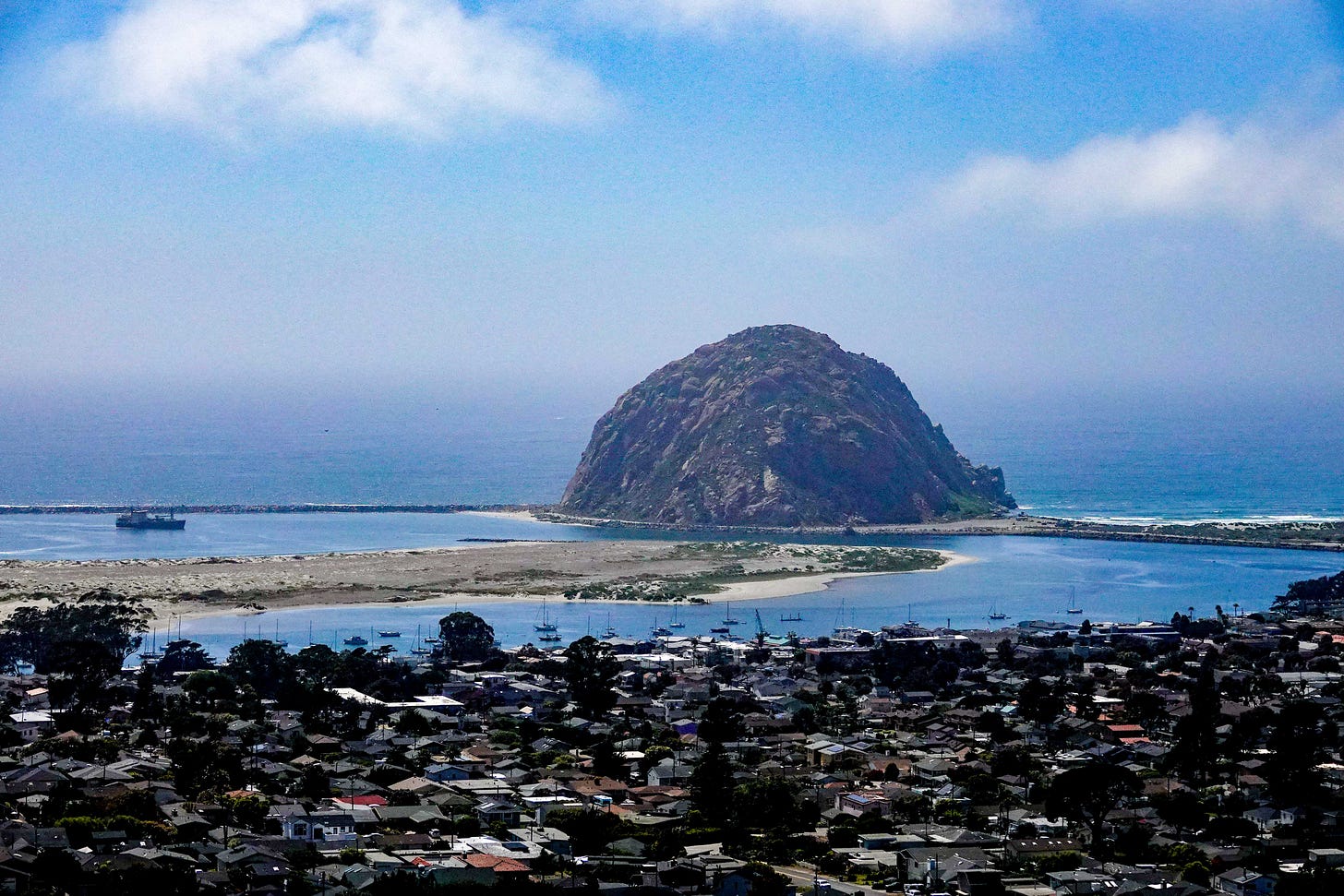 Do you know where to go to capture this iconic shot of the 581 foot rock and surrounding town of Morro Bay, on the central California coast? Local photographer Ginger DiNunzio from Sandprintphotos.com is on it, and joins me to help us discover this spot and many others in the next #Photowalk video. I hope you'll tune in when I post it later this week.
Where's Jeff?
Not going anywhere this week. You can look for me on:
Did you enjoy today's edition?
If so, please click the heart button (like on the Amarantina) or hit reply and let me know.
Thanks for watching, reading and listening everyone.
Jeff