Discover more from Jefferson Graham's PhotowalksTV newsletter
Jefferson Graham's photo meets tech updates, Photowalk travel photography and videos and an occasional guitar tune.
Over 2,000 subscribers
Photowalk: SoCal Piers
I love walking over water, how about you?
Well, since we're not traveling these days (I can't wait to get out again!) it's time to really appreciate what we've got in our neighborhoods.
So this week, I decided to dive into the Photowalks archive, and start a new series on the great piers of SoCal. Standouts include the beloved Manhattan Beach Pier and her roundhouse at the end, Santa Monica Pier and the ferris wheel, Huntington Beach flanked by Ruby's and the classic wooden oasis that is Cayucos.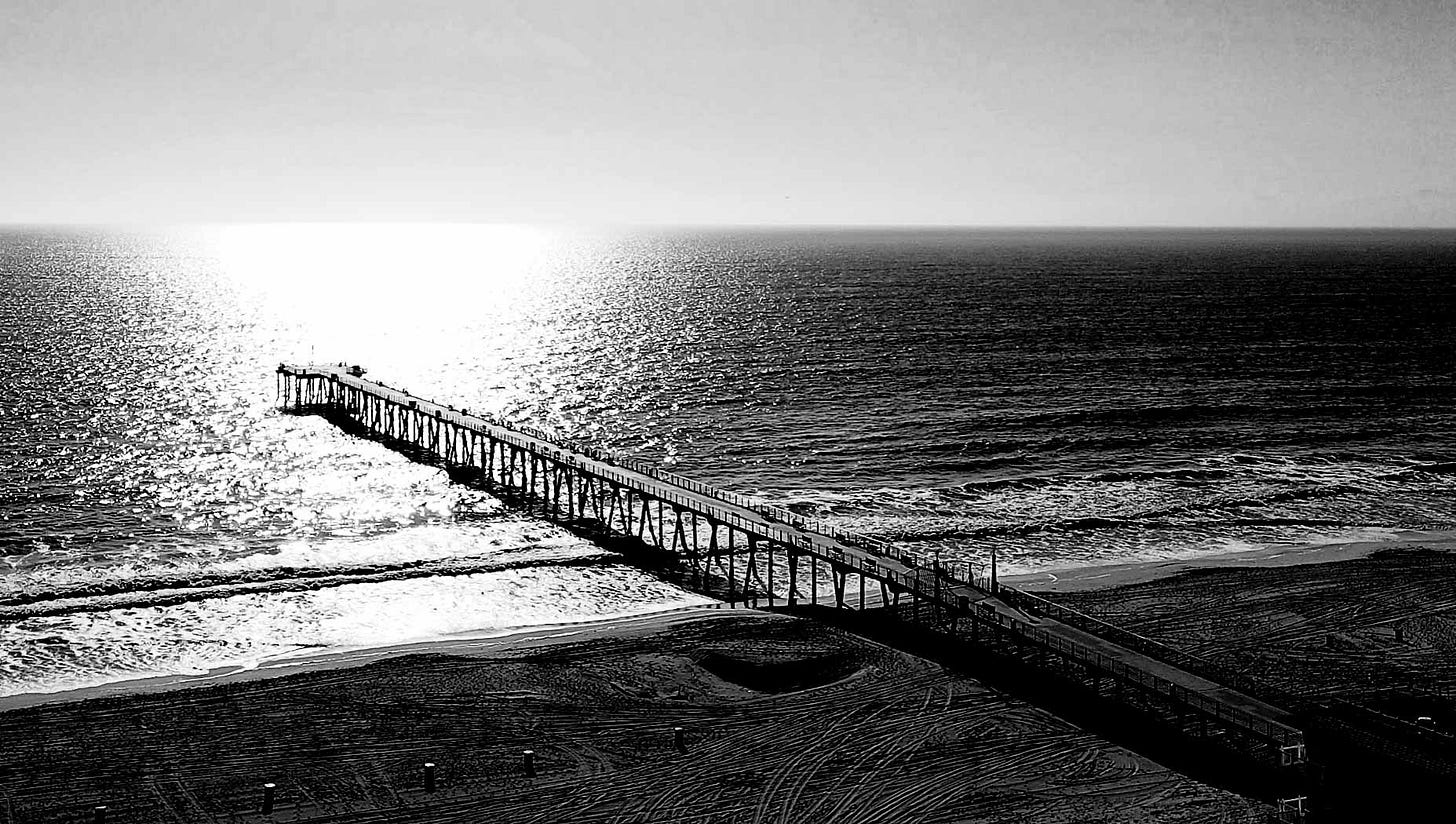 But since we live here in La La Land, where better place to start than the pier that featured Hollywood royalty dancing and singing over the water?
We're talking, of course, Hermosa Beach, Ryan Gosling and the Pier that flanks the city of just under 20,000 people.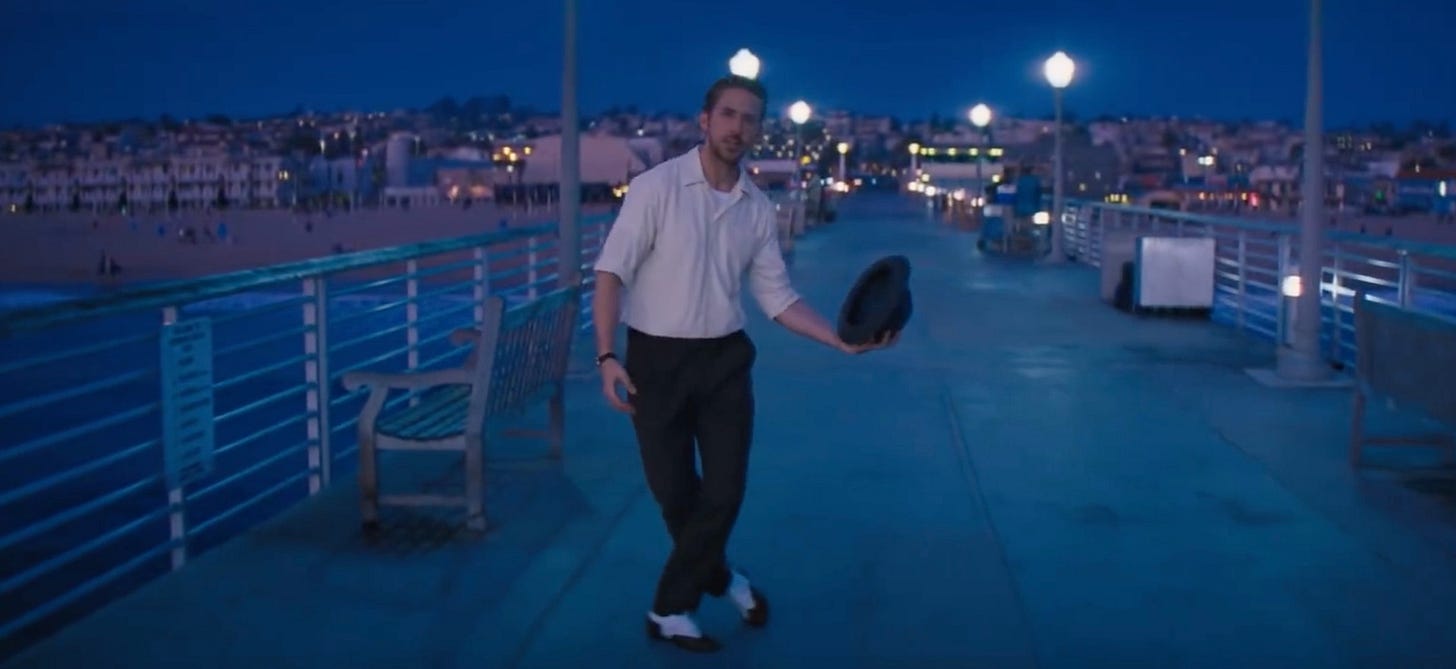 In putting this piece together, I reached out to the Hermosa Beach Historical Society to learn about the pier's backstory. It was originally built out of wooden logs in 1904, washed away a few years later, got rebuilt with concrete and the pier we know and love today was re-done in 1965.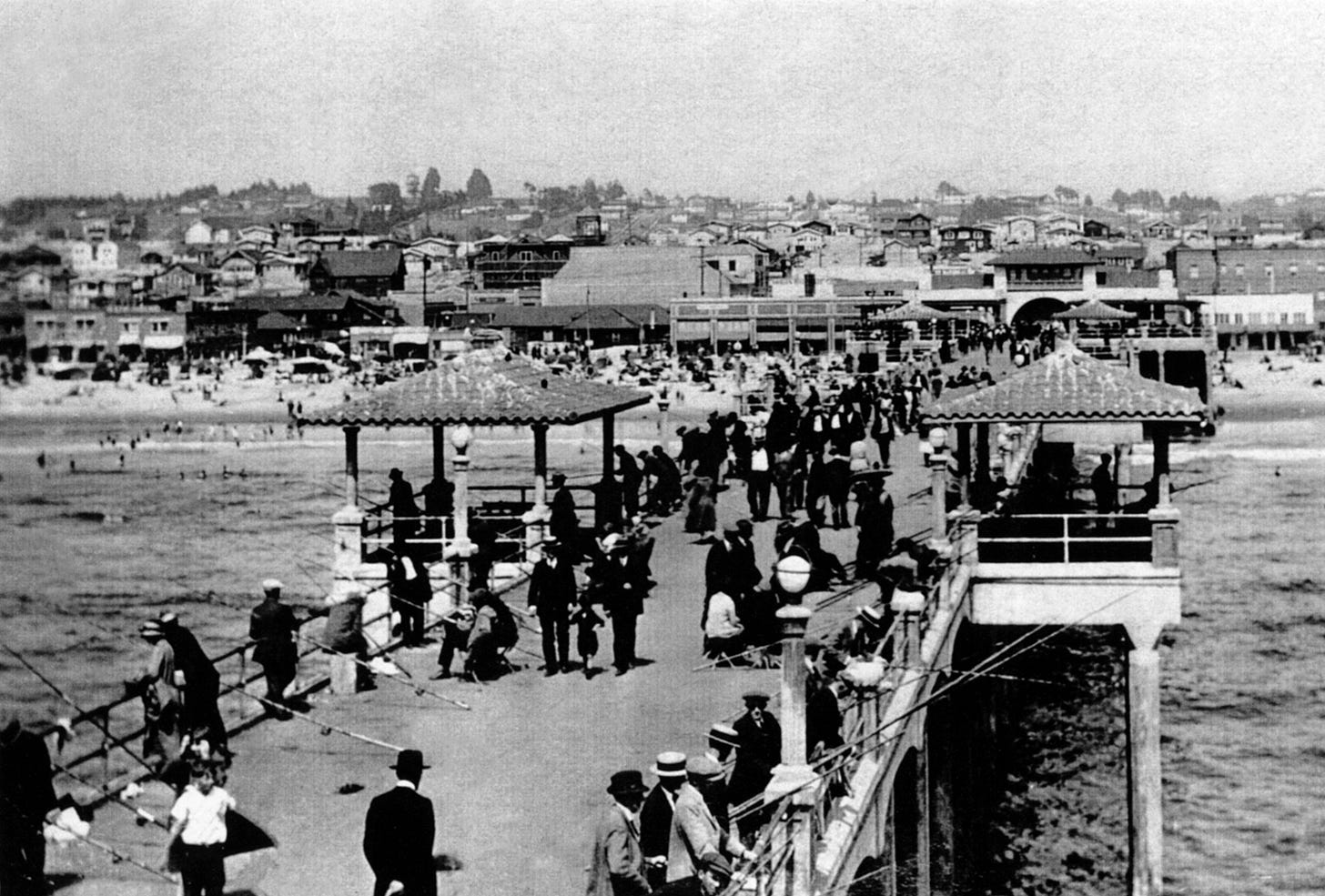 I had a big question as I dove into pier land. I know that my photos of Piers get more response than anything else I do. So what is about piers? Why do we love them so?
For me, I think it's primarily because they anchor the beach community as a focal point for surfers, fishing enthusiasts and visitors who like to walk out on the water to see it from a different perspective.
Selfishly, as a photographer, I can tell you that a picture of the ocean is okay, but when you get to place a cool looking object in there — as in a pier, the photo really comes to life. And when you're taking portraits on a sunny day, the pier is the only place you can go to for some shade, and nice even and flattering light.
My friend Ekram says being on a pier gives you the experience of "being over water and under sky at the time," which of course, is ultra-cool.
I loved what Peter Giles and Chris Raney said too. Walking out onto a pier "transports a person to a different mental space, away from the traffic and daily life," said Peter on my Facebook page. On a pier, people can "share the moment…look out and focus on the ocean, without the distraction of other elements of the beach."
Chris has a cool POV. It's just "neat" to step all the way onto the pier, look back "and see the beach" from that perspective.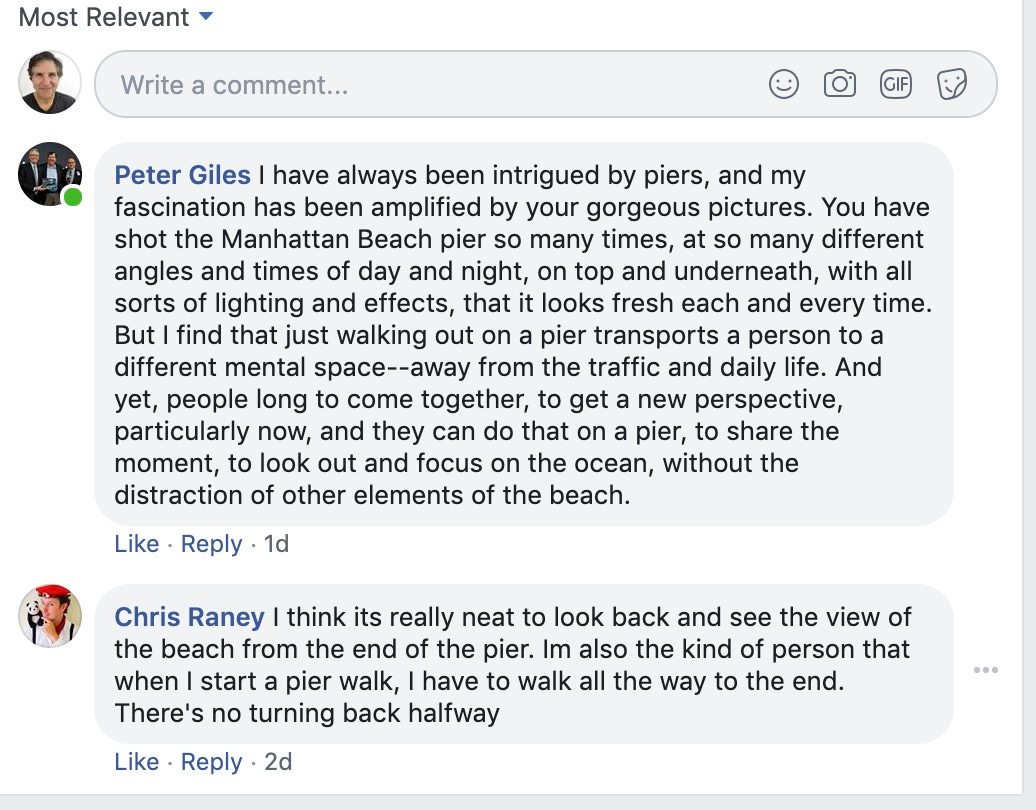 Looking back at the city from the end of the Pier is priceless. Especially in Hermosa and Manhattan.
What's your favorite pier and view? Let me know in the comments, or click reply and fill me in. Which pier should I do next?
Songs of the week
I worked hard on two of my favorite songs, "Swinging on a Star," and "Pick Yourself Up," which were written a long time ago, in 1944 (for Bing Crosby's "Going My Way") and 1936 for the Astaire/Rogers "Swing Time."
I put so much time in, I even dressed up to play the tunes. Let me know what you think! (As always, I'm taking requests. Just know that if I don't play it, it's not that I don't want to, it's that I'm working on an arrangement. That's for you Steven and "Time in a Bottle." It's coming.
Beaches
Remember last week when I wrote about how the beaches of Huntington and Newport were open and attracting massive crowds? That seems like such a lifetime ago, right? The California governor responded by shutting them down.
There's been a lot of debate since about whether the beaches should be open during a pandemic. Steve Lopez had an interesting column in the L.A. Times arguing against it on Tuesday, and he was followed up the next day by George Skelton, who feels beaches are a right and shouldn't be closed.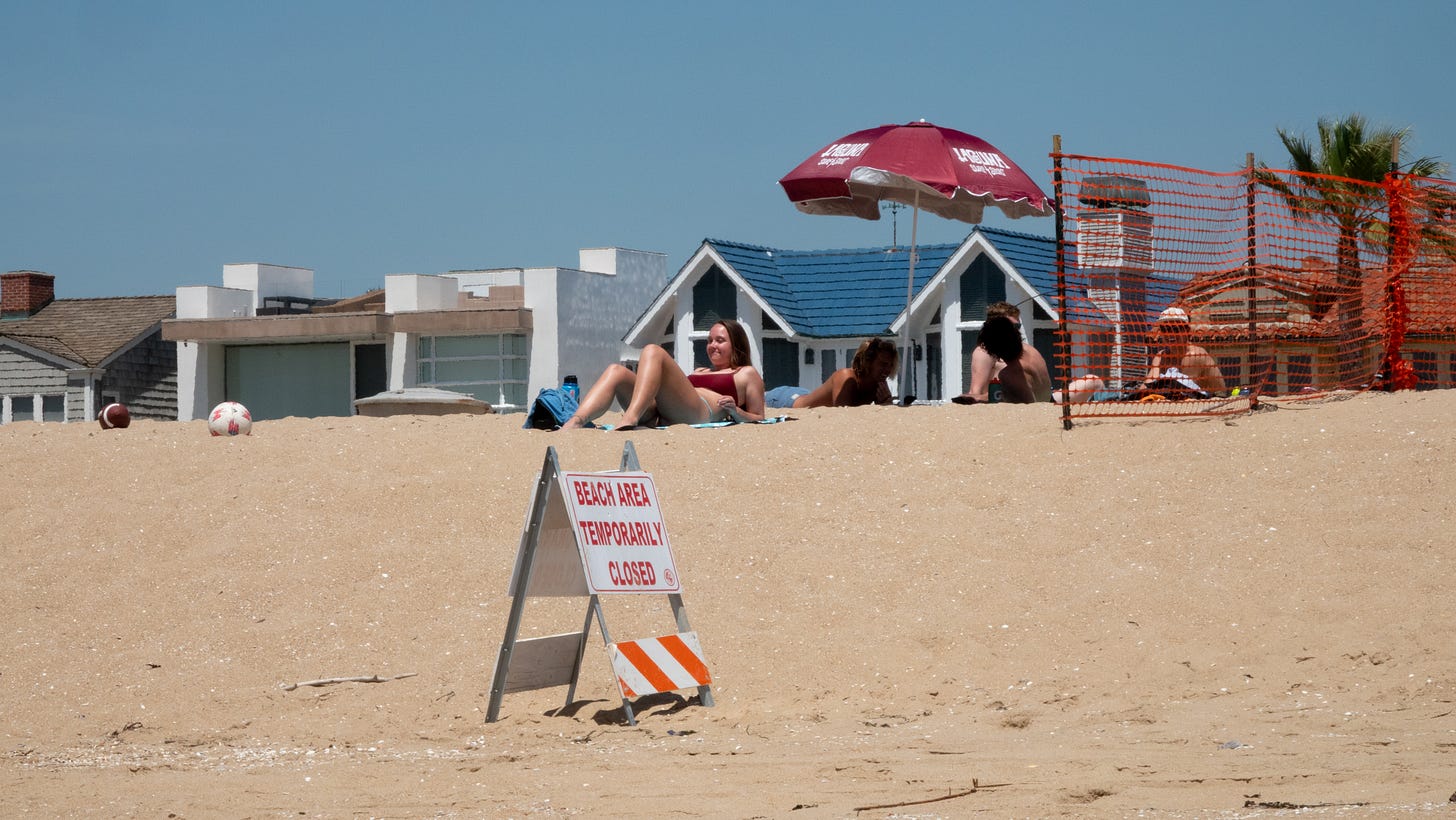 What's your POV?
I'd love to hear from you on this.
Have a great week everyone.
Thanks as always for watching, reading and listening. Please share the newsletter with everyone you know, and let me know what's on your mind.
Jeff