Q&A: Are there any great photo scanning apps?
Yes, PhotoScan by Google & Apple Notes are winners, but...
Question posed by Debbie this week: "Is there a good photo scanning app that you know of? I was just in the App Store and there are 1 million of them. My son wants me to scan some old photos for him and I was going to download some thing but I thought I'd see what you knew first. Thank you."
Thanks for reading Jefferson Graham's PhotowalksTV newsletter! Subscribe for free to receive new posts and support my work.
Thanks for asking Debbie! There are indeed two great apps, PhotoScan by Google and Apple Notes, both are free, but let me add a caveat. As a serious photographer who cares about resolution and archival quality, I wouldn't use a smartphone scanning app to capture any photo that was important to me, unless you were in a situation where there was no alternative.
Like when I visited a cousin in Columbus, Ohio and noticed some cool family photos on his wall. Obviously, it was smartphone to the rescue then. But for everything else, I'd leave it to the pros. (Three popular choices: Scanmyphotos.com, iMemories and Legacy Box.)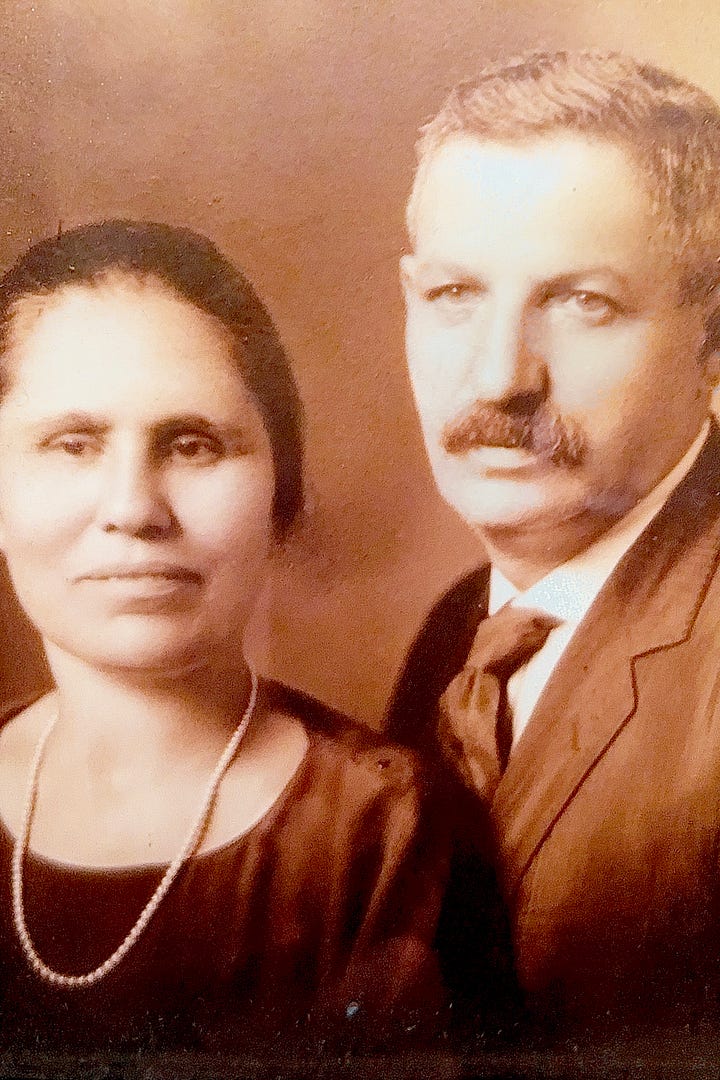 However, for contracts, receipts, business cards and other documents that we either want to save or keep copies of, the smartphone scan apps are invaluable. And to scan a few photos at a time, I'd certainly turn to a photo scanning app.
New York Times's Wirecutter recommends Adobe Scan, but I found it not very useful for photos. (It doesn't even save files as JPGs, but PDFs, which shows you where Adobe's intentions lie.) I way prefer PhotoScan by Google, which does a fine job, and best of all, works at ditching the glare we often find on framed wall photos. (I had reflections galore with the Adobe app.)
How does Google get rid of the glare? By taking four images of the photo and merging them. We are asked to line up four circles as we snap each image, to ditch the glare. Adobe has a similar process. It worked for me with Google, not with Adobe.
The Adobe app is indeed useful for documents like receipts, contracts and the like. But as a person firmly in the Apple universe, I have to give the nod to Apple's Notes app, which many of us have used for jotting down quick things. A hidden feature: it can also do document scans, by clicking the photo or docs tab within the app. The scans go directly to your Camera Roll.
I photographed my business card below with Apple Notes, and was impressed. The image below shows a card that was on my desk, surrounded by pieces of paper. Apple's AI eliminated all that clutter so my scan just had the card. Perfect.
Why Pro Scans make more sense
That said, for anything important photographically, I'm going to the pros. Photos are too important to live on as low-resolution smartphone scans.
You'll pay for the services, and they're not cheap. Pricing for three of the most popular scan pros:
Legacy Box: $160 for 250 scans, or $36 for 50 photos.

iMemories: 50 cents per scan, plus $15 to order a box to stuff your photos in, with a free download or $40 for a USB thumb drive.

Scanmyphotos.com: Figure an average of $200 for 1,800 photos in a postage free box, plus a $15 download fee, says Mitch Goldstone, the co-founder of the company. You can also do it piecemeal, at 23 cents a piece, plus shipping, $25 minimum.
All 3 are similar, in that you order a box, stuff in your photos, send them off, get scanned, and have the photos returned after they've been worked on.
With Scanmyphotos.com, you want to pay attention to the different resolution quality being offered. It starts at a very low 72 DPI and goes up to higher res 600 DPI. Goldstone says that many of his customers prefer paying less money for lower res files to display on social media, and "the quality is fine for that."
Most customers prefer 300 DPI, he says, but hey, if I'm going to archive my photos forever, I want the most resolution I can get, even if it costs more, adding $60 to the big box order. That's your pro photo tip from me.
One more tip: if you send your photos out, Goldstone recommends filling index cards to put the various photos together with similar file names, like Holiday 2022 and Europe Vacation. This will help you archive them with better names than scan01 when you get back your 1,800 digital files back.
And a special offer: Mitch is offering 50% off on orders for newsletter readers. Code at checkout: TrustedSince1990.
We spoke about scanning apps on the Live stream edition of Photowalk Talks this week. Kim McCallister was my guest. You can watch the segment above.
Rich on Tech today
If you're in Los Angeles, I'll be guesting with my pal Rich DeMuro on his KFI radio show today, at approx. 1:30 p.m. Tune in and give us a listen, and better yet, call in with your questions for us! If you can't tune in live, the show is also available as a podcast.
Photo(s) of the Week
You probably know I have this thing about "on the road" photos. They help evoke the romantic feeling of sailing down backroads, those wonderful places with little signs of civilization. Nowhere to be. The freedom of exploration.
My all-time favorite spot for this is little `ol Lenwood Road, near Barstow, California, about two hours from Los Angeles, en route to Las Vegas. The top shot was snapped on my DJI Mavic Air2S drone, and the other two on iPhones. As you can tell, so few cars came by, I was easily able to setup the tripod in the middle of the road. I could even show off a little craziness with my Insta360 X3 camera out there as well, as evidenced by the above video.
Thanks as always for reading, watching and listening. Have questions? Tune in to the Thursdays edition of Photowalk Talks LIVE 2 p.m. PT on YouTube. The great photographer Dave Williams will be my guest. Don't forget to click REPLY and let me know what you think of today's issue.
Jeff
Thanks for reading Jefferson Graham's PhotowalksTV newsletter! Subscribe for free to receive new posts and support my work.