Discover more from Jefferson Graham's PhotowalksTV newsletter
Jefferson Graham's photo meets tech updates, Photowalk travel photography and videos and an occasional guitar tune.
Over 2,000 subscribers
Redondo Beach...with mom!
The Pier, Esplanade and more of Judy's favorites
As promised, we're visiting Redondo Beach by the sea this weekend, for the latest Photowalk.
The weather for the first day of February is scheduled to hit 75 degrees by mid-afternoon. In the dead of winter!
Weather.com reports temps approaching 39 degrees and overcast in Columbus, Ohio (sorry cousins Leslie and Mike) and 42 and not much better in Providence, Rhode Island. So if you're in town, remember how lucky you are!
Redondo Beach: a super long bike trail by the sea, a hilly walking trail that looks down at the iconic #SoCal beach setting, a small-town like community village of shops and restaurants, Riviera Village. And Redondo is the largest of the Los Angeles area South Bay beach cities.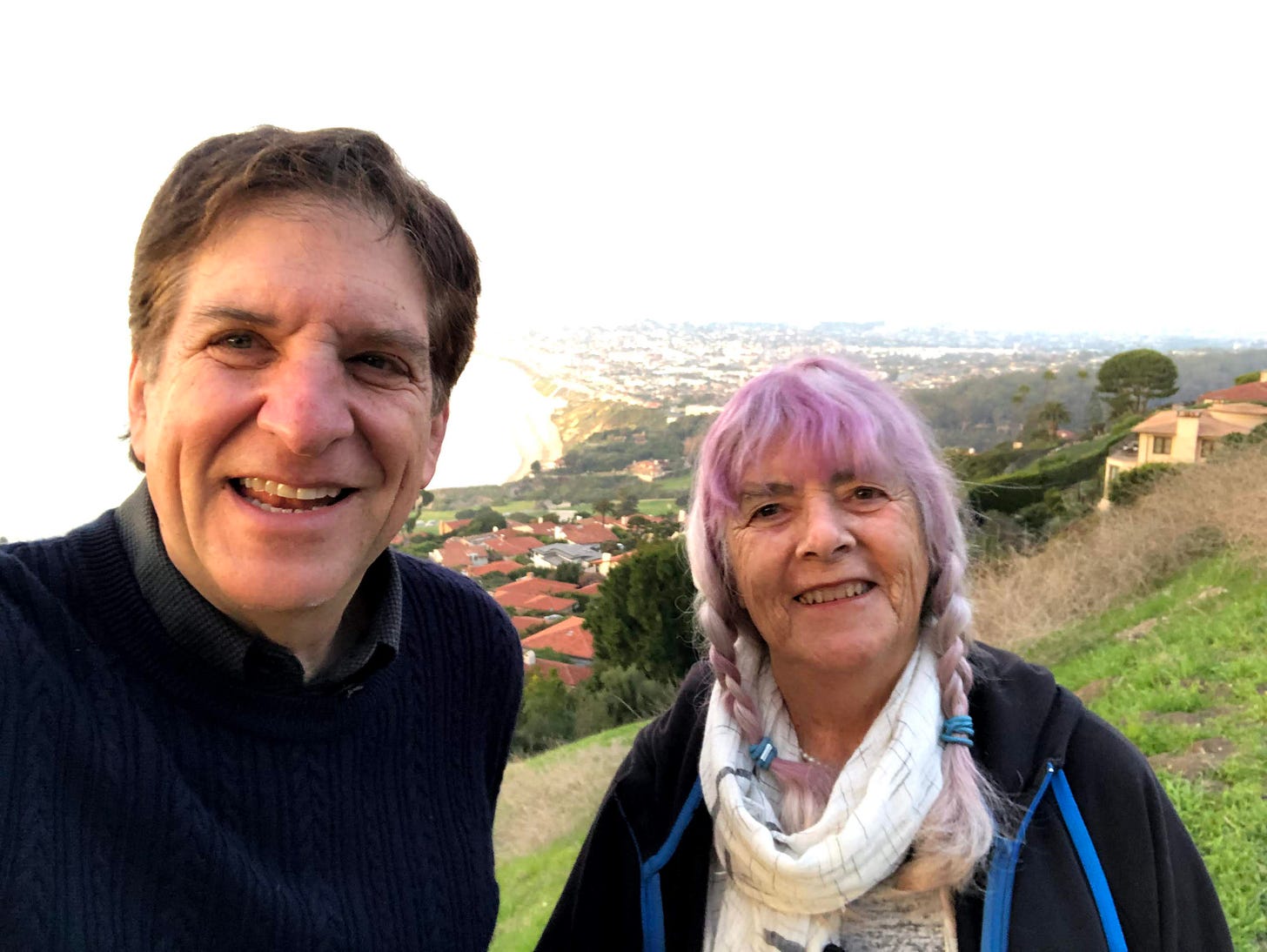 My #Photowalk guest this week is the one and only Judy Graham, my mom, who is well known to over 50,000 knitting fans as the host of the Knitting Tips by Judy video series on YouTube.
This selfie directly above is of the two of us standing with Redondo behind us, up in Palos Verdes.
Mom is a part-time Redondo resident, so she takes me on her favorite walk (from Avenue A to Avenue L) and joins me on a Glass Bottom Boat ride through the Redondo Marina.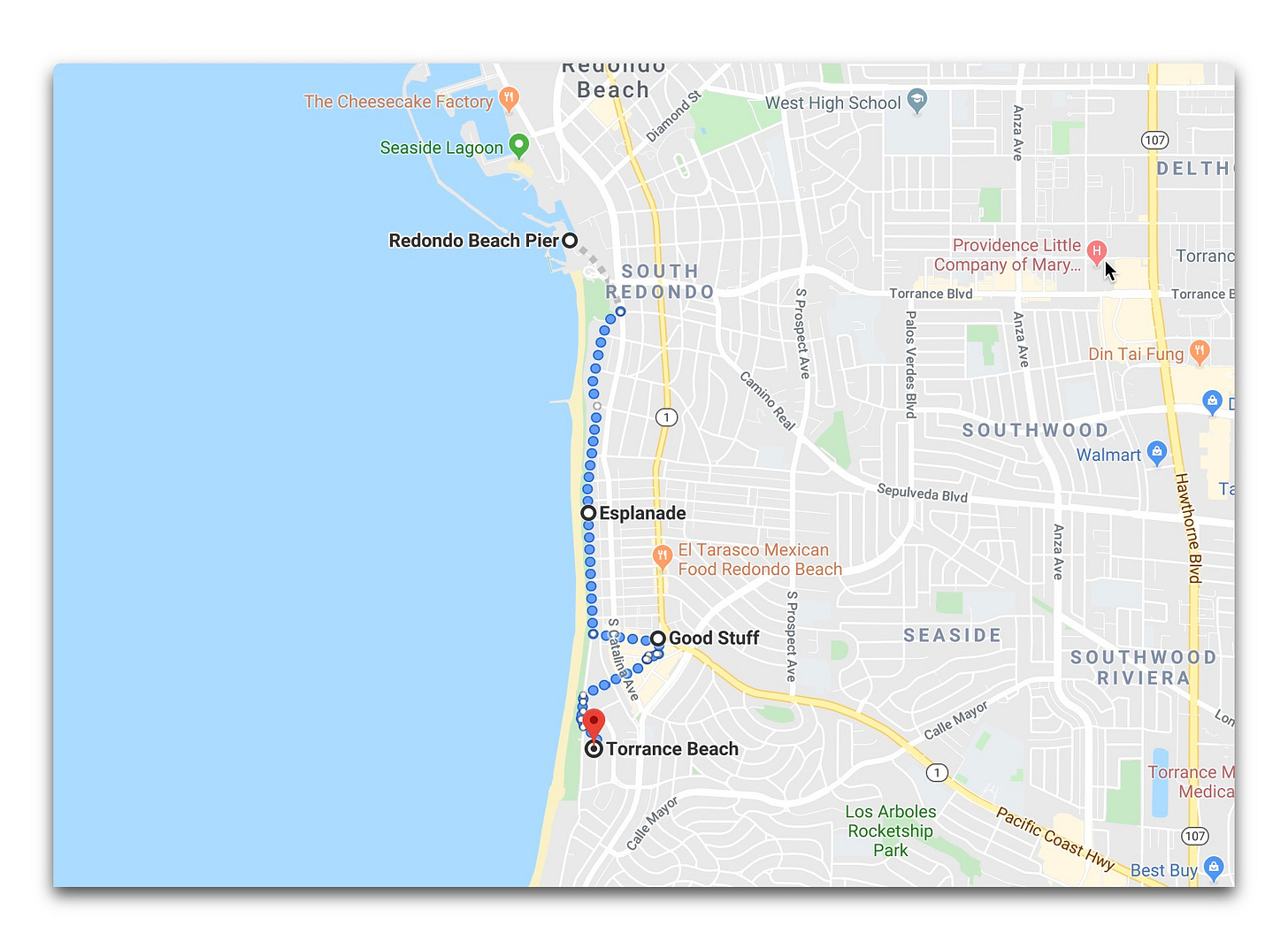 In-between, I'm running around town, picking up sunrise and sunset shots and other iconic looks at Redondo. And there's a lunch break at one of mom's favorite Redondo restaurants, the wild Riviera Mexican grill. (She's also partial to Pho, Good Stuff and Bluewater Grill.)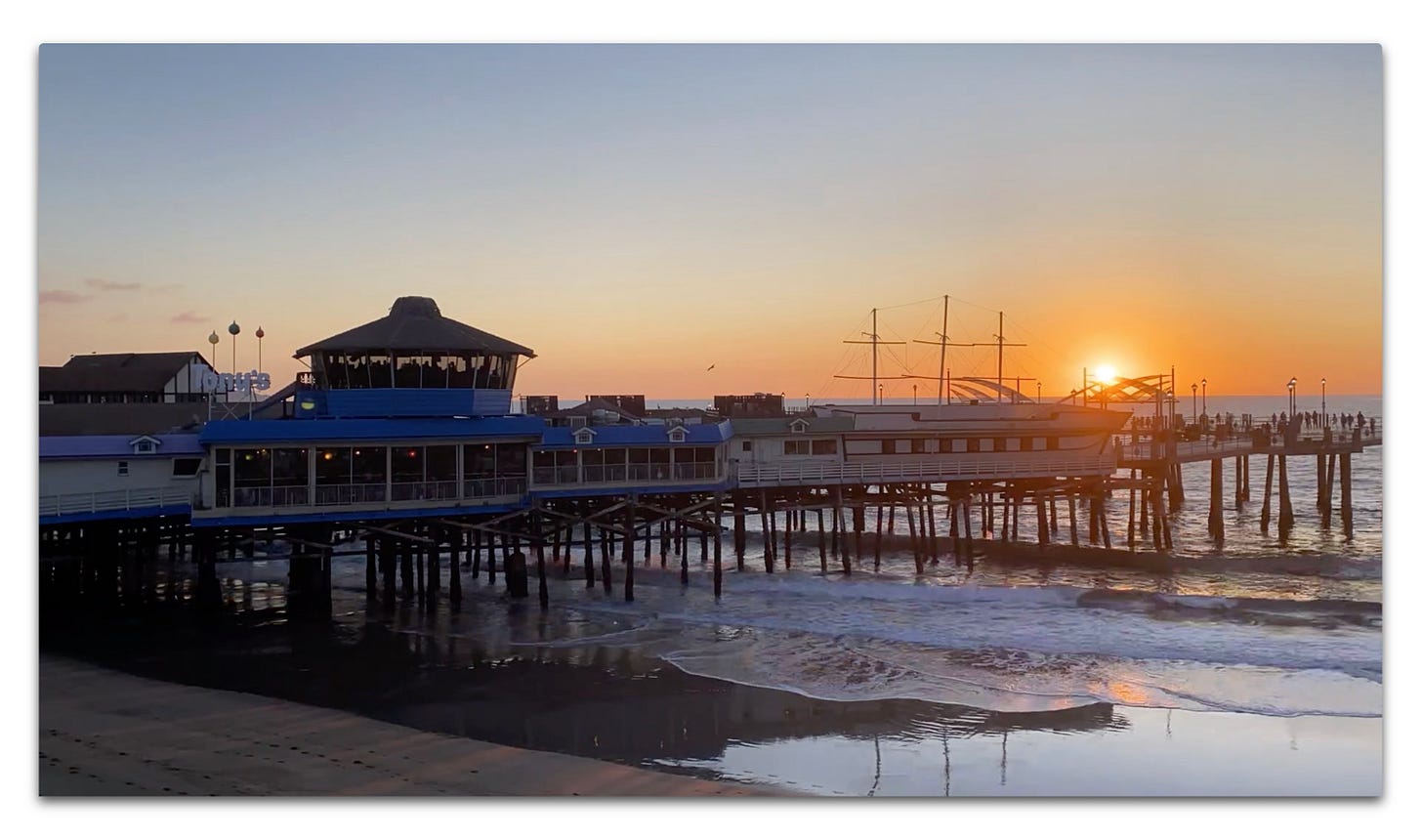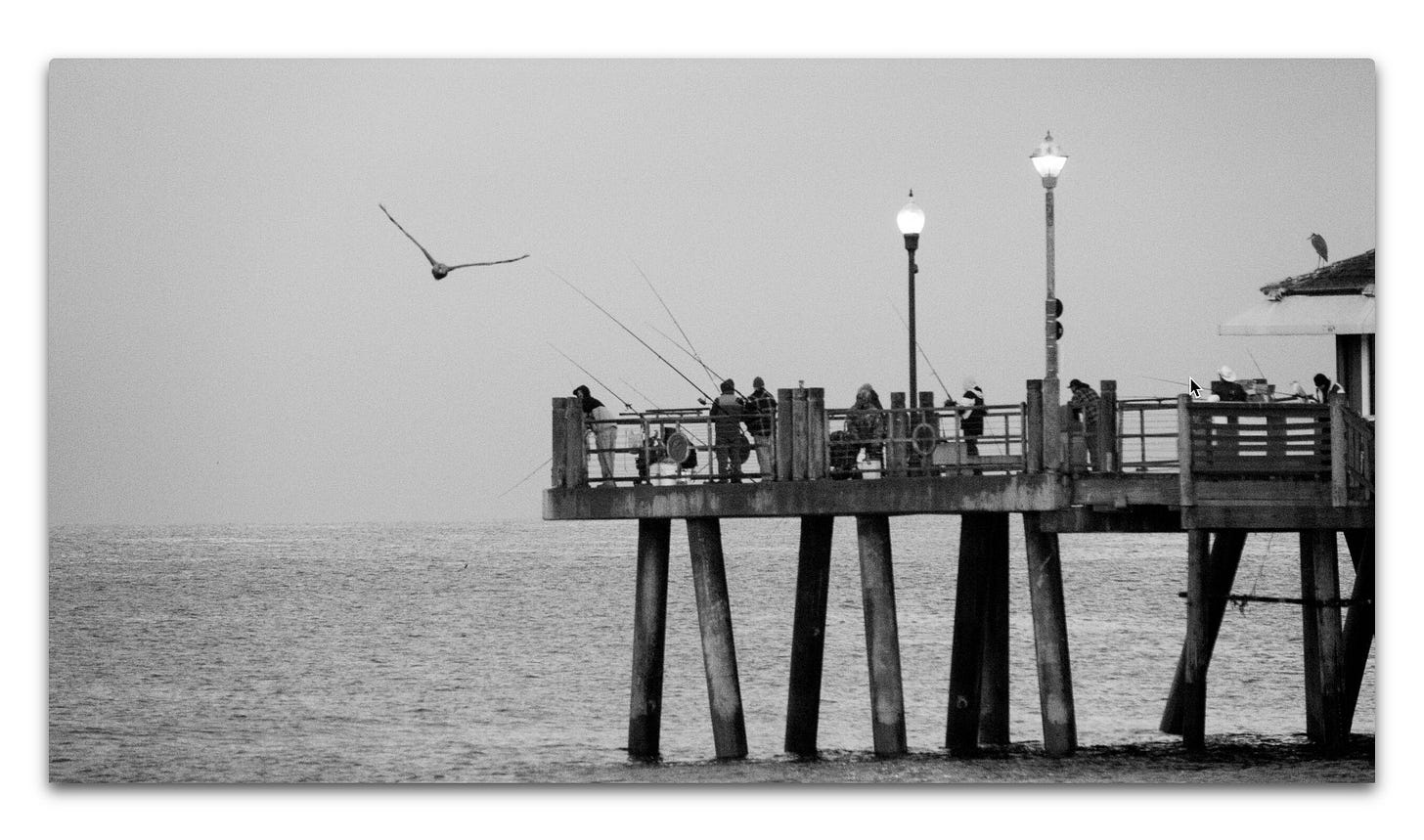 Of the three beach cities of the South Bay of Los Angeles, Manhattan is the priciest and toniest, Hermosa is a party town, and Redondo is just more down to each.
That's a massive generalization, but somewhat close to the truth.
Redondo is also more diverse than the others. Beyond the sun worship, ocean waves and outdoor activities (cycling, roller blading, surfing) Redondo is also a home for boating, with a large marina that attracts boat and fishing enthusiasts.
Photographically, you've got the boats, marina, street photos from the old-fashioned pier, the largest of the south bay, and some cool pelicans and sea lions that love hangin' around.
So if you're in L.A., this weekend is a great time to visit Redondo. If not, check out the video and see if you're not up for adding it to your future list.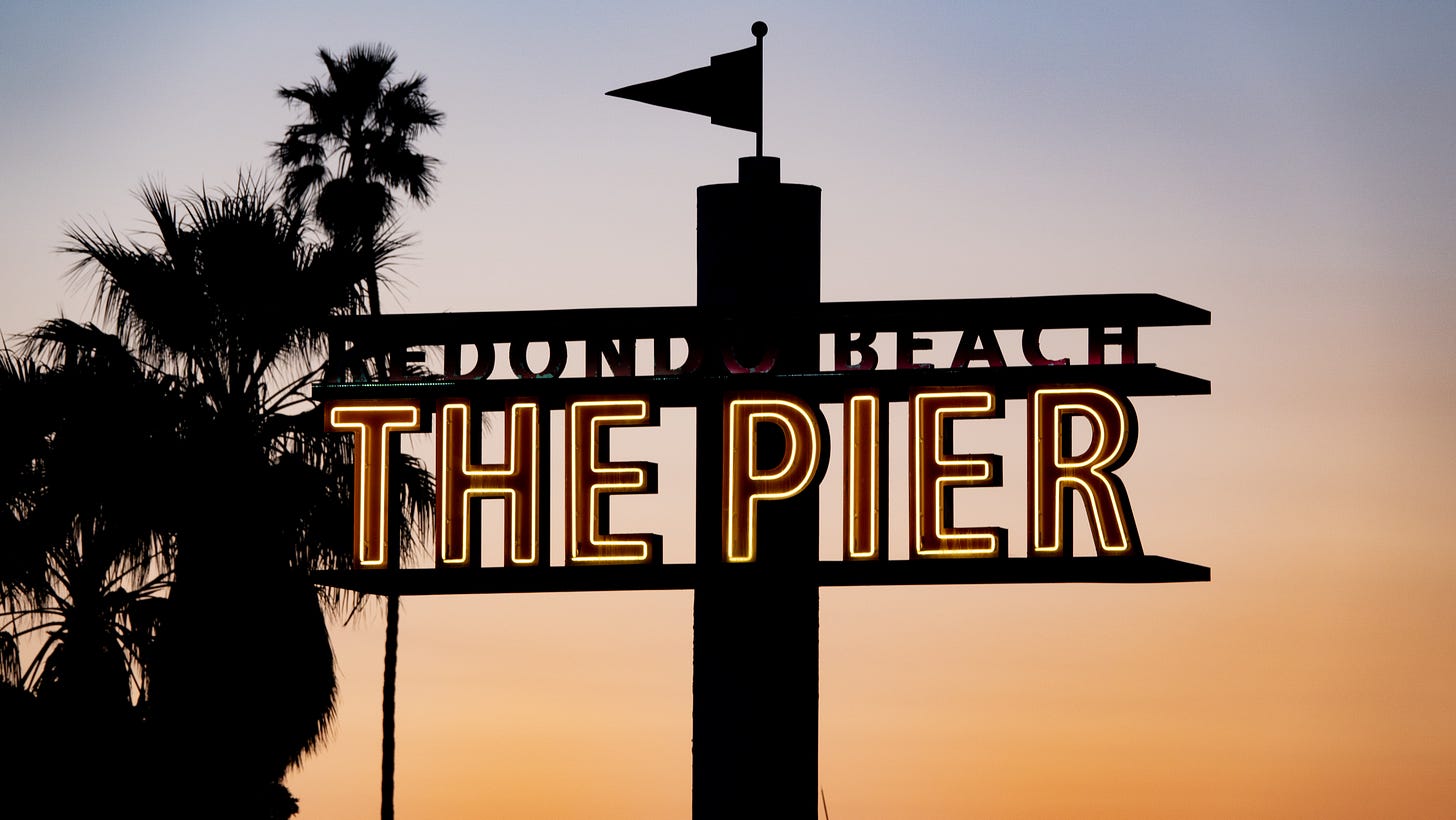 More Redondo: Gallery
Mapping suggestions: https://blog.jeffersongraham.com/redondo-beach-things-to-do-and-photograph/redondo-beach-photowalk-companion
More Redondo Beach posts: Magic mornings. https://blog.jeffersongraham.com/redondo-beach-photowalk/photowalk-magic-morning-redondo-beach-sunrises
First sunset of 2020, Redondo Beach: https://blog.jeffersongraham.com/redondo-beach-photowalk/first-sunset-of-2020-redondo-beach
That's it for today's newsletter! Instead of going outside and loving Redondo today, I'll be sitting inside and diving headfirst into my 200 GBs of video and photos from last week's Photowalk to the Big Island of Hawaii. With any luck, the video will be completed by Friday, and you'll hear from me again by next weekend.
Thanks for viewing, listening, reading, etc. Don't forget to click the HEART tab or reply to let me know that you enjoyed today's installment. Follow me on Instagram and Twitter @jeffersongraham and don't forget that you can always catch up on past Photowalks by going to the http://www.youtube.com/jeffersongraham channel.
Thanks again everyone!
Jeff