Social distancing in the OC?
Not in Newport or Huntington Beach!
All the beaches in Los Angeles County, from Long Beach and San Pedro through Manhattan, Hermosa and Redondo, Santa Monica and Malibu are currently closed, due to the COVID crisis.
But not so in neighboring Orange County, as I discovered this week when I took a drive down to Huntington Beach (a.k.a. Surf City, USA) and Newport Beach, where it's as if summer never ended.
(In fact, it just started! We're expecting highs in the 80s this weekend, locally!)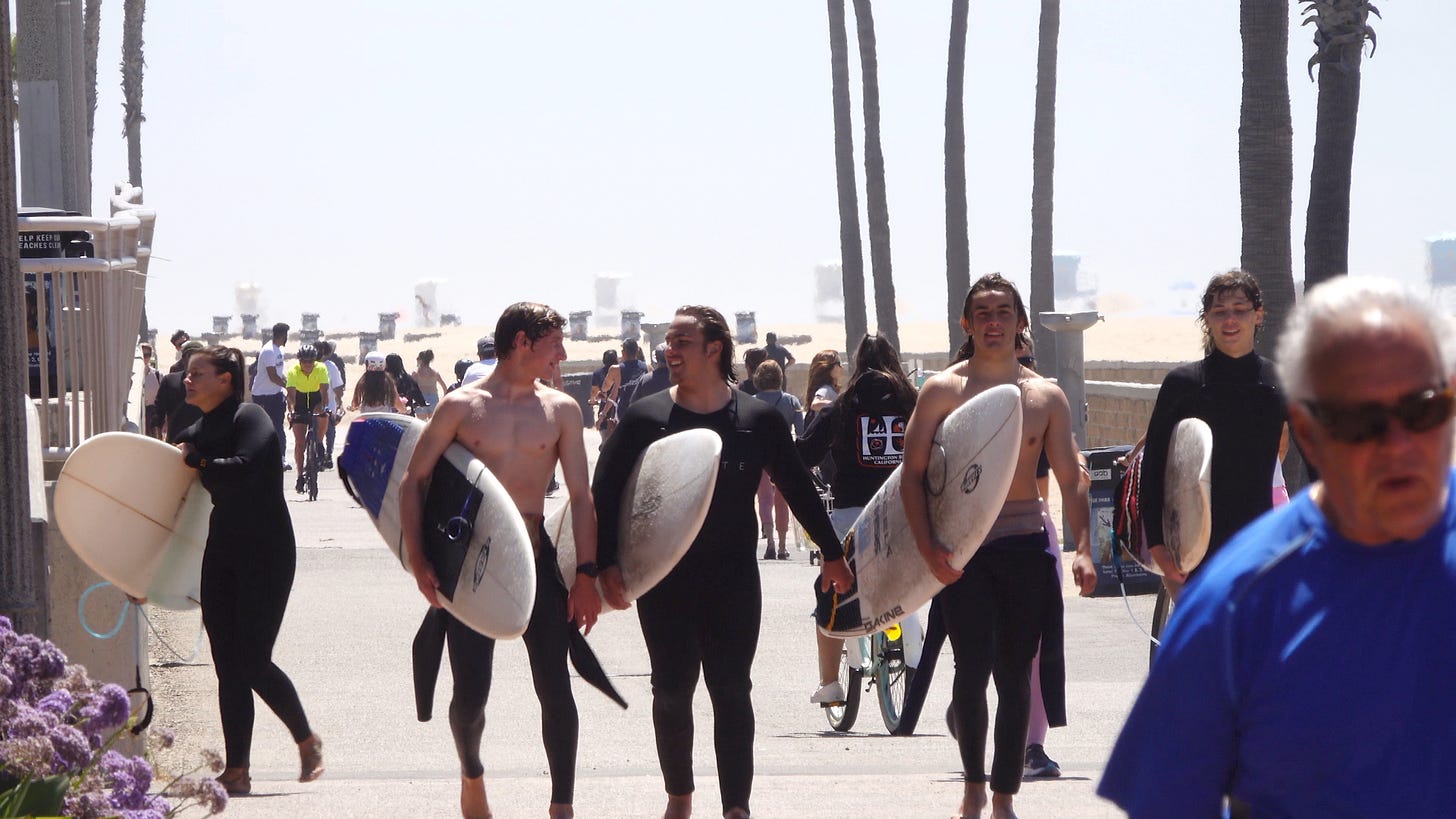 On the paved walk and bikeways of Newport and Huntington Beach (a.k.a. "Surf City, USA") I saw guys and gals in bikinis and board shorts, crammed together, cyclists going up and down the path, and beaches crowded with umbrellas, sandpails and sunbathers.
I even saw a bunch of teen boys playing football on the beach. Social distancing? Try social get-togethers.
Masks? Forget about it.
Do know that not all OC beaches are like this. Laguna and Seal Beaches have closed access to their beaches, and while Dana Point does have an open beach, the city has eliminated all parking except for residents, to encourage folks from out of town not to visit. San Clemente is set to re-open their beaches.
The mayor of San Clemente told the Orange County Register that he believes beach towns that have restricted access to the beach don't have any lower COVID-19 numbers than others that have kept the coast open.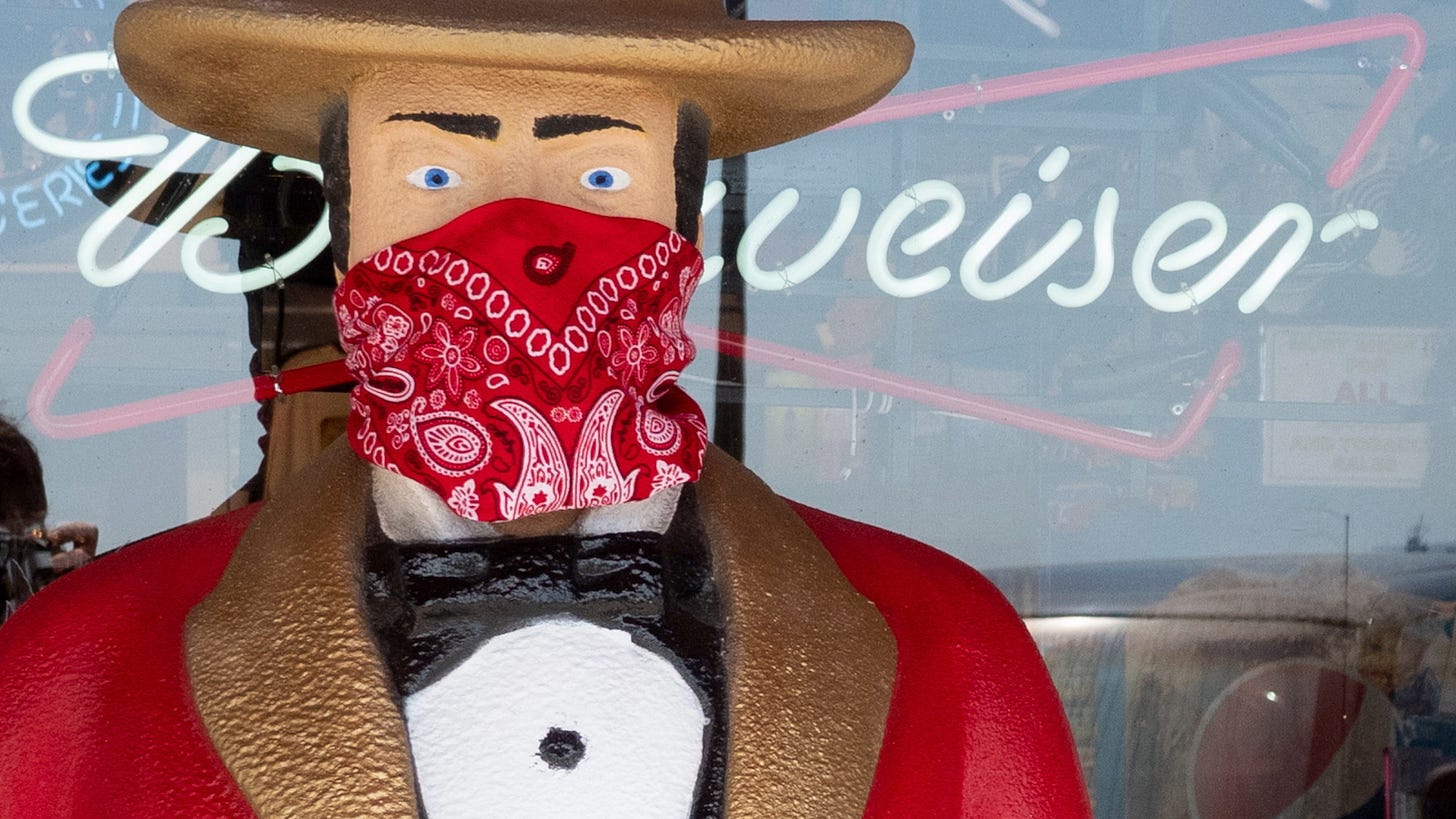 From what I saw in Newport Beach this week, beyond the throngs of people, were actually a few people sporting masks off the beach. Most stores were closed, and the ones that were open (which included tattoo parlors and smoke shops—essential?) required masks to enter. That's masked Henry above, as in the Henry's Groceries souvenir shop on the Boardwalk.
Laguna Beach, which is directly next to Newport, is like in another, "we take COVID seriously" world. Check out my friend Jan's excellent video on isolation in Laguna.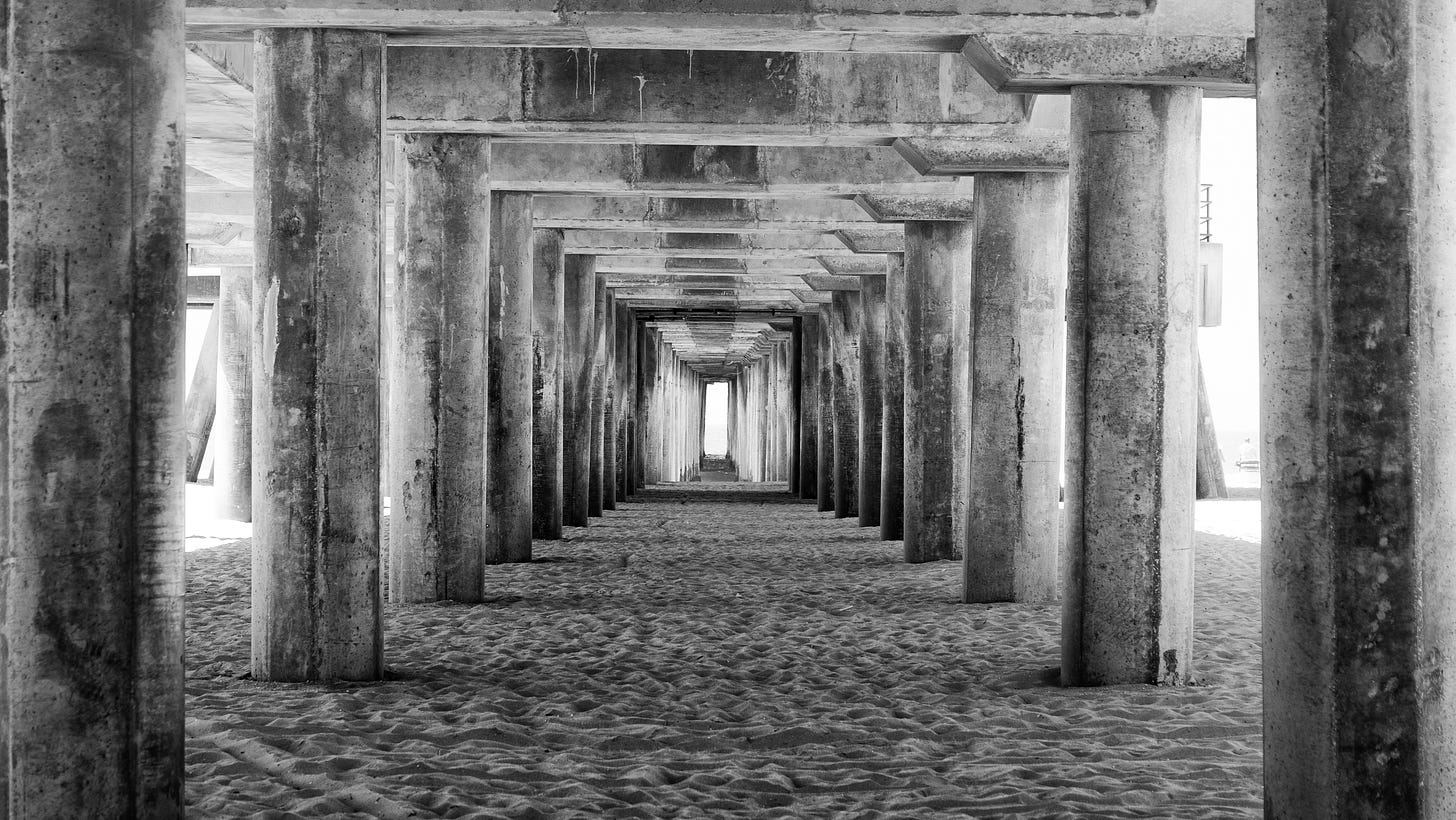 Fox11 reported that some 40,000 people showed up to Newport on Friday, specifically because it was open while others were closed.
Meanwhile, if you missed it, I recently mused on all the things I miss most about living in Manhattan Beach—i.e., walking on the sand for the morning photo sessions.
In Manhattan Beach, the bike path and walkway known as the Strand is closed, so residents have taken to just moving one block over, to Ocean Avenue, where there are larger gatherings in an alley.
Clearly, despite the parking lots being closed in Newport and Huntington, that hasn't stopped the masses from flocking to the beach. And despite our lot and Pier being shut, people just moved from one public walkway to another.
So what's the answer folks? Stay at home perhaps?
It looks like locally, city and county officials are getting ready to start re-opening beaches. But how to keep people hip to the new reality?
Tweet of the week
This photo says it all.
Song of the week
Crazy times we're living in, huh?
Live from the furlough!
This was my furlough week from the day job, and I've been busy!
I did live video every day with the likes of Rick Sammon, Sharon Biddinger, Jan Schrieber, Christine Blackburn and Josh McNair on YouTube and Facebook. I'll be live with Rick again Tuesday morning on Facebook, 7 a.m. PT for you west coast earlybirds, on the Photo Therapy group page.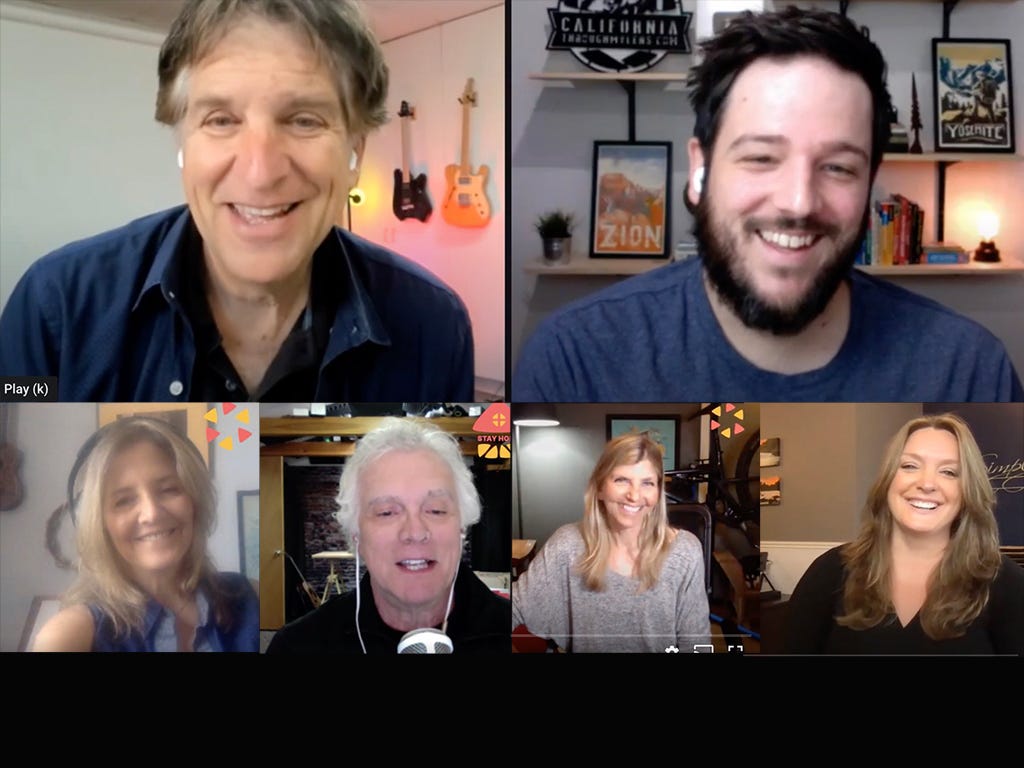 The common theme was photography and I had a blast showing off pictures and discussing them with my pals. But I also love doing live, extended interviews on any subject (except politics) on social media. If you'd like to join me on camera some morning or evening, just let me know.
What do you think: "Tales from the COVID Quarantine" Who has a story to tell?
Best line of the week came from my Mom: "When you're not shooting, strumming , writing, recording, going live or eating, call me."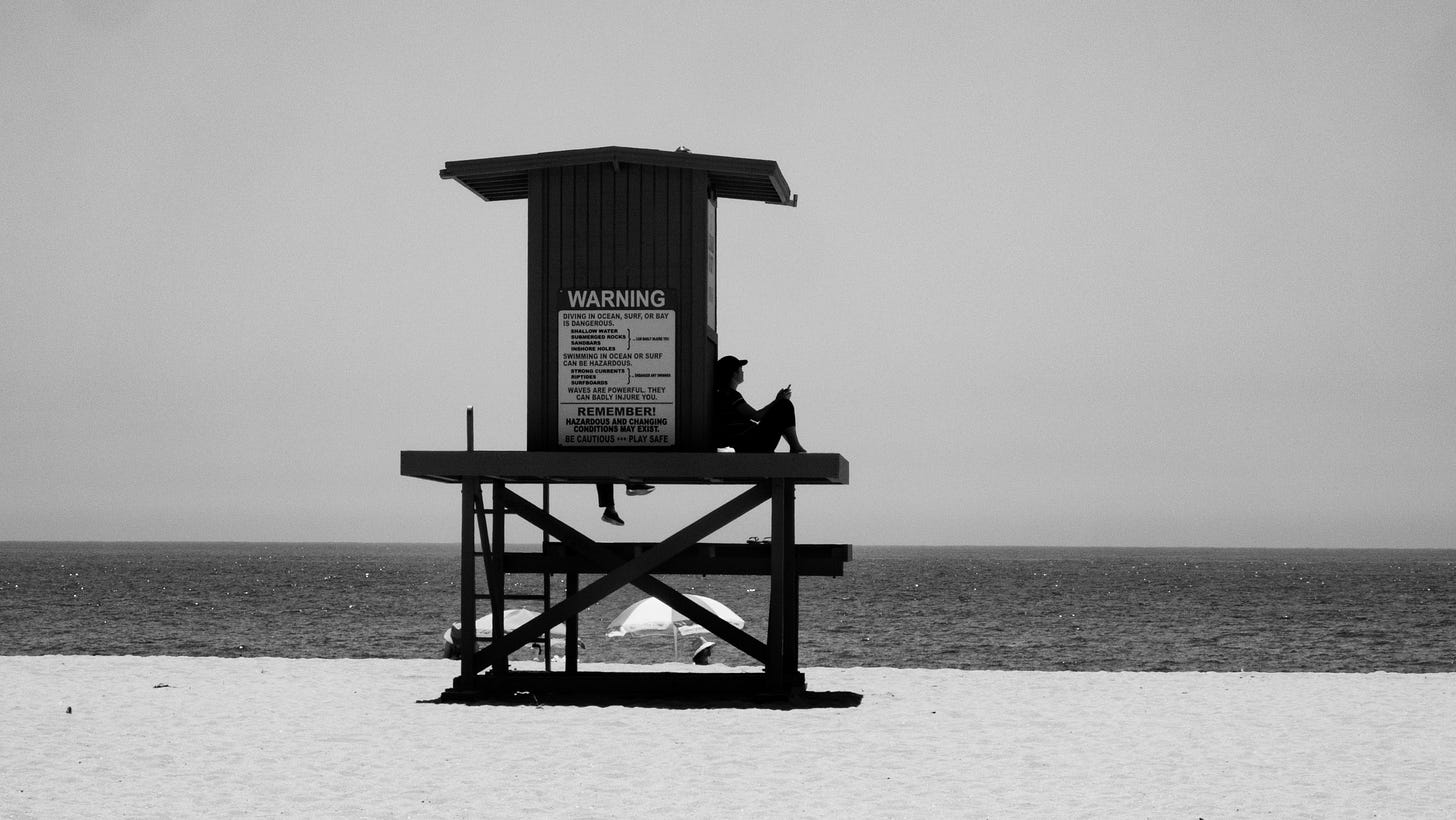 That's a wrap for this week's newsletter. Kids, if you enjoyed today's edition, let me know with a reply or clicking the heart. I'd be honored if you'd share this with everyone you know and urged them to start subscribing.
Thanks again for reading, watching and listening.
Jeff