Discover more from Jefferson Graham's PhotowalksTV newsletter
Jefferson Graham's photo meets tech updates, Photowalk travel photography and videos and an occasional guitar tune.
Over 2,000 subscribers
They closed the beach!
Manhattan, Hermosa, Redondo and Laguna shut tight. You have to see this to believe it
Many of the Los Angeles and Orange County beaches are now closed, due to the COVID-19 crisis.
You are encouraged not to walk on the sand, stroll on paved paths or visit the Piers. I've got the video proof, from Manhattan, Hermosa and Redondo Beach here in the #Photowalk video below. My friend Jan also contributed clips from Laguna Beach in the O.C. as well.
Initially, I figured the county and local cities would be treating this as seriously as they do smoking violations. A sign here and there and that would be it.
After all, it's against the law to smoke in Hermosa and Manhattan in a public setting, but I've never seen a cop write a ticket to the many smokers I see out on the streets.
Yet Saturday morning, when I got into position on the Strand to snap an overhead shot of the Pier, I was indeed visited by one of the Manhattan Beach's finest, on a motorcycle, encouraging me to step back.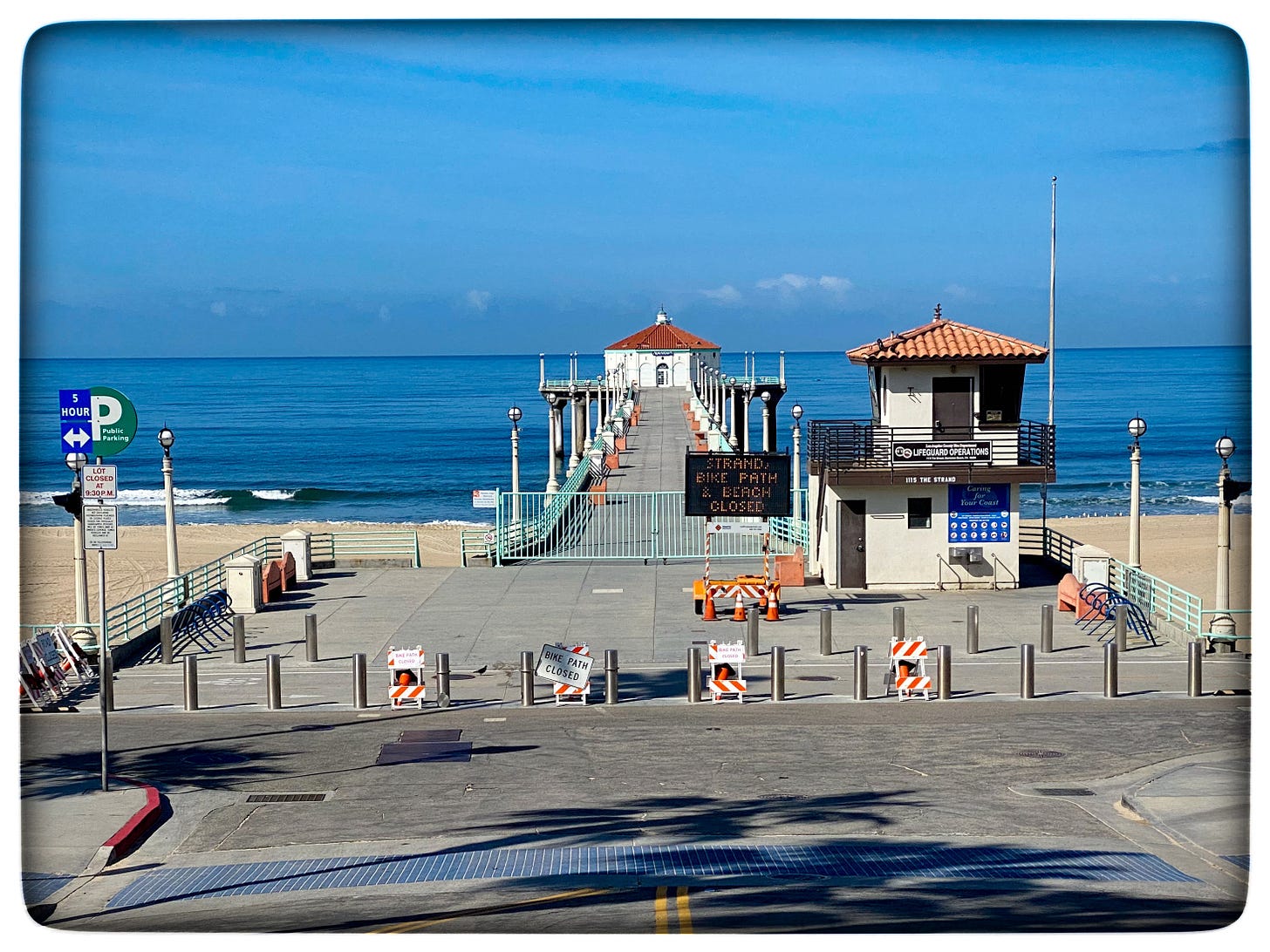 When I walked out onto the sand Friday, shortly before the ban went into effect, a lifeguard told me to go back upstairs and stay off the beach. '
In fact, Saturday morning, I noticed the lifeguards driving up and down the sand to enforce the rules.
This is great. If you're going to announce a ban, enforce it!
Of the three South Bay Beach Cities, I saw more signage, in Redondo, yet at the same time, some of the Pier restaurants are still open for takeout, so you are allowed to visit.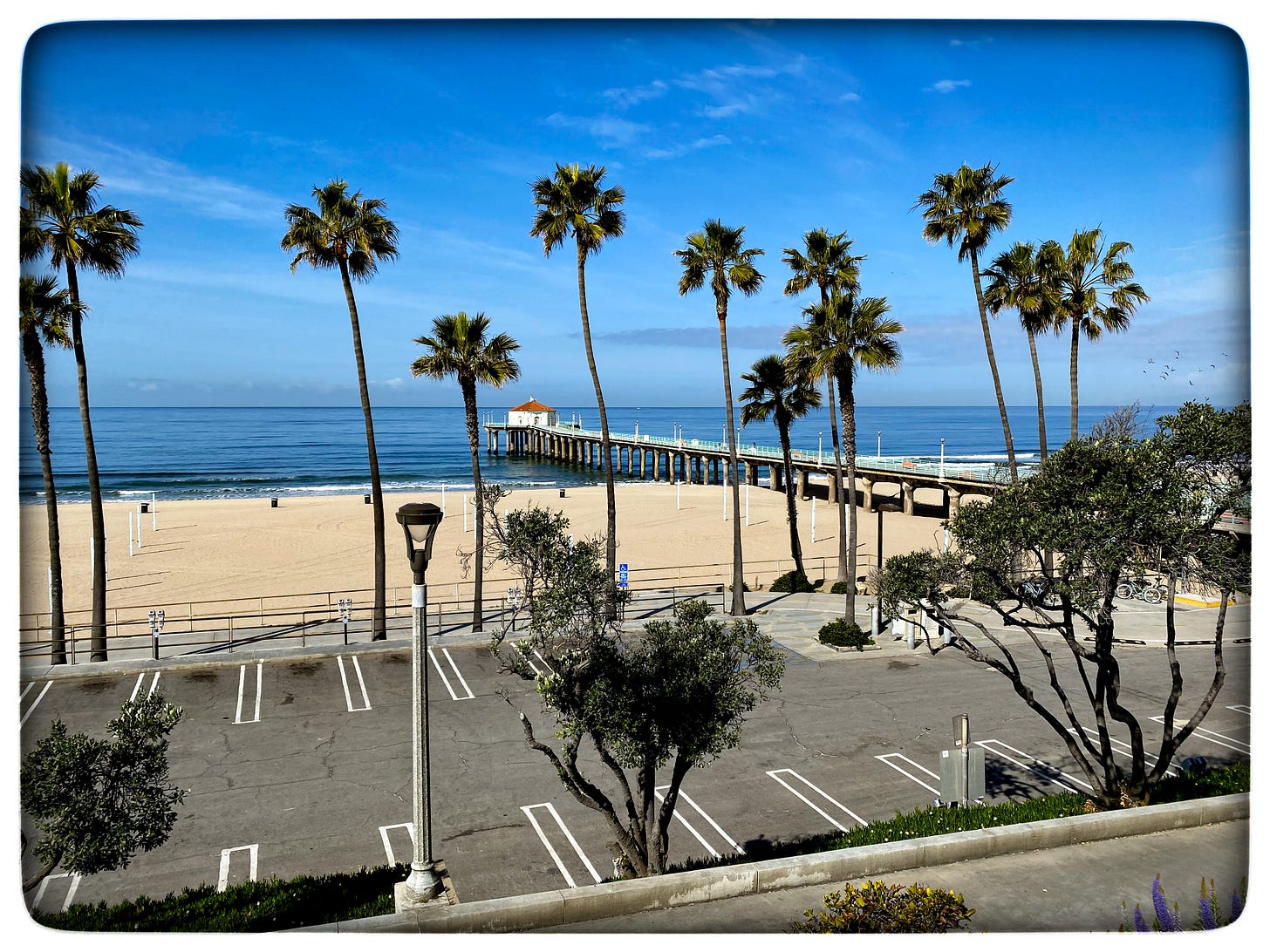 The scene from Hermosa Beach, Saturday afternoon at 2 p.m., in sa creenshot of the Good Stuff webcam: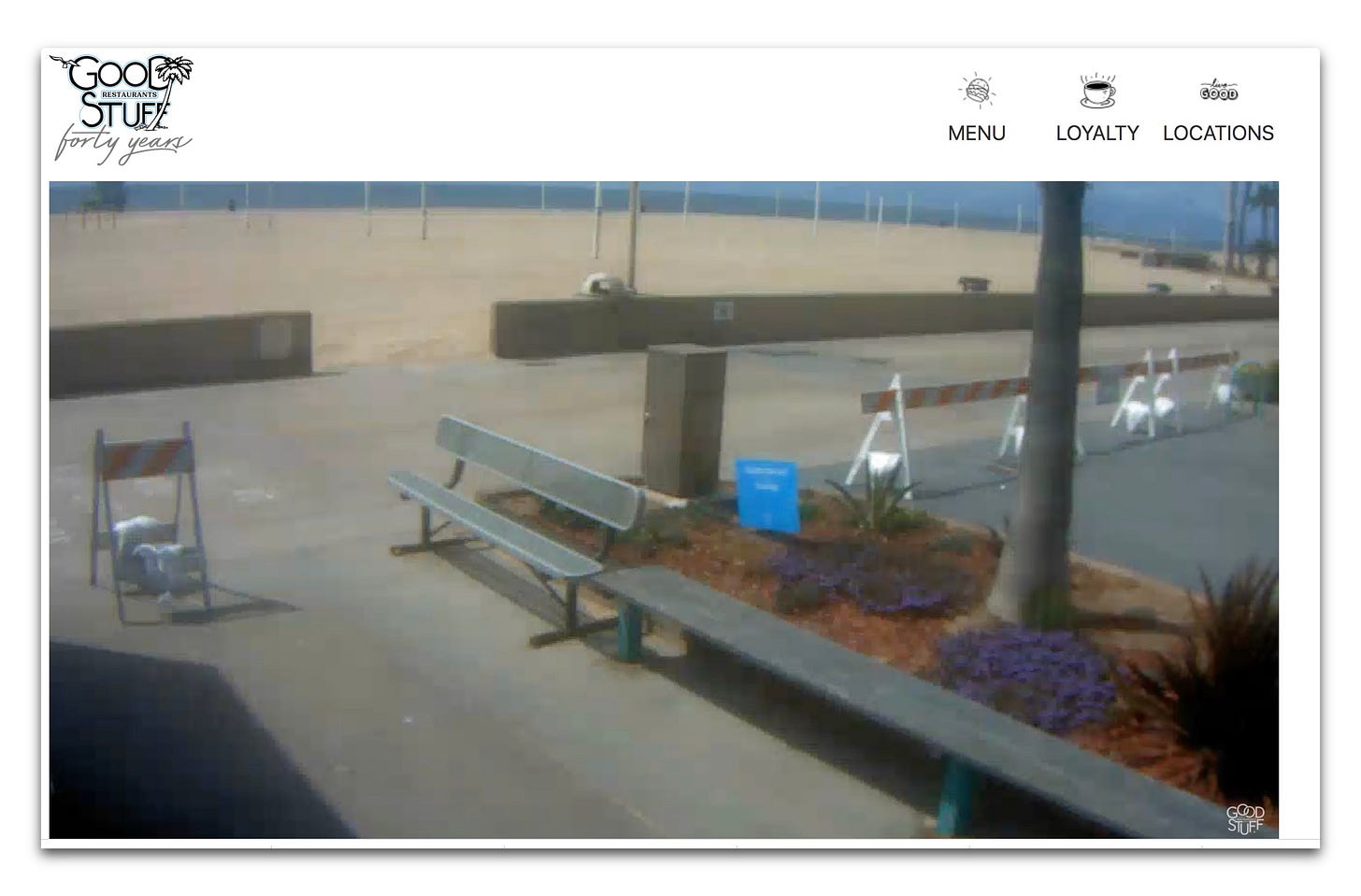 And from Laguna:
(Thanks Jan Schrieber for the contribution.)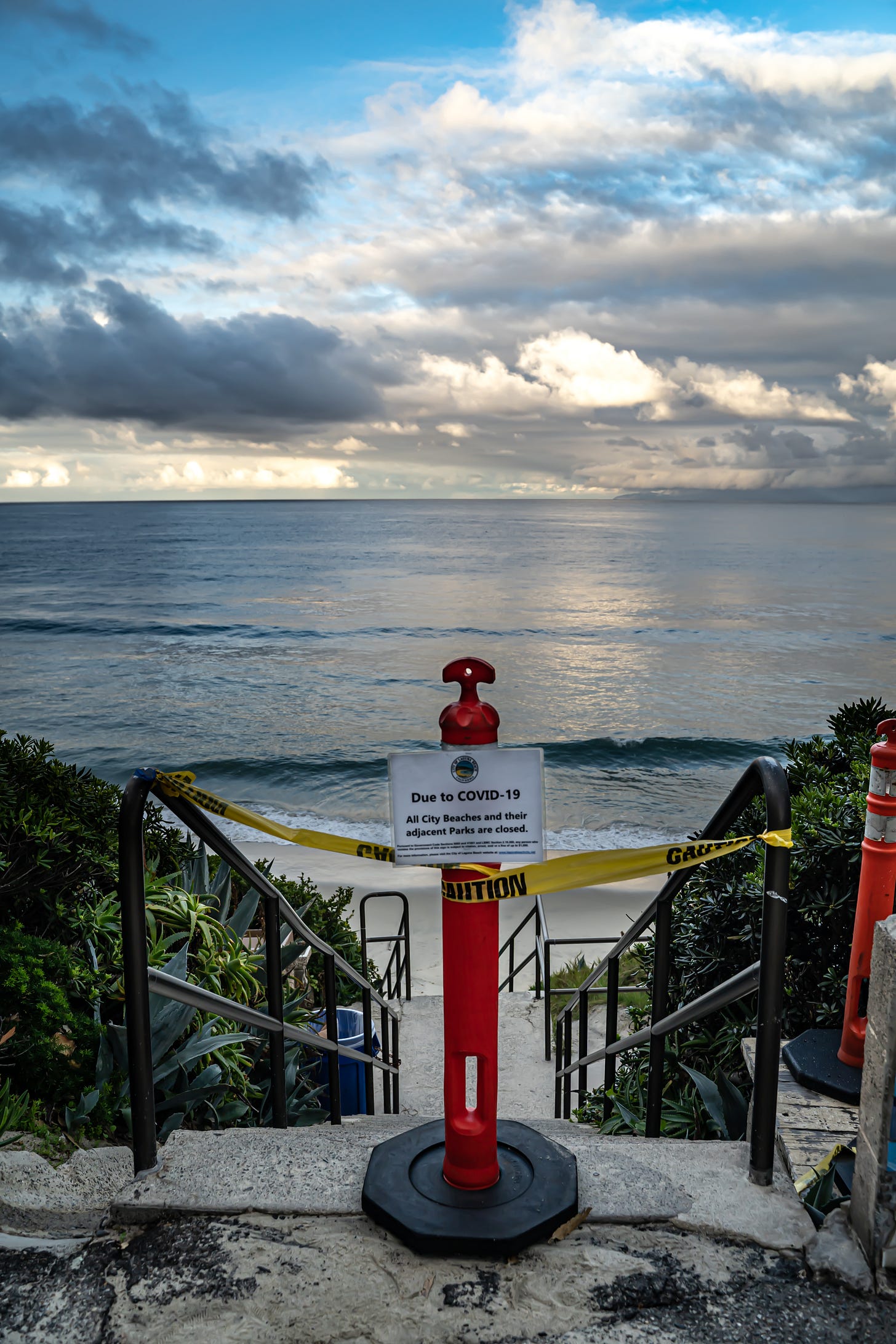 L.A. County has closed beaches through 4/19. Hopefully we'll all get back out there again, sooner rather than later, right folks.
More: EMPTY L.A. Freeway
Speaking of oddities, those of you who live in L.A. and those of you don't know all about our jammed freeways. They're especially bad during rush hour. However, not during a coronavirus crisis.
Take a look. This is not an optical illusion, just Friday morning, 8:30, drive time during what would be considered rush hour.
(In case you're wondering, I always do my driving shots by clipping a GoPro Hero camera to the windshield wipers. Amazing quality, considering, don't you think?)
Tweets of the week
I added a new song to the repertoire and played it live on Twitter, "What a Wonderful World."
And I took a whole bunch of early morning shots. That's going to be hard to do this week!
But wait, there's more!
See more of the photos, read my articles from the week, every tweet and more on my Flipboard @photowalks magazine: https://flipboard.com/@photowalks/jefferson-graham-8admd4ldy.
My gallery of closed beach photos is here on my SmugMug: https://www.jeffersongraham.net/Jefferson-Graham-Portfolio/Travel-Photography/SoCal-Beach-Cities/COVID-19-They-closed-the-beach/
As always, thanks for reading, watching and listening. If you enjoyed today's newsletter, please share it with everyone you know, and let me know too!
Are you going stir crazy in the house? How's everyone holding up?
Keep smiling! Because what's the alternative, right?
Jeff
P.S.
See past Photowalks videos from:
Manhattan Beach:
Hermosa Beach:
Redondo Beach:
San Pedro:
Laguna Beach: