Toluca Lake/Burbank with Tanjareen
Did you know today was Tanjareen Thursday?
Toluca Lake is one of those magical Los Angeles neighborhoods that defy big city life.
It's small, neighborly and seemingly it's own little bubble, a shadow area of Hollywood. Toluca is best known as the former home of Bob Hope and current home of another Bob, the oldest, still-standing classic Bob's Big Boy restaurant.
It's also the `hood of the unforgettable actress/comedian Tanjareen, the perfect person to join up with for a Toluca Lake Photowalk. Today is Tanjareen Thursday after all.
Toluca Lake is tiny—just over 1 square mile, and it bleeds into Burbank and the studio district (Warner Bros., Disney, ABC and NBC) causing many people to believe that they are visiting Burbank, or vice-versa.
And while there's a lake, you have to either know someone to get to it, be one of the 35 homeowners who reside by the lake or a member of the exclusive Lakeside Country Club. But anyone can stroll down Riverside Drive and enter photogenic land. Toluca makes a wonderful backdrop for a photo shoot.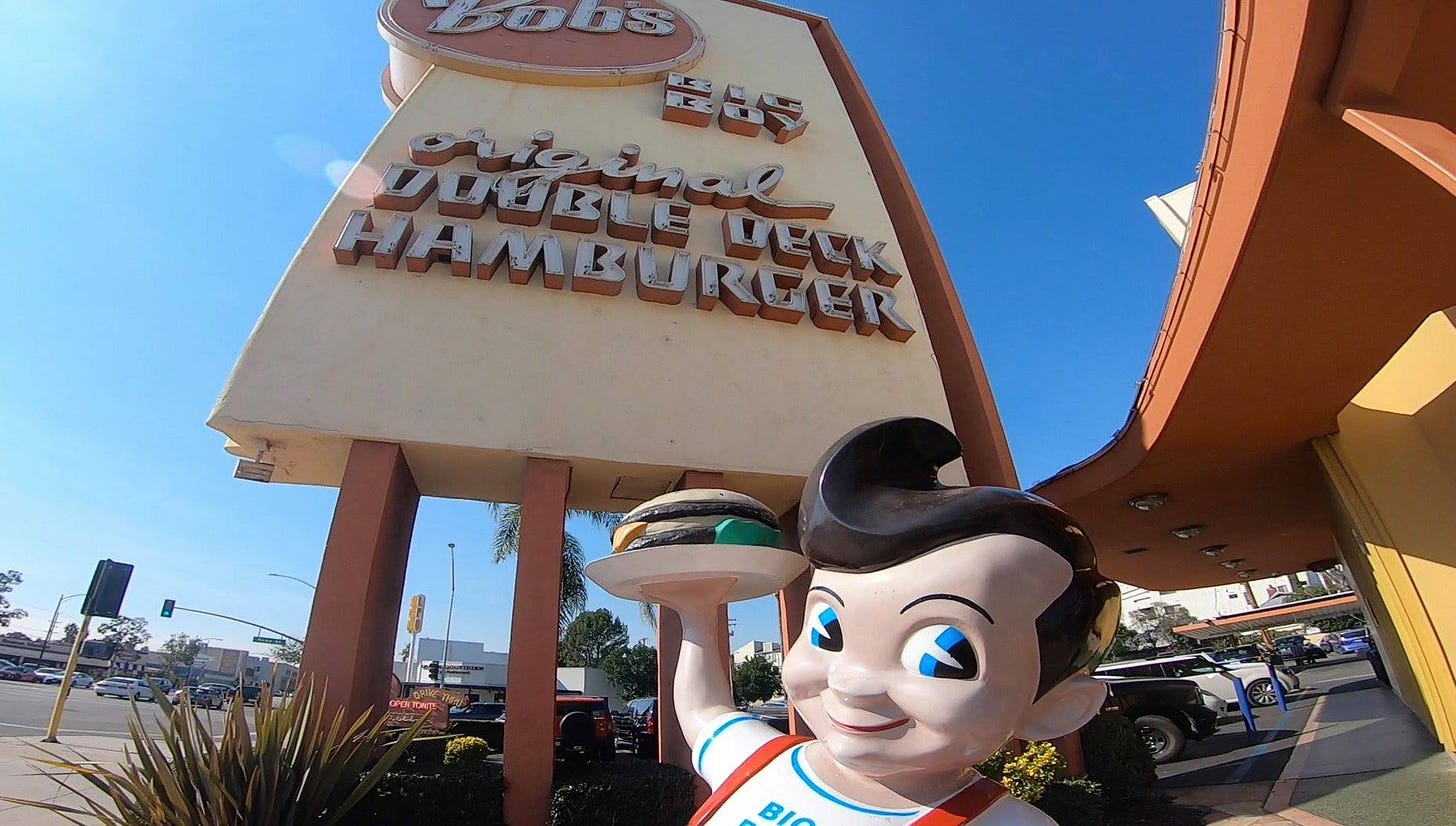 Our Photowalk began at Trader Joe's on Riverside and ended at the Big Boy. As you'll see in the video, we just had fun exploring and looking around for photo inspiration, which is easy to come by when you get out of the car and walk around. And have Tanjareen as your L.A. muse.
Bob's was one highlight. Another: Toluca Lake just happens to have a cool orange and black themed "Tangerine" hotel right in the middle of town. Our friend rather enjoyed showing it off.
Please click the above link and watch the latest #Photowalks video. It's our 50th episode, and what a treat to have Tanjareen join us to celebrate.
As always, please like, share and comment.
Gallery: https://www.jeffersongraham.net/Jefferson-Graham-Portfolio/Travel-Photography/Los-Angeles/Toluca-Lake-Burbank/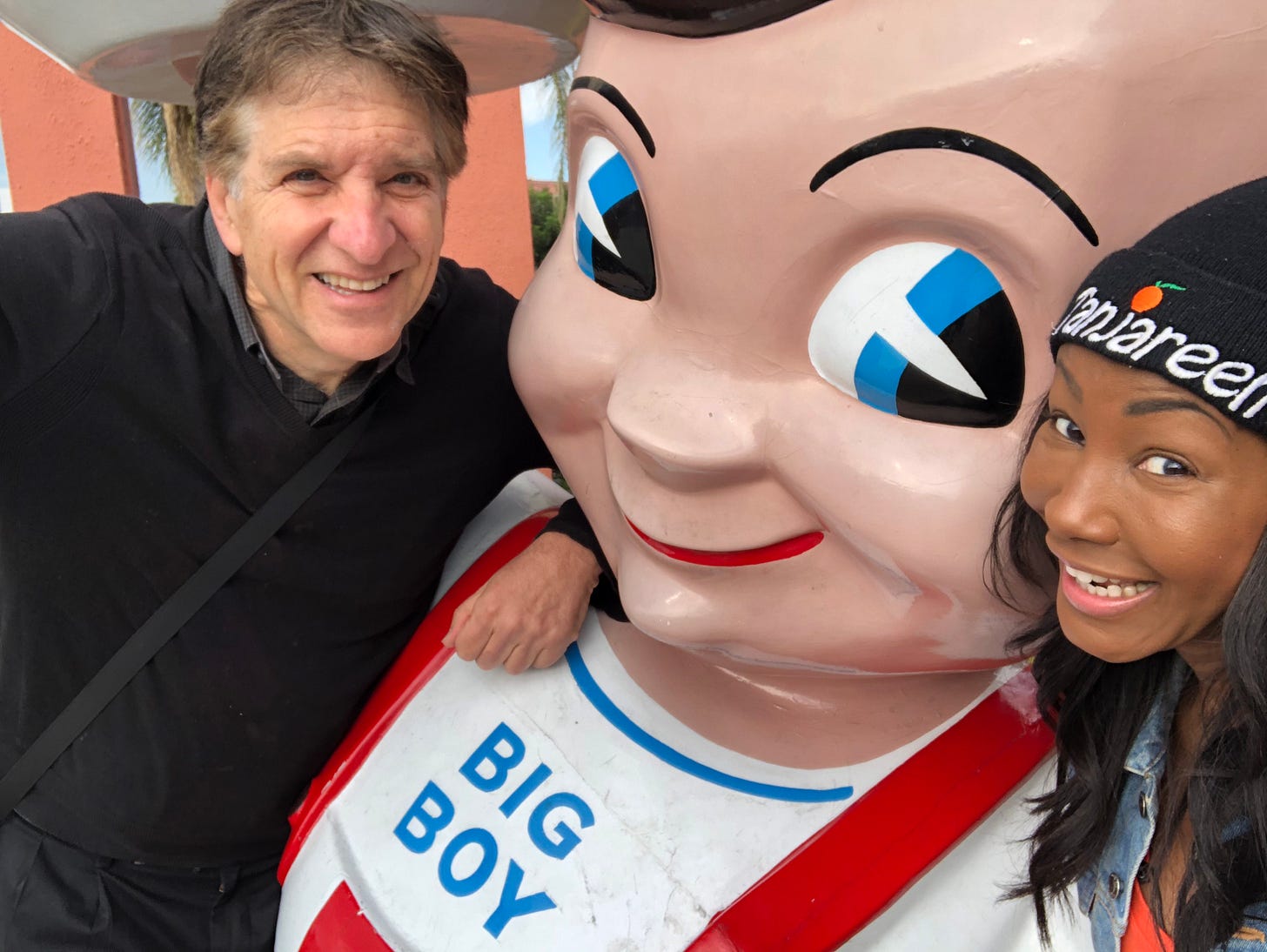 Overjoyed
I'm pretty much that way every day. Put a camera in my hand to explore a neighborhood—I'm overjoyed. Switch it out for a guitar, and I'm doubly overjoyed.
It also happens to be the name of my favorite Stevie Wonder composition—at least for solo guitar playing. The tune is from 1985's "In Square Circle," album, and has lived on ever since as a contemporary classic. Have a listen and let me know how you like it.
Tweet of the week
The photo quality of the new iPhone 11 Pro camera really is amazing. It's no replacement for my bigger Sony's in situations like inside portraits, sports and parties, but it sure does make magic for those amazing winter Manhattan Beach sunsets.
Thanks for reading, watching and listening!
As always, please click the HEART to like the newsletter, hit REPLY and let me know in an e-mail. Please share today's post with the world! And tell your friends to subscribe.
Jeff