Discover more from Jefferson Graham's PhotowalksTV newsletter
Jefferson Graham's photo meets tech updates, Photowalk travel photography and videos and an occasional guitar tune.
Over 2,000 subscribers
Tune in alert: "The Way I See It"
Doc about Obama and Reagan's photographer showcases cool BTS photos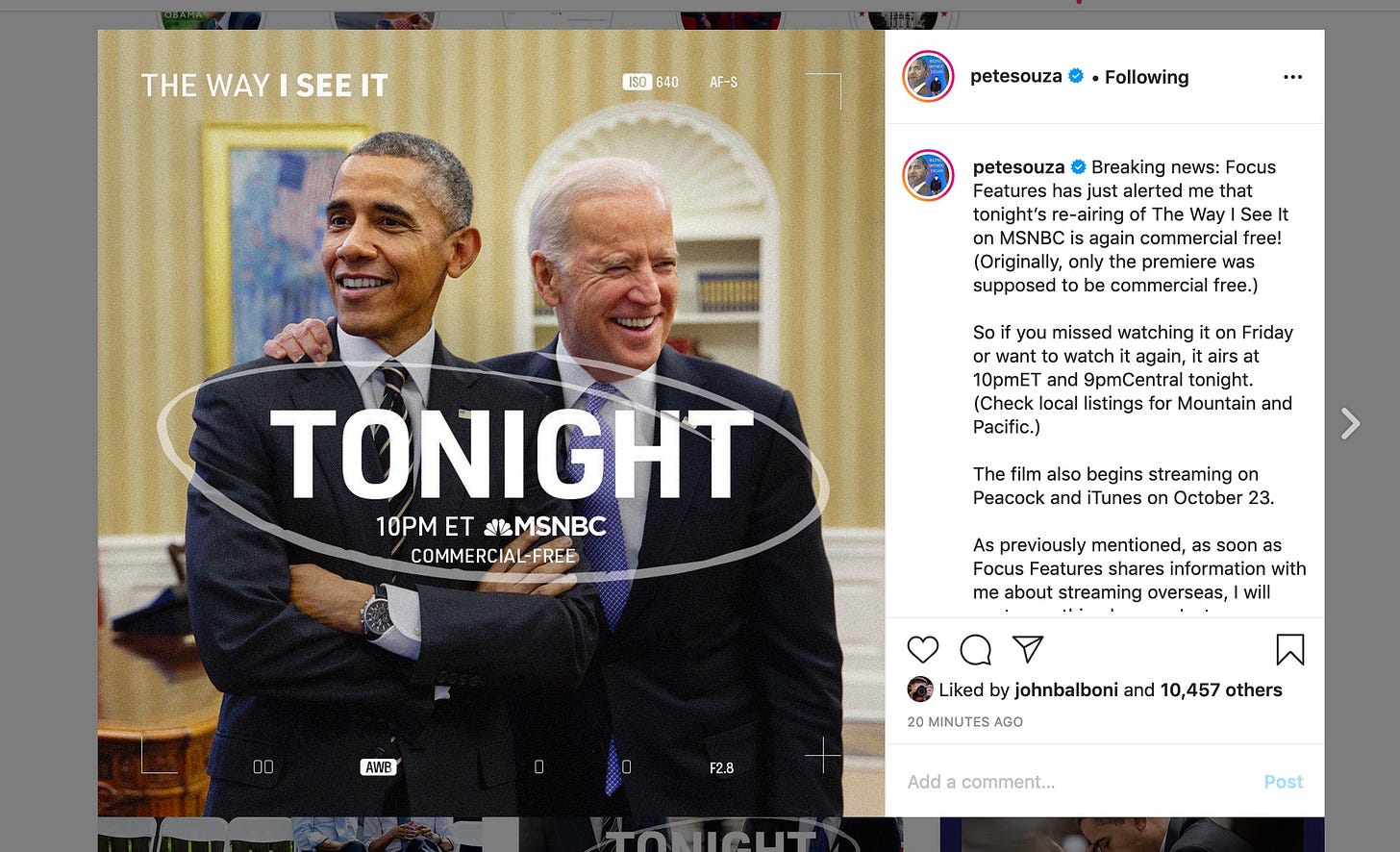 In case you missed it, MSNBC has produced an incredible two-hour documentary,
"The Way I See It," about the photographer Pete Souza that has two more scheduled airings. Regardless of your political persuasion, this is must-see TV, at least for anyone interested in photography.
It will air again on MSNBC Sunday night (tonight) at 10 p.m. ET/7 p.m. PT and Friday at 9 p.m. ET/ 6 p.m. PT.
Souza served as the official behind the scenes White House photographer for both Ronald Reagan and Barack Obama, and as such, was able to get priceless behind the scenes shots that us mere mortals could only dream of.
That every photo in the film is jaw-dropping amazing is amplified by director Dawn Porter grabbing historical video clips that accompanied the shoots. There's everything from Reagan posing with a chain saw in jeans and bringing former Russian leader Mikhail Gorbachev to the Oval Office, to Obama playing in the snow with his kids and driving in the limo with wife Michelle on inauguration day.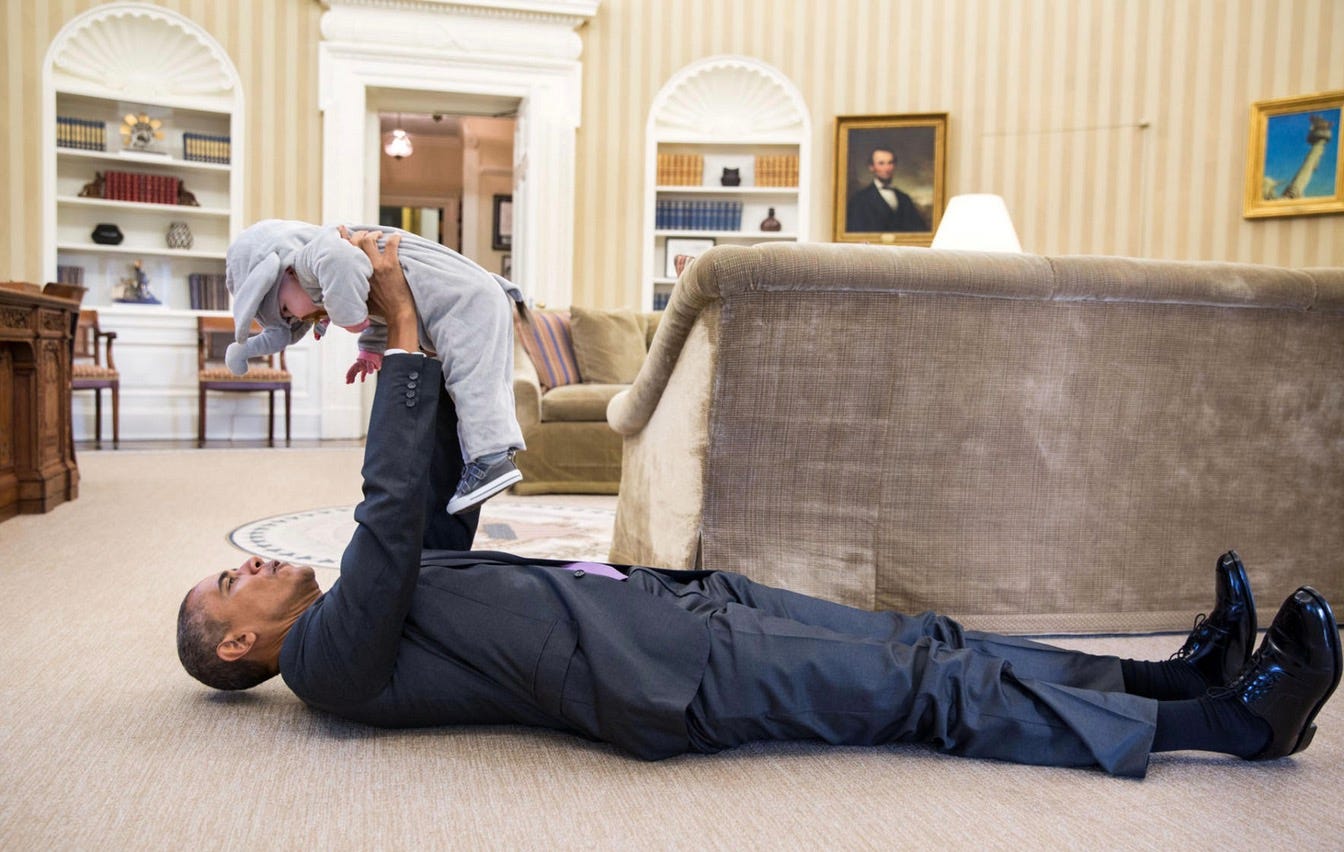 (Obama in the White House, by @PeteSouza.)
But it's not just Obama and Reagan. Porter also reaches into the grab bag to showcase our history of great BTS photos, from John F. Kennedy playing with his kids in the West Wing, Lyndon Johnson lying in bed as aides talk policy and George W. Bush relaxing on a couch.
The book is based on Souza's best-selling book, "Obama: An Intimate Portrait," and the subsequent live talks that he gave to audiences before COVID hit.
The photographer in all of us should pick up one really big lesson from the film. Those posed shots of people standing erect and looking at the camera serve their purpose, but it's the candid, behind the scenes shots that stand the rest of time.
I once filled in for a photographer to cover an event where a bunch of school officials were making speeches at a gala. So what do you think I did? Take pictures of the speakers, right?
"I can't believe you didn't get many reaction shots," he screamed at me after I handed in the photos. Because what happens off screen is way more fun to look at, right? (At least a good mix of both, please.)
Beyond being a gifted photographer, Souza is also apparently one amazing editor. Because editing is just as important, if not more, to the job. I'm a big believer that it's best to show your best work, if you can, and weed out the junk.
It's safe to say that every image in the "The Way I See It," is frame-worthy. I'm guessing we see 200-300 images at best in the film. Souza shot 1.9 million frames of Obama during his 8 years as White House photographer.
Remember that, the next time you bombard your social feeds with everything that comes out of your camera. Editing, BTS and shooting the world from different angles can go a long way.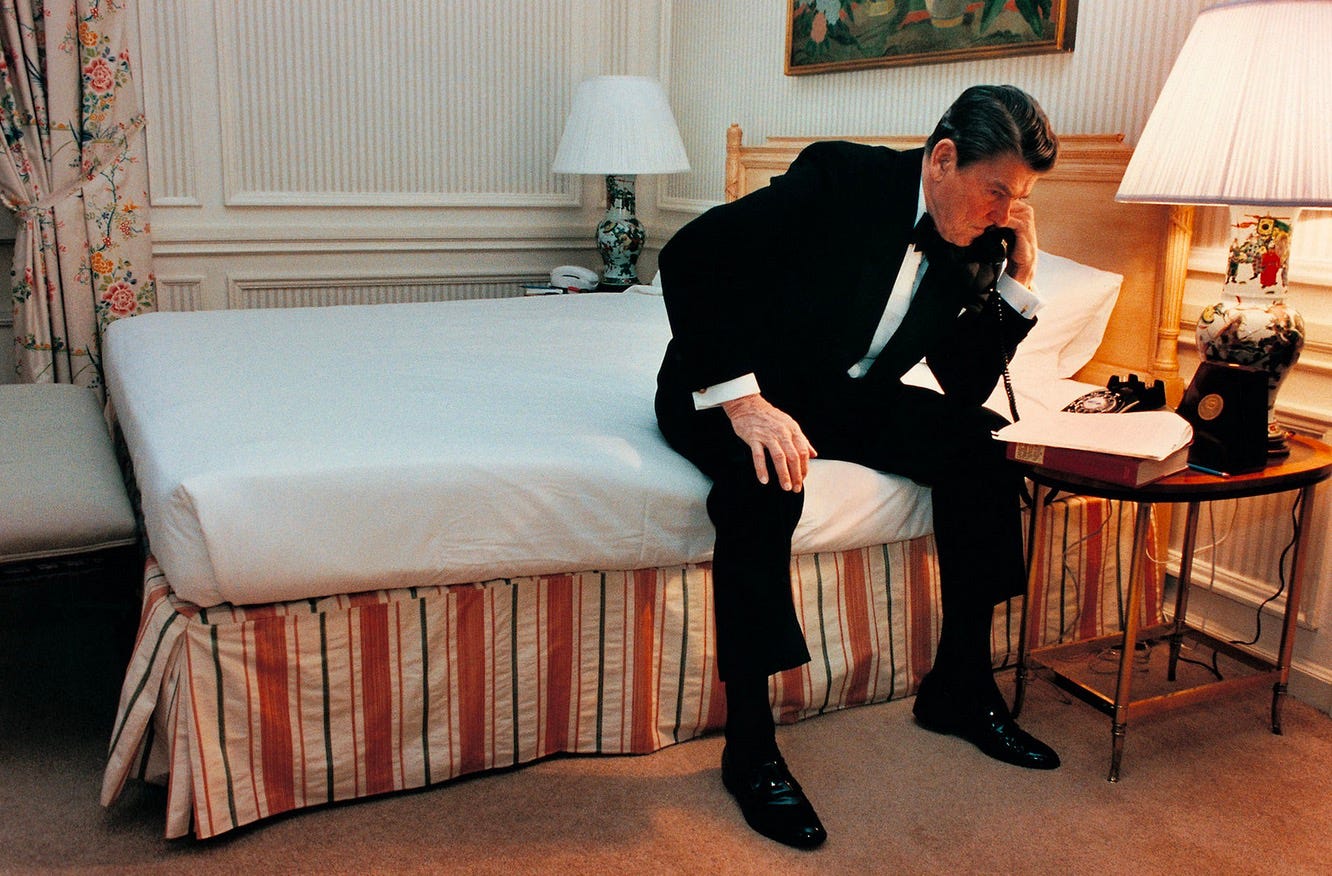 Former president Ronald Reagan in a hotel room, by @Pete Souza.
On his Instagram feed, Souza says the film will shift to NBC's Peacock streaming channel (available on Roku and Apple TV, but not Amazon Fire TV) and iTunes for rentals beginning 10/23. Let me know what you thought of the film!
This week's appearances
I really enjoyed sitting in with John Kao and Brian Solis on their live "Intersections," video show and talkin' tech and a little music too. My segment starts at the 24 minute mark.
It's old news by now, but I gave a preview to Fox 5 in Washington DC on those new iPhones that were announced this week.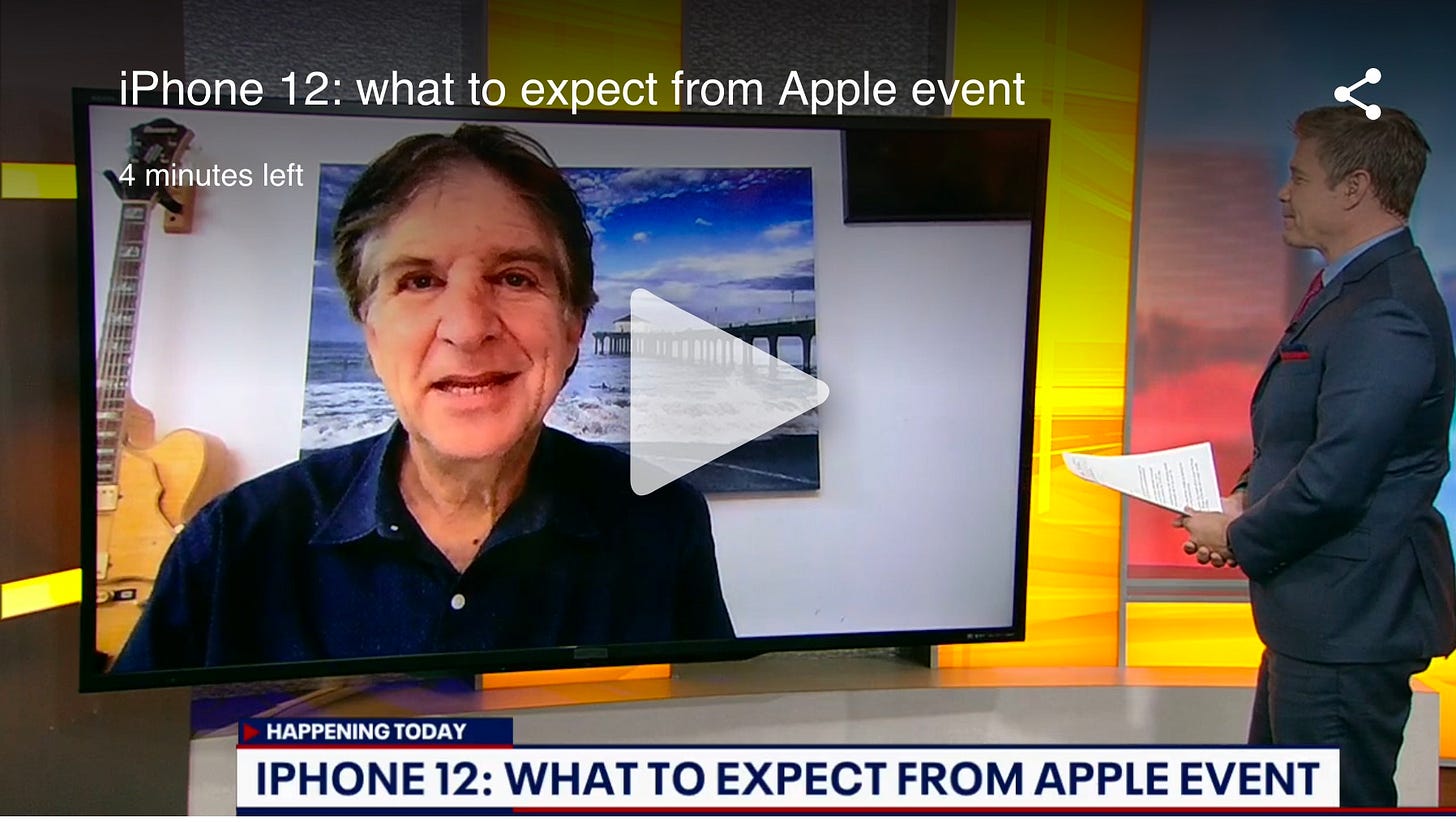 Tweet of the Week
As everyone knows, I'm a morning person, but occasionally I burn the candle on both ends and catch the sunsets too. We had a great one on Friday:
iPhone Crazy!
ICYMI: Like I said, new iPhones were announced this week, and Apple did its usual masterful job of convincing us that we had to ditch the old ones for models that connect to the new, supposedly faster 5G networks, have sturdier glass, a more powerful processing chip and an improved camera. As always, I had a few things to say on the subject.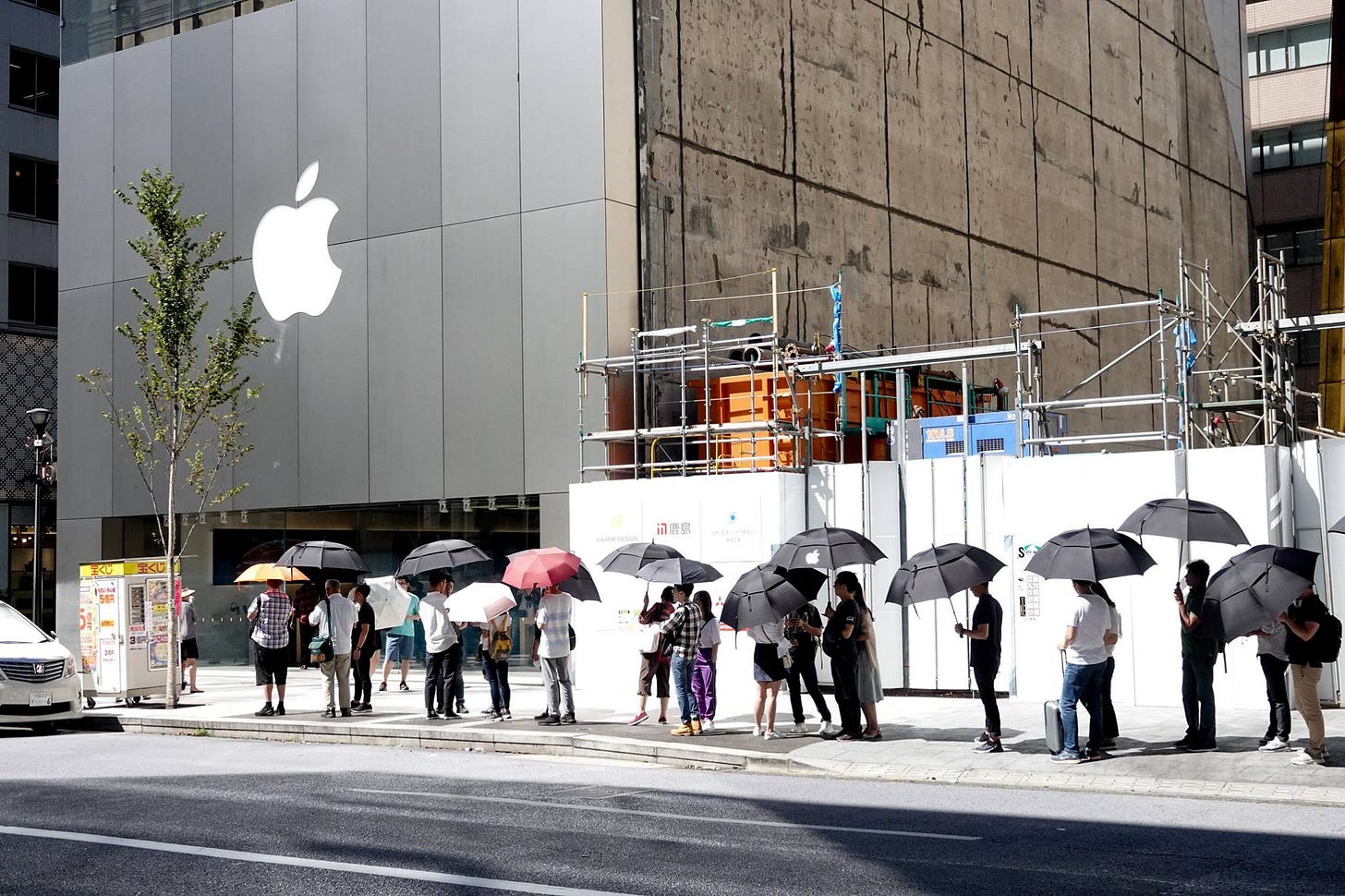 Six questions to ask yourself:https://www.usatoday.com/story/tech/2020/10/15/questions-to-ask-before-buying-apple-iphone-12/3654711001/
What Apple didn't tell you about the new iPhones.https://www.usatoday.com/story/tech/2020/10/13/what-apple-didnt-tell-us-about-iphone-12/3641214001/
Have you put in your orders yet? The phones are scheduled to arrive Friday.
That's a wrap for the latest newsletter edition. If you enjoyed it, please let me know with a heart, a reply, a tweet, whatever. Tell all your friends to subscribe and I look forward to checking back in with everyone next week.
Keep smilin'!
Jeff