Discover more from Jefferson Graham's PhotowalksTV newsletter
Jefferson Graham's photo meets tech updates, Photowalk travel photography and videos and an occasional guitar tune.
Over 2,000 subscribers
I'm Jefferson Graham with the Sunday edition of the PhotowalksTV newsletter: smartphone photo tips meets tech meets travel. The newsletter is a free publication, but I encourage you to show your support with a paid subscription.
If clothes "make the man," as the old saying goes, well, nothing makes a landscape photo like a collection of clouds.
What I encountered Saturday morning didn't appear to be those "asperitas" variety that had been reported in Northern and Central California, but just a wonderful grouping of sky additions that made me stop and click the shutter of my iPhone 15 Pro Max.
Or were they?
My first shot was a basic one of the Manhattan Beach Pier, a place you all know I have photographed way too many times. But gosh, it doesn't get old, at least not for me. Then I picked it up from another angle.
On second glance, maybe they were the asperitas, as they certainly looked out of the ordinary. The San Francisco Chronicle describe them as clouds "that resembles something out of a Vincent van Gogh painting, or a sign of an impending alien invasion."
I don't know that I'd go that far, but they sure make the photo!
As I continued walking, I discovered the holy grail.
I loved how they framed this Hermosa Beach lifeguard tower, and thought you might enjoy seeing the editing process for this shot. Looks great in color, right? But then, didn't all the classic Ansel Adams landscape shots look really cool in ultra-dramatic black and white?
Indeed. So the first stop was sending this photo, on my phone, directly into the Radiant Photo mobile app that I told you about yesterday. (The app costs $3.99 monthly, but click the link for 90 days of free usage.) I was offered many different shades of color and black and white. (Rich, Crisp, Dramatic, Sepia, Filmic, Warm and Classic.)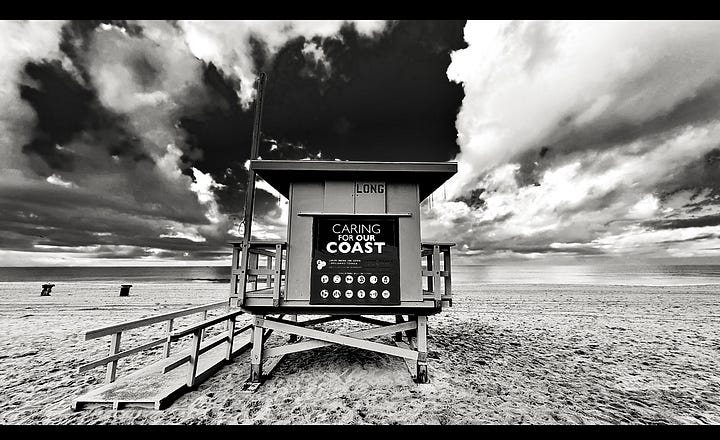 I selected Warm, which looked great, but I still wanted a darker, richer sky, similar to what I used to get when I threw a red filter on my old Pentax Spotmatic camera as a kid, a trick to make the sky as dark as possible in a black and white photo.
To achieve this, I needed to finish up in Radiant and continue editing in another program. I exported the file and then brought it into Lightroom Mobile, which is free, before add-ons.
I selected the Dehaze and Blacks sliders, played with them, and there you go. A five minute edit, if that, was all it needed. I knew I was on the right track with the edit when I saw this comment from Joe on my Facebook. "Nice, do more B&W please."
Happy to oblige! Readers, which do you prefer?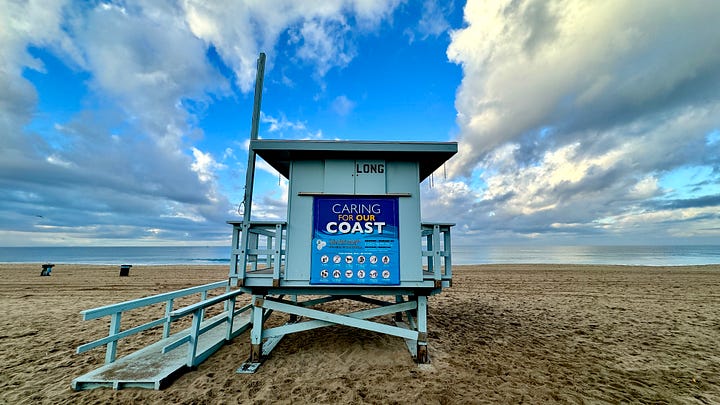 A new video, just for you
I brought the iPhone to Hermosa Beach for the latest edition, on travel photo tips I wish I had known back when I started. Take a look: perhaps you can learn from my mistakes.
A friendly reminder that it's 5 o'clock somewhere, and when that happens, you might want to stop for a moment and look up. It's pretty spectacular out there! Thanks as always for taking a moment to watch, read and listen. If you enjoyed today's edition, please share it a friend or two, and consider supporting the cause with a paid subscription, which is now available for 20% off as a Black Friday special.
Jeff