Discover more from Jefferson Graham's PhotowalksTV newsletter
Jefferson Graham's photo meets tech updates, Photowalk travel photography and videos and an occasional guitar tune.
Over 2,000 subscribers
Like what we do here at the Photowalks newsletter? Help support us with a paid subscription, which starts at $5 monthly.
Greetings from sunny Manhattan Beach, California, where I have been engaged this week on a fascinating project, filming the greatest timelapse video I've ever attempted. Since Monday, I have had an iPhone 15 and a Samsung Galaxy S23 running non-stop from a really cool location, watching the morning turn to day, afternoon turn to night, clouds fly in and out, overcast skies open up to sun, and of course, so many multiple sunrises and falls.
I'll tell you all about how I pulled it off next week and show you the awesome footage too.
But speaking of the Galaxy and iPhone, we get letters!
"Good afternoon! I'm an iPhone lifer. Last time we talked, I decided to stick with the iPhone SE (when the 2020 update came out). It has served me well for 3 1/2 years, still going strong. I was at a Braves game recently, sitting in 2nd level behind someone with a Samsung (Galaxy, new I think). Anyway, I was blown away by the pics. I have hesitated to switch from iPhone, because I'm set in my ways (and 66). Should I pull the trigger?"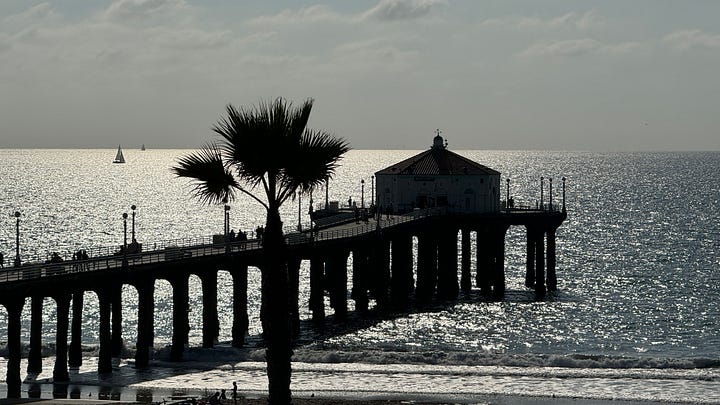 iPhone 15 Pro Max 5X on left, Samsung Galaxy S23+ 10x on right
Short version:
The Galaxy phones, since the S21 series was released in 2021, have offered a 10x zoom, which is equivalent to 230mm on big cameras, compared to the iPhone, which expanded in 2023 from the 3X of the 14 Pro series (77 mm) to 5X on the top of the line iPhone 15 Pro Max, which is 120 mm. In layman's terms, Samsung's telephoto is twice as big as Apple's.
So if you're going to a safari, like my pal Rick Sammon recently did, you'll get closer to the lions and tigers on the Galaxy. If you're a soccer mom, you'll get better closeups of your kid kicking the ball.
Another plus: on later Galaxy models, Samsung added a new pro app (available at the Samsung Galaxy app store) called Expert RAW that gives photographers more control over their images than iPhone photographers get.
You get to choose white balance, ISO and shutter speed. This is a big deal for night and astro photography, when you want to leave the shutter longer than usual. The limit on the iPhone is 30 seconds in Night Mode.
I shot night photos in the Badlands this summer at the longer exposures and got great results of the stars. The shot below is at a 1 minute exposure.
Speaking of timelapse videos, Galaxy also gives photographers more control and options about how they make their videos, with variable speed options that aren't possible for iPhone photographers.
So on paper, the Galaxy wins hands down for photography. Or does it?
On the latest edition of the iPhone Photo Show, my guest the photographer-educator Erik Kuna, talked Galaxy vs. iPhone with me. We both run around with both camera phones all the time. I asked him which one he would choose if he could only take one.
"Galaxy, no question," he said. "It will always be the Samsung. It gives me more versatility as a photographer."
My take: I'm an iPhone first/video first photographer. The iPhone is going to be my first stop, as I love the Apple eco-system, and how seamless it is working with a MacBook Pro, iPad and iPhone. Getting the images and footage off the iPhone via AirDrop and now USB-C to USB drives via the new iPhone 15 Pro Max is a breeze. I can't say the same about the Android system, even though Samsung has no equal when it comes to telephoto on the top of the line Galaxy phones.
And video is shaper, crisper, better looking and more versatile on iPhones. On the new iPhone 15 Pro Max, we can shoot video in higher, professional resolution (now as LOG). So for me, my choice is iPhone. But frankly, I always have both cameras with me.
Erik did agree with me that the iPhone is better for video, especially the 15 series "but for photos, I'm grabbing the Samsung," he says.
You don't have to fork off $1,000 to give the Galaxy a try. Pick up a used S21, which has the 10x lens, and see what you think. I bought a used edition earlier in the year for $400, and just this week, found one for under $300 on Amazon.
NEWS BITES
X, the site once known as Twitter, will soon begin charging people to use the service, starting at $1 a month. If you don't pay, you won't be able to tweet. I can live with that, how about you?

Apple is expected to launch a line of computers Tuesday, in time for Halloween. You can watch the livestream at Apple.com at 5 p.m. PT.

Eech: Some owners of Amazon's Fire TV streaming devices are getting an unwelcome, awful new feature: ads appearing in your screensavers. Jared Newman has the skinny on how to turn them off.
We had a great turnout for Thursday's photowalk/mobile phone class at the Manhattan Beach Pier.
I'm looking at doing these once a month in the coming weeks, and moving the time to Sundays at 10 a.m., monthly. How does that sound? I'm looking at 11/19 for the next one. Who's in?
My Gonzo list
Many attendees asked me lots of questions about my gear and accessories, so for them, and you, if you haven't seen it, here are my faves:
Thanks as always for taking the time to read, listen and watch. I'll be back at you tomorrow with my opus about the trip of the lifetime, our visit to Nova Scotia, one of the most photographable places on the planet. I'm just completing my 24 minute #Photowalks episode on the visit, as we speak.
Have you seen our son Sam's artwork on Instagram? This one is pretty cool!
Jeff