Discover more from Jefferson Graham's PhotowalksTV newsletter
Jefferson Graham's photo meets tech updates, Photowalk travel photography and videos and an occasional guitar tune.
Over 2,000 subscribers
First impressions: iPhone 15 Pro Max
Best iPhone camera ever, but read this to save some growing pains
I've just spent two days with the new iPhone 15 Pro Max, the latest and greatest top of the line new device from Apple.
It isn't a stretch to say this is the best camera Apple has produced, with more choices (ultra-wide angle to real telephoto) better low-light performance, image quality and overall usability than prior models. (Whether you want to spring $1,000 and up for yet another phone is up to you, and of course, you may not care for, nor need the new features.)
Thanks for reading Jefferson Graham's PhotowalksTV newsletter! Subscribe for free to receive new posts and support my work.
For me, as a travel photographer, I like the biggest zoom ever for an iPhone (5x, which is equivalent to a 120mm telephoto) upgraded internal power and the ability to connect via the USB-C charging port to external hard drives and thumb drives, something no iPhone has ever allowed us to do.
Meanwhile, here's some growing pains and discoveries I had that you won't find in the marketing hype.
Those 7 Lenses
The "iPhone 15 Pro and iPhone 15 Pro Max have three rear cameras with an equivalent of 7 pro lenses.," says Apple in its press materials. Well, hmm. That would be the new and improved Macro lens (which can now also be used on the ultra-wide .5 lens and 1x wide lens), the .5 and three other wides (24mm, 28mm and 35mm,) which are achieved with computational photography and cropping. There's a 2x 48mm portrait lens, while the 3x users of the iPhone 14 Pro Max got to know as the 77mm telephoto is now a digital, cropped offering that can only be accessed by pinching and zooming to get there instead of selecting the round button with the numbers. The last optical choice is the new and awesome 120mm 5x telephoto. (This is smaller than the 10x 220mm of the Samsung Galaxy S23, but in general, I think Apple's optics are sharper.) So, 3x vs. 5x? It's not that big a difference, and I think you'll appreciate having 5x more than you'll miss 3x.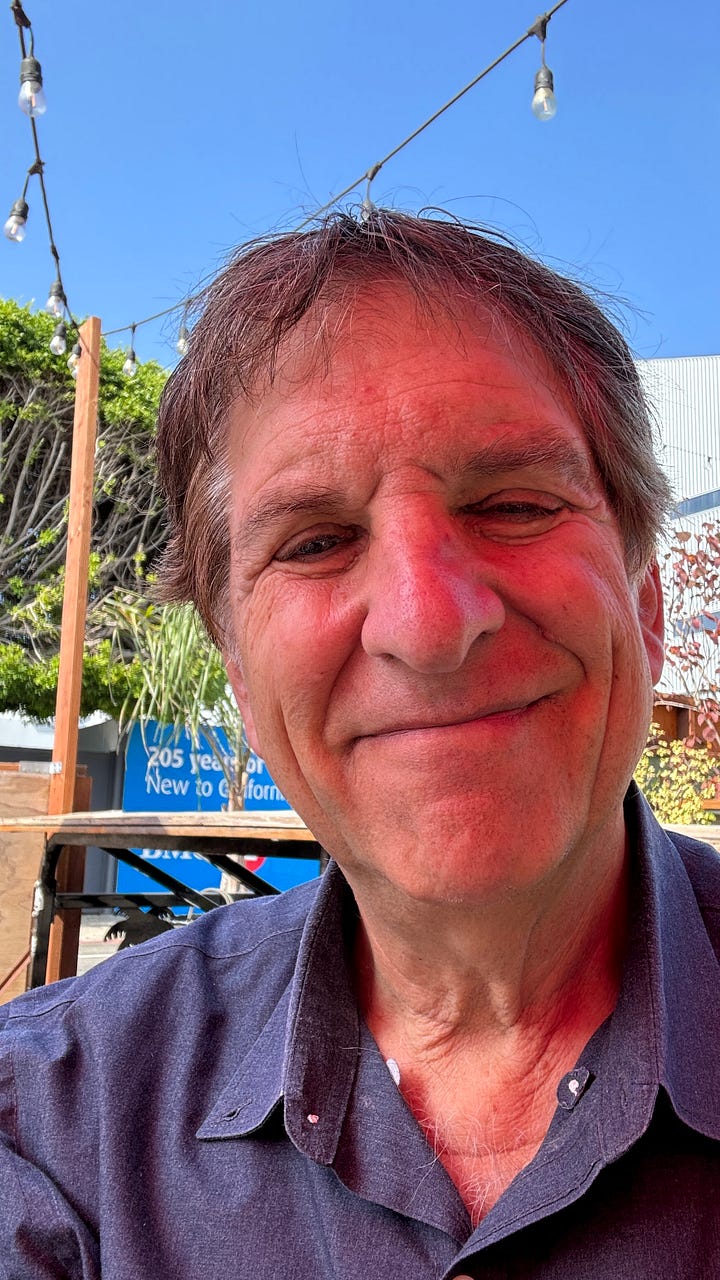 Portrait Mode
Many folks have turned to Portrait in the Mode section of the Camera app for several years to blur the background and make people look fantastic. On the new 15 models, you can take portraits (people or pets) directly from the Camera app without having to switch to Portrait, and apply the blur and lighting effects after the fact. Works as advertised, but Pro tip: not so if you shoot in RAW, which is a higher resolution, unprocessed photo.
USB-C and connecting to hard drives
Apple this year switched from the proprietary Lightning charging cable to USB-C, which to me is fantastic, because now I can connect the phone to external USB-C devices, like hard drives and thumb drives. This is very important to me, because I shoot so much footage for the PhotowalksTV series, and am constantly struggling with moving files around.
The idea of stepping into a hotel room at the end of the night, while traveling, connecting the drive to the phone and backing everything up this way physically, instead of enduring a painfully slow internet connection for online backup is music to my ears.
But exactly how does one do this?
Apple iPhones famously don't come with any manuals of any sorts, and I was thrown trying to figure out how exactly I could connect a drive.
Now it can be told.
First, know that you'll have to re-format your drive first (go to Utilities and Disk Utility) in applications on the Mac, and choose either exFAT or APFS as the format of choice, recommends Apple. I was using Mac Journaled, which is why my drive initially didn't show up.
Plug the drive into the phone, and open the Files app, click Browse and head to locations, where you should see the drive listed.
Now you can open the drive to add data to your phone. To do this, select the files you want, go to the Share menu at the bottom of the screen, and select "Export Unmodified Original," then create a folder for them on the drive.
Shoot ProRes and record directly to a drive
Apple's highest resolution video files are so big they can max out your iPhone within minutes, so Apple has a better idea with the new phones. How about recording directly in the ProRes codec to a hard drive? Great—but how exactly to do that?
Here you go: Connect the re-formatted drive (exFAT kids, are you listening?) to the phone, open the video app, and make sure ProRes is selected. Like magic, the words "USB-C" now appear on the bottom of the screen, and you're recording to a drive.
USB-C 3 cable for faster transfers
Apple's marketing: "iPhone 15 Pro is the first iPhone to support USB 3, for a huge leap in data transfer speeds and faster pro workflows than ever before," with up to 20X faster file transfers. Ahem, the fine print: the device does indeed ship with a USB-C cable for charging and transferring data, however, Apple is only providing a slower, USB-C 2 cable for this. For the fast stuff, we need the Thunderbolt 4 (USB-C 3) cable. Which Apple will sell you for $69.
Action button
The new button that used to be the mute button on the side of the phone can now be programmed for many things and I leapt for the camera option. Now, I can open the camera app and snap the shutter instantly, without having to swipe up and type in credentials. Setting the action was easy. Love it. However, the next time the movie usher tells me to silence my phone, I will have to remember to now open Control Center and click the bell instead for mute.
Livestream Saturday (today) at 10 a.m. PT
I'm hosting a livestream at 10 a.m. PT to discuss the new iPhone 15 Pro Max for photography and would love to have you stop by. Questions? Can't wait to hear what's on your mind. (If you can't make it, the broadcast will be replayed.)
Rich on Tech, 11:30 a.m.
I'll be on with my pal Rich DeMuro talking the iPhone 15 Pro Max camera on his radio show today. You can hear it live in Los Angeles on KFI radio, or use the iHeartRadio app to listen if out of town. Just search for Rich on Tech.
Thanks as always for reading, watching and listening! Let me know your thoughts, concerns, questions, etc., and have a great weekend.
Jeff
Thanks for reading Jefferson Graham's PhotowalksTV newsletter! Subscribe for free to receive new posts and support my work.