Discover more from Jefferson Graham's PhotowalksTV newsletter
Jefferson Graham's photo meets tech updates, Photowalk travel photography and videos and an occasional guitar tune.
Over 2,000 subscribers
Good Stuff!
Thanks Cris Bennett for 40 years
We all have our favorite places to eat, right? And I'm sure you're like me, in that you really, really miss sitting inside of your most frequented restaurants.
For me that place is called Good Stuff, and it's a staple of the South Bay area of Los Angeles. It is the restaurant that epitomizes the California Dream, the symbol that you know and love from my beach photographs.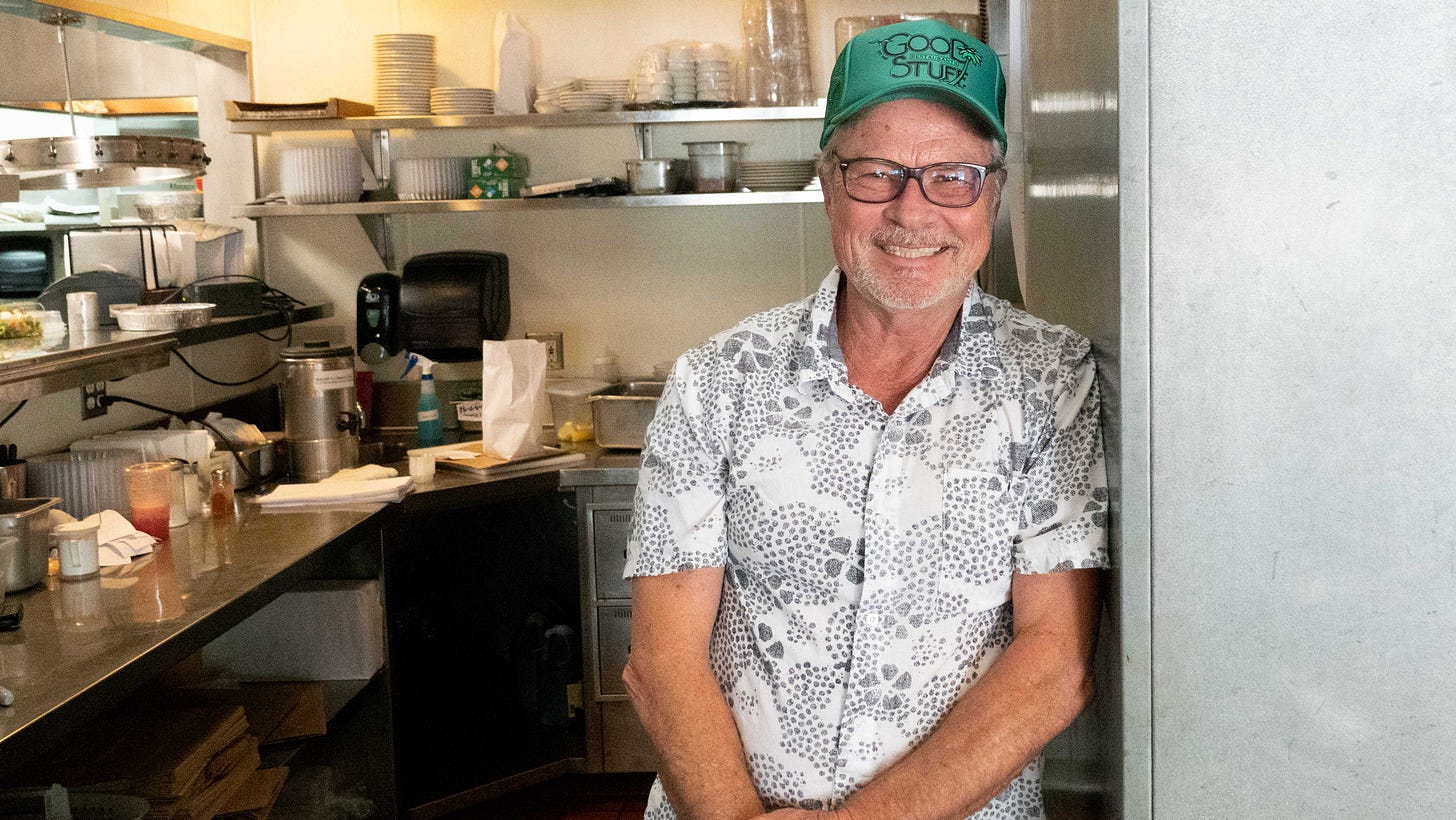 Good Stuff celebrates the sun, waves, sand, beach volleyball and the happy feeling everyone gets when visiting the beach. This happens especially when you sit on the outside Good Stuff deck in Hermosa Beach—which just happens to be re-opening today, for takeout only. Or in the beach themed restaurants in El Segundo, Palos Verdes and Redondo Beach.
Plus, there's great stuff to eat—salads, burgers, Mexican, breakfast fare for the folks who like casual hangouts.
I have two favorites: "Cris' Breakfast Salad," named after owner Cris Bennett, which is lettuce, eggs, turkey and such, or the "Ole" salad, featuring blackened chicken and tortilla strips. Love their wraps, burgers, pretty much everything.
Good Stuff for me provokes many, many memories of great time. For the past umpteen years, I've been having weekend lunch at Good Stuff with my mom, usually in Hermosa, unless it's summer and crowded, which would have us shift to the Redondo location. I at one time used to make it a Friday afternoon tradition to always have lunch at Good Stuff, back in the days when I could afford to take a longer lunch. (Remember that long gone era?)
And I have photographed Good Stuff for years, which is how I got to know owner Cris Bennett.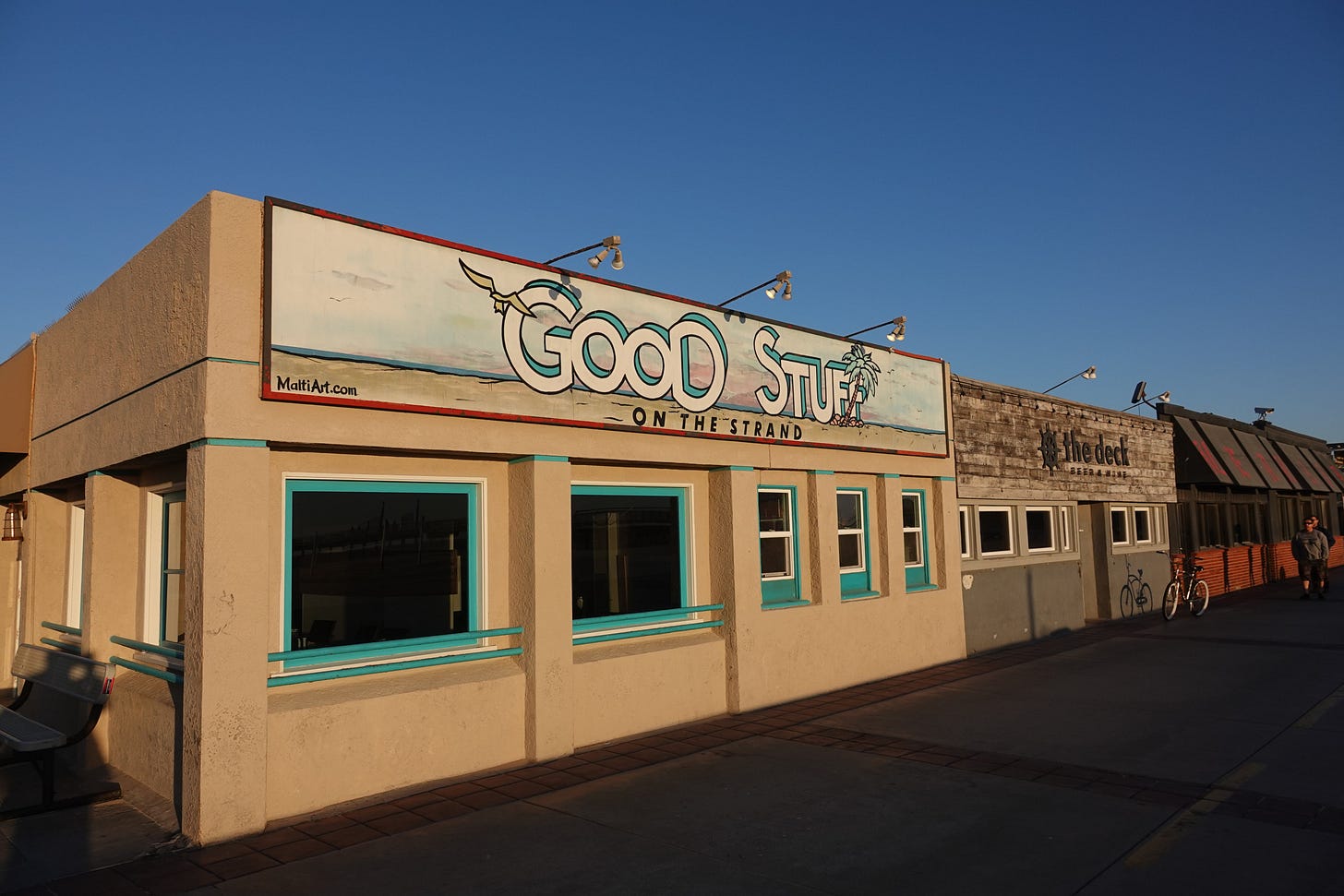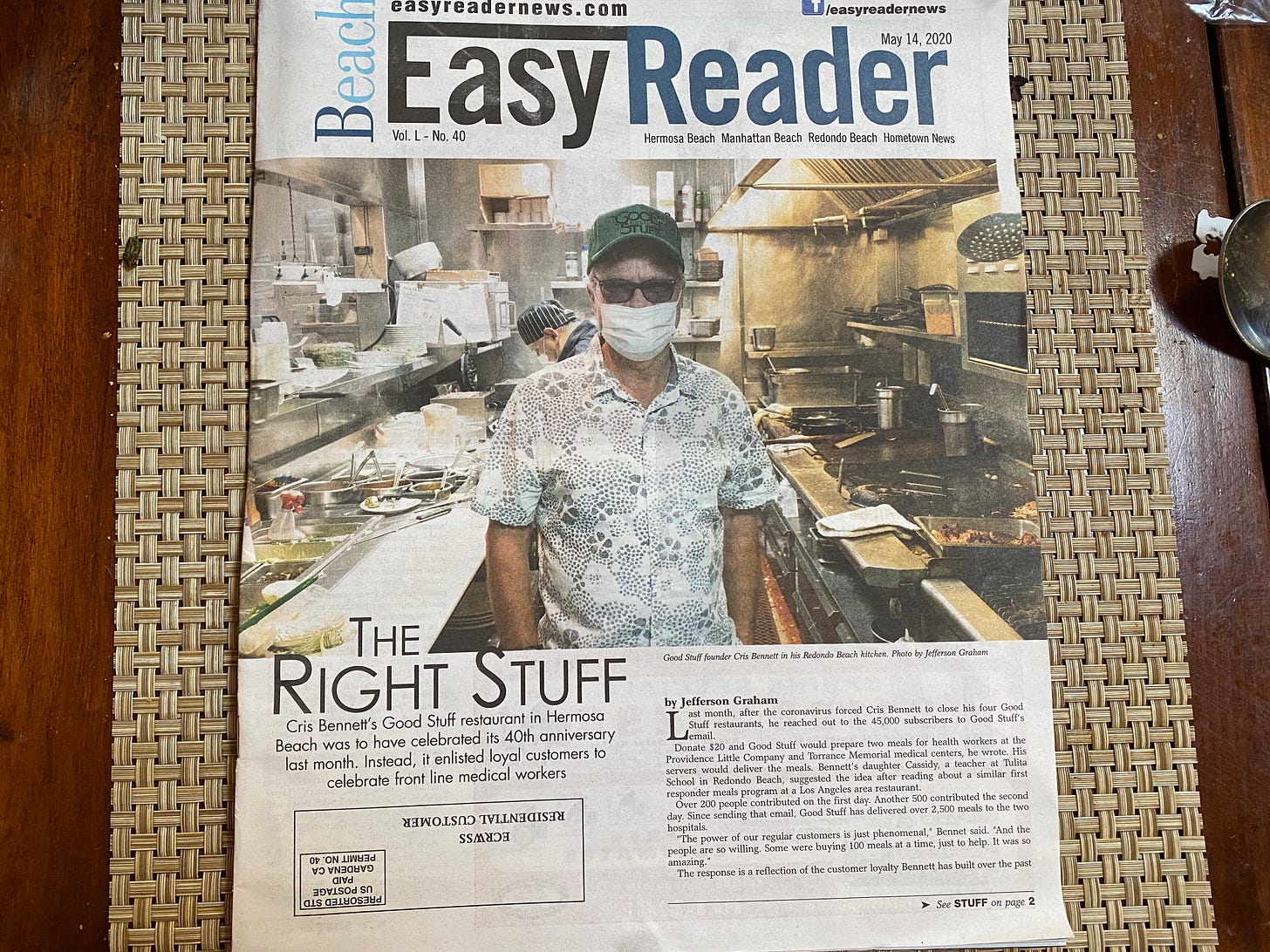 I got to have an extended chat with my old friend Cris recently, which I wrote up for my community newspaper, the Easy Reader.
Cris is celebrating his 40th year in the South Bay, so we talked history, the unlikely success of any restaurant lasting this long, and the challenge of operating during as pandemic.
Naturally, I made a video of our chat, part of the Photowalk "Rest Stop" series. It's directly below.
Please take a look. And let's all wish a big happy anniversary to Cris and the Good Stuff family.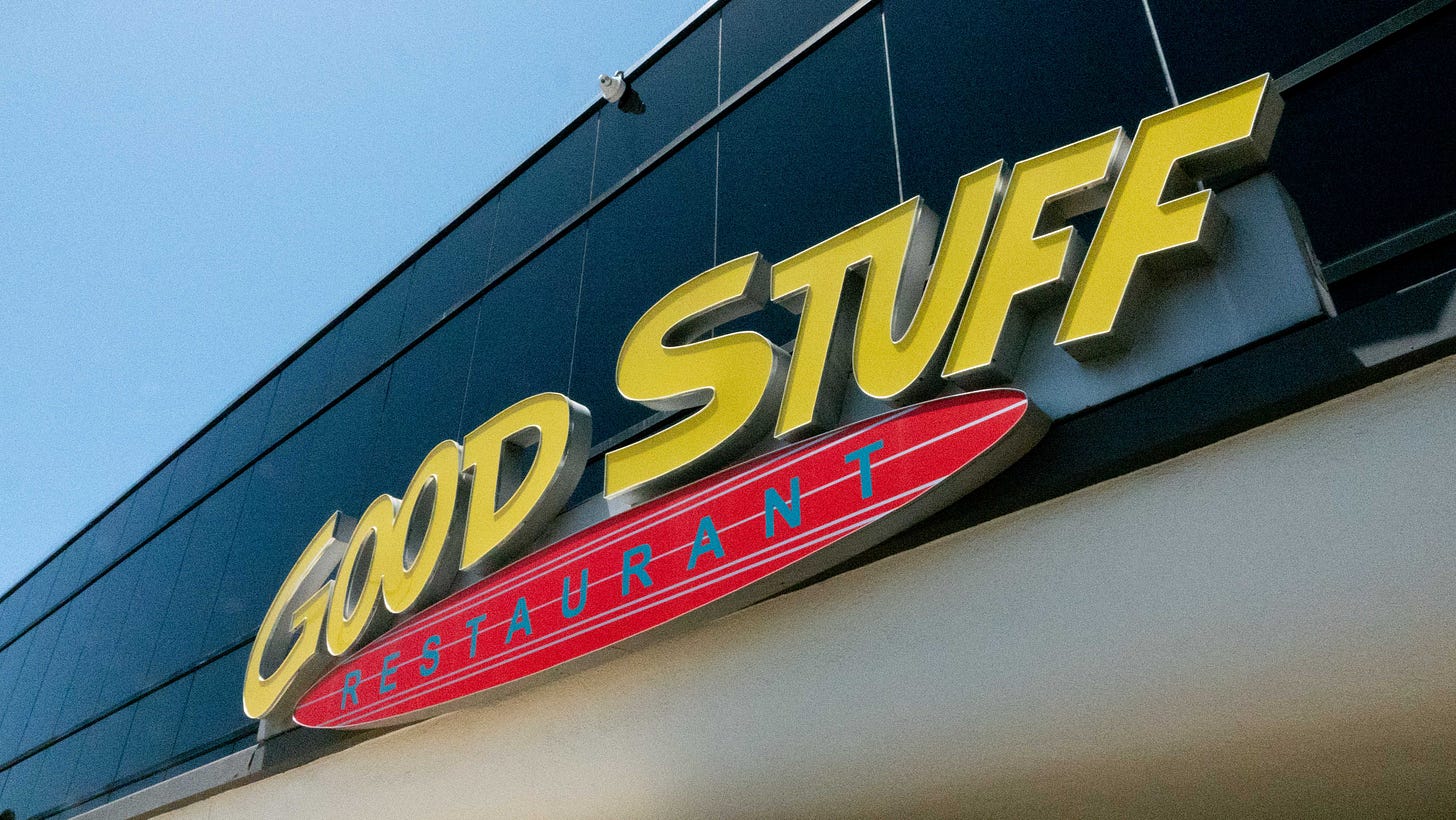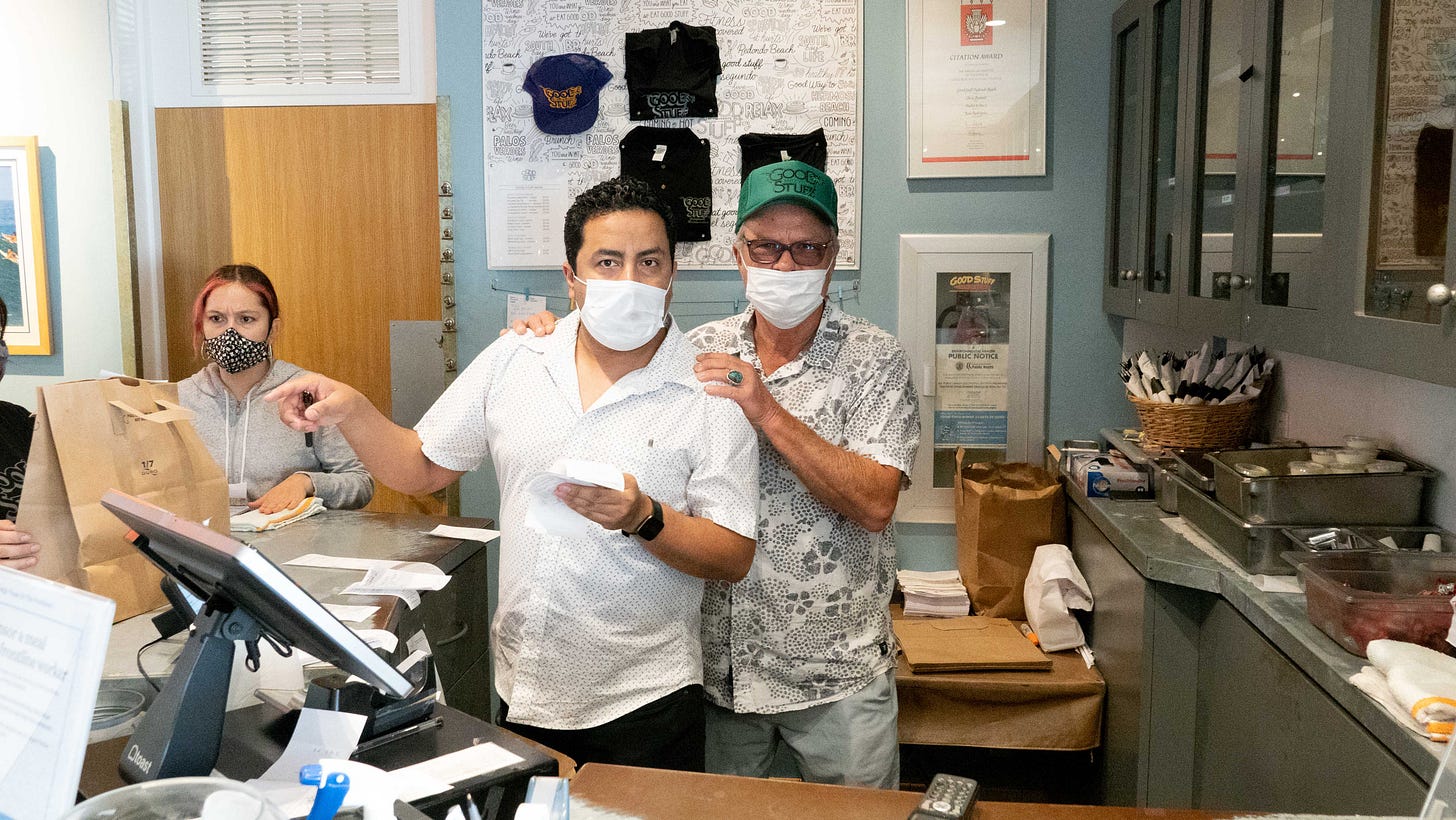 Tweets of the week
Speaking of the beach, it was so great to be out there Wednesday morning and see the sands back open again! Even if we do have to wear masks.
This week's musical selection:
Tenderly, the 1946 jazz standard by Walter Gross and Jack Lawrence, is one of my favorite ballads of all time, and I love playing it on my vintage Gibson ES-125. Some of the best recordings were made by Billie Holiday, Ella Fitzgerald and Louis Armstrong and my inspiration, George Benson.
Hints
I'll have some huge guitar news in the next edition, and an even bigger Photowalk announcement coming up. To say that I'm really excited is an understatement of some big things about to happen. I'll fill you on it soon!
Thanks as always for watching, reading and listening.
Jeff