Discover more from Jefferson Graham's PhotowalksTV newsletter
Jefferson Graham's photo meets tech updates, Photowalk travel photography and videos and an occasional guitar tune.
Over 2,000 subscribers
Judging from the reaction I get to the beach photos I post on social media, I'm not the only one who misses walking on the sand and experiencing those majestic Pacific ocean waves.
I miss the nearly daily morning routine of going down to the sand, and I know my mom does too!
So I thought it would be fun to go through the Photowalk archives this week, and pull out some of my favorite shots of pre-COVID Manhattan Beach, before the Pier was locked, when you could frolic on the sand and in the surf without a lifeguard nicely asking you to leave.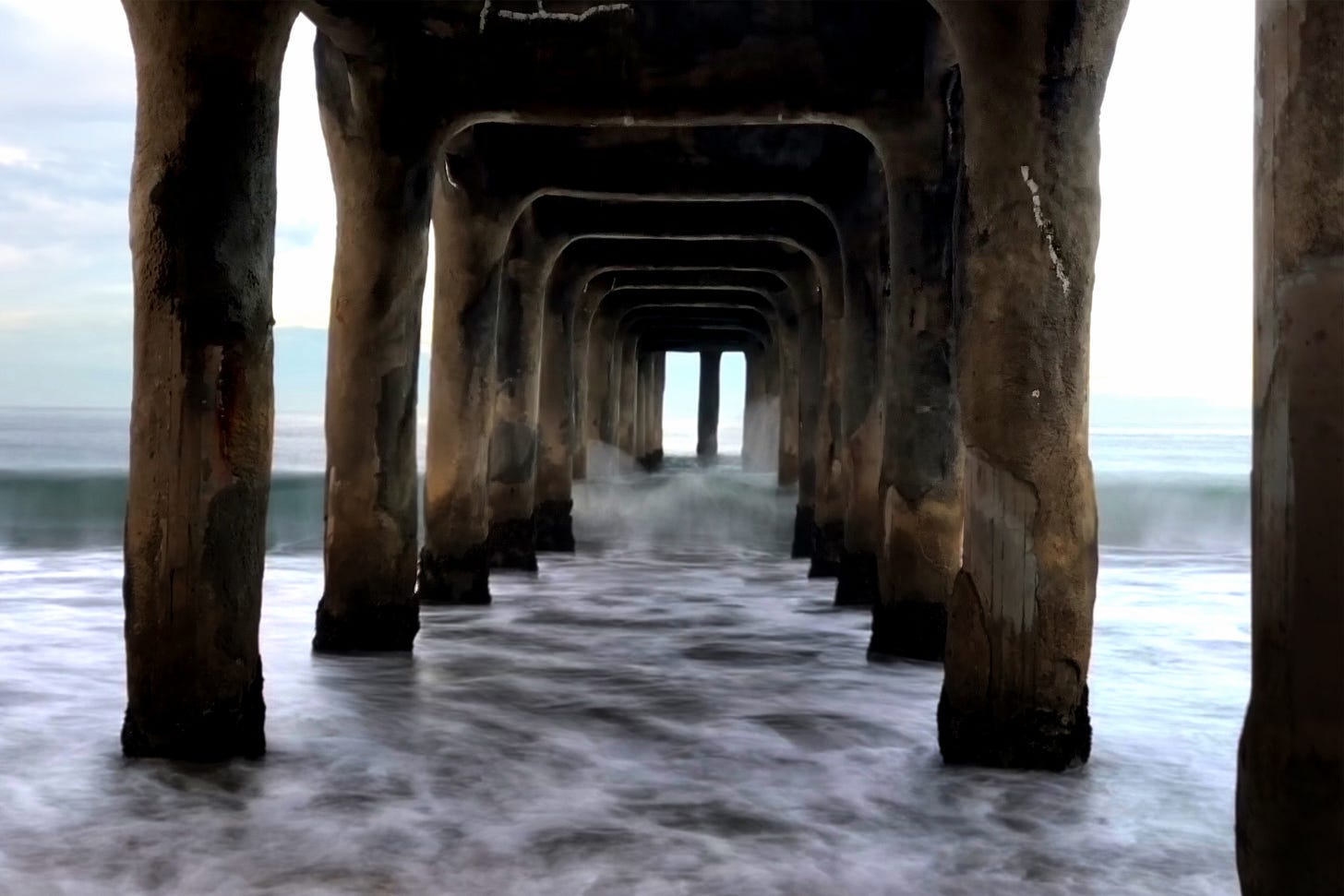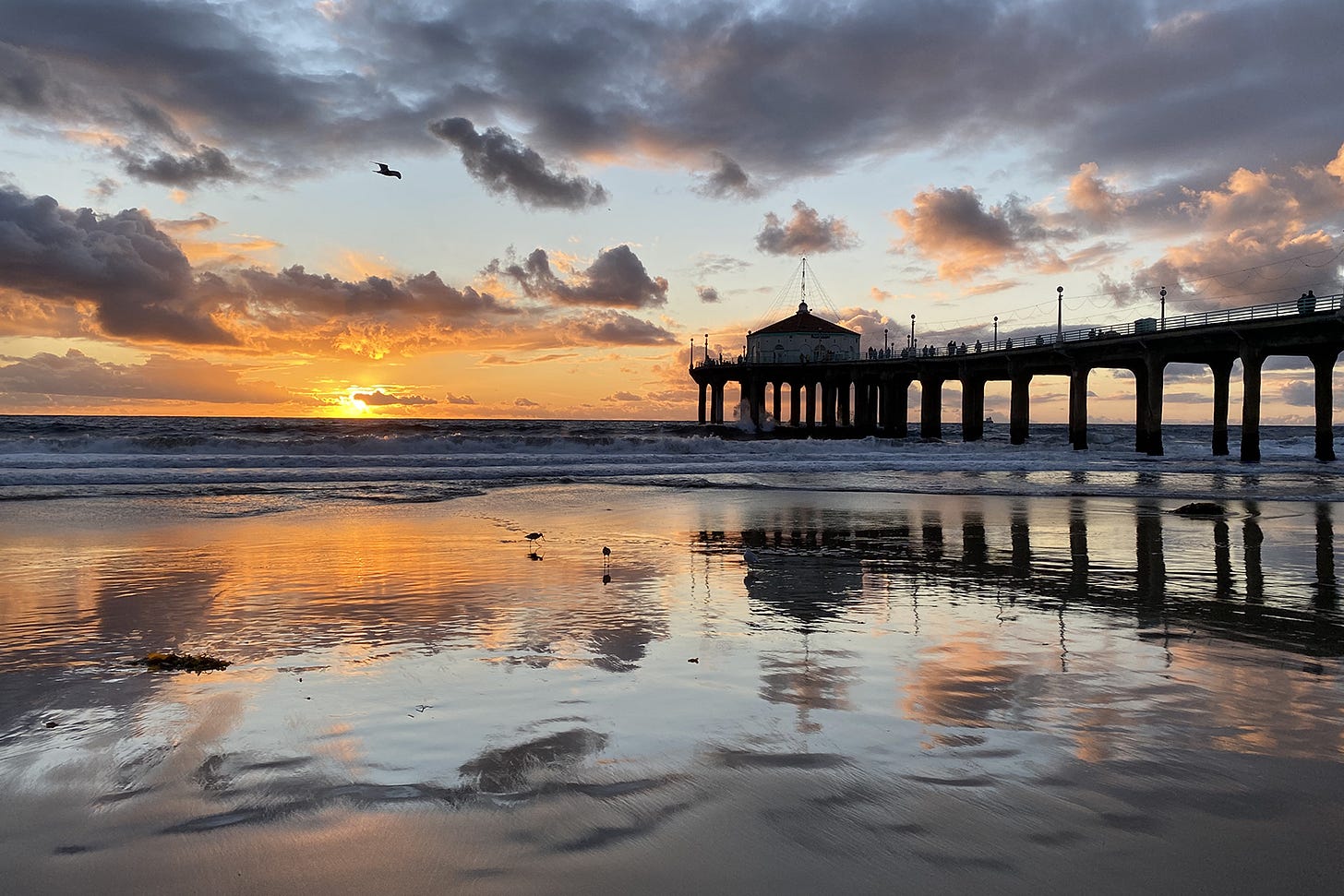 My best guess is that pressure from the public is mounting and we'll start to see the Los Angeles county beaches reopened by May 1, at the latest. In the meantime, thanks to video, we can get a virtual fix, right?
For those who don't know, Manhattan Beach is a little city of 35,000 residents, three miles from LAX and an hour's drive, in normal times, to Los Angeles. I say "normal," as traffic is so light right now, thanks to the quarantine, that you can get to DTLA now in about 20 minutes. We drove to the Marina del Rey the other night to visit the greatest Indian restaurant in the world (take-out only), and did it in 15, when it would normally be at least 30. (Big shout-out to JC and Akbar!)
The only positive to come from lockdown!
To accompany the Manhattan Dreams video, I also cut some pure ocean wave videos from some of our favorite #SoCal cities. No talking, no music, just the ocean.
Please take a look!
Tweet of the week
I got back into doing live video again this week, after an absence of a few years. Thanks to Max Haot from Mevo for re-igniting the live passion with the re-emergence of a new and improved Mevo camera model. (What's a Mevo, you ask? Click the link below. I tell all.)
I also went live on YouTube with photographer pal Rick Sammon, via the Belive.TV online platform, which allows you to insert photos on screen while chatting. Rick and I chatted about the joys of photographing in New Mexico. (This was not photographed with a Mevo, but the Logitech Brio webcam, because the Mevo isn't supported by BeLive. Yet.)
Rick wrote the dream book about photographing Route 66. I was jealous then, and still jealous now!
I love going live because it affords you the ability to enter someone's home, one on one, from your home to theirs, you can bring in viewers for instant feedback, and lazily, not have to set up a camera, line up your shot, record it and then edit it later. Get it right on the first take!
As always, thanks everyone for reading, watching and listening! I'm on a quarantine furlough this week from the day job, so as I'm sure you know, I'm going to be really busy photographically!
I'll fill you in next weekend.
Don't forget to like, share and all that good stuff.
Jeff