Melrose Avenue in a pandemic
It's not pretty, but it's still rather entertaining
Those of you who live in Los Angeles might recall when Melrose Avenue was the hippest, trendiest block in the city and immortalized on 1990s TV with the Aaron Spelling TV series "Melrose Place."
It was full of vintage stores, comic and record shops and the wildest people you'd see in L.A. You didn't have to buy anything. You could just walk down the streets and be entertained.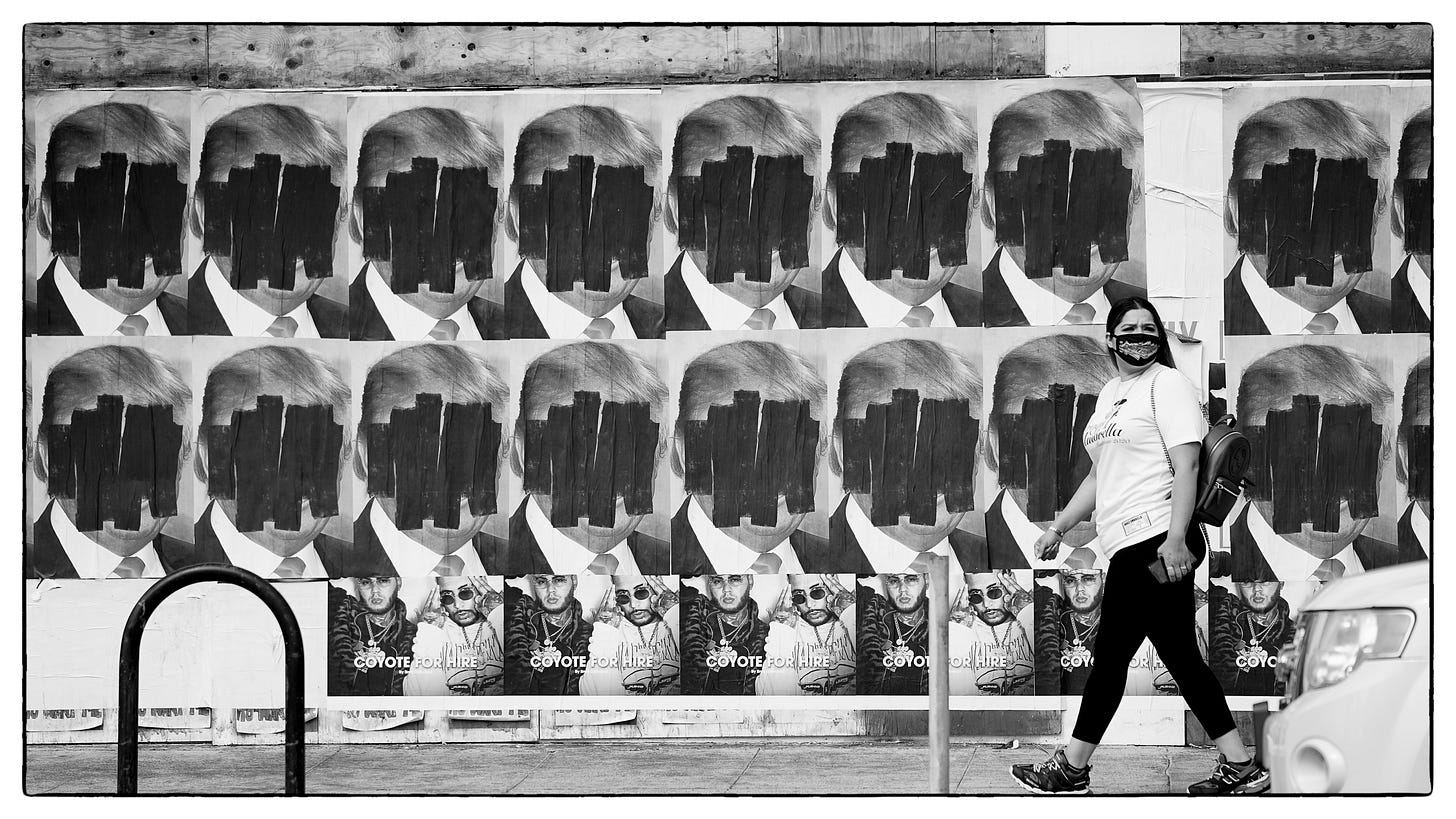 This weekend I left the quarantine bubble of the Los Angeles South Bay for lunch with my friend Peter in Hollywood and afterwards, brought the Photowalk cameras out for a visit to Melrose.
Oh boy.
So much has changed.
If I had to describe what I saw in a sentence, it's this. Tattoos, sneakers, marijuana shops, wild, eccentric clothing stores with security guards outside and long lines to get in, even wilder street art and people selling sneakers on the street.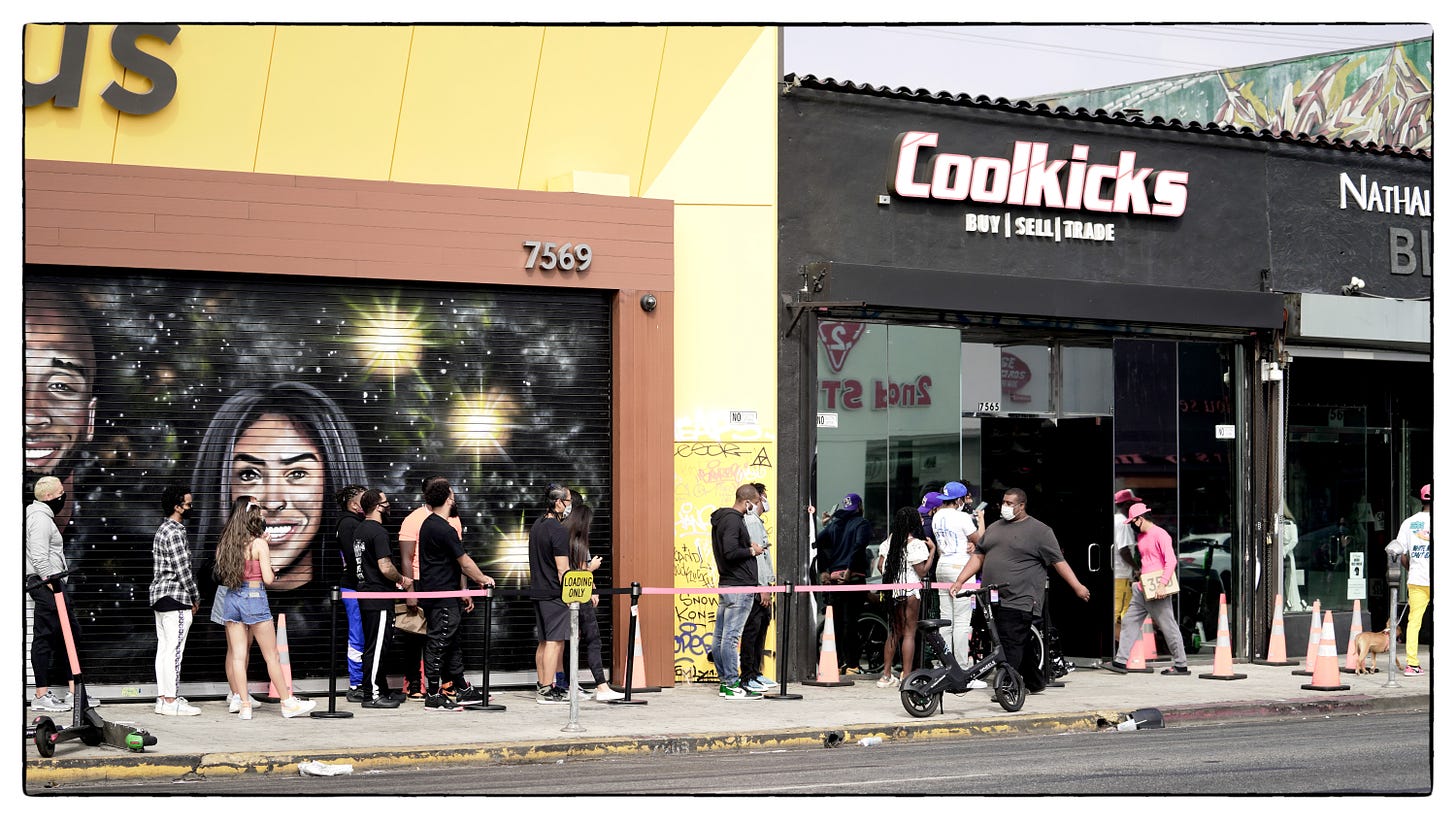 And a whole lot of boarded up, empty and too sad storefronts.
Of course, there's a reason for this, which I forgot about at first. Melrose had been hit badly by the May riots that followed the killing by the Minneapolis police of George Floyd. One of the sneaker stores, Tony K, is even staging a Go Fund Me campaign for help. https://www.gofundme.com/f/rebuild-melrose-ave (Coolkicks, shown above with the long line, also got looted, according to the L.A. Times.)
Melrose aparently has a ways to go to get back to her ol' self. Still, a security guard I spoke to told me that the top product on Melrose, sneakers, were selling for hundreds and hundreds of dollars, which seems so strange on a street with so much blight. But what do I know? I'm happy with my $75 Skechers.
Melrose runs north of Beverly Boulevard and south of Santa Monica Boulevard and is generally more upscale on the other side of Fairfax, heading to the Beverly Center. Even during a pandemic and hard times, it's still an entertaining weekend daytime visit, especially for street photography. For more highlights from the Photowalk, please check out the gallery here: https://www.jeffersongraham.net/Jefferson-Graham-Portfolio/Travel-Photography/Los-Angeles/Los-Angeles-101020/
Tweet of the Week
Good morning, Manhattan Beach!
The Duke
Who's the greatest jazz composer of all time? It's really hard to argue with the 1,000 plus song output of Edward Kennedy Ellington, otherwise known as the Duke. From "Solitude," "Sophisticated Lady" and "East St. Louis Toodle-Doo," to "Satin Doll," "Mood Indigo" "Black and Tan Fantasy" and "It Don't Mean a Thing," the list of jazz standards from the Duke library is just mind-bongling.
I've been a Duke fan most of my life, from his amazing Big Band, to the solo piano album recorded for Capital in the 1950s and the piano/bass duet with Ray Brown ("This One's for Blanton") in the 1970s. Versatile? Jazz standards, classical, concertos and music for ballets. (Ten best Ellington albums? Here's one take. What's your pick?")
Below is my take on "I'm Beginning to See the Light," a swinging 1944 composition by Duke, trumpter Harry James, sax master Johnny Hodges and lyricist Don George. I was very lucky to have the amazing gaffing and camera talents of the one and only Sean Fujiwara on this one. Thanks again Sean!
Tech update:
This is a huge week for tech. Four new iPhones are set to be released Tuesday and the Zoom video conferencing service is staging "Zoomtopia" to show off new features coming to Zoom.
And if you're ready to start spending money, Amazon would love to accept your orders on Tuesday and Wednesday's Prime Day. In past years, I found the offerings to be pretty meh, unless you were just in the market for Amazon products. This year, so far, I'm seeing some major bargains. We'll see what happens on Tuesday!
Meanwhile, if you missed any of my articles this week, here's a recap:
My annual letter to Apple's Tim Cook
How do you feel about ALL CAP posts?
Review: Google's awesome sounding new $99 speakers
And that's a wrap for the latest edition. If you enjoyed it, please let me know with a heart, a like, a reply, etc. And tell all your friends to subscribe. Tuesday, many of you will all probably be wondering if it's time to get a new iPhone. I look forward to your questions!
Keep smilin'
Jeff