Discover more from Jefferson Graham's PhotowalksTV newsletter
Jefferson Graham's photo meets tech updates, Photowalk travel photography and videos and an occasional guitar tune.
Over 2,000 subscribers
Morning surf
A surfer in the foreground adds so much, right?
Hi again everyone!
Like my friends Rich DeMuro, Susan Portnoy and Lance Ulanoff, I too apologize for not being in touch with the frequency of pre-COVID.
Because beyond the epic trips to the Oregon Coast and Morro Bay in June, I've been pretty much housebound—how to Photowalk newsletter that? Mostly, however, I've been working on a mammoth video editing project for the bigger and better edition of Photowalks coming later in the year.
But since we're talking Photowalks, mornings in July (and August) at home were pretty epic too, with a great run of low tide, making the early A.M. more inviting than usual. (I'll take walking on hard sand over soft sand any day, you?)
Let's put it this way: very few people out there and we have the beach to mostly ourselves. There are serious perks to waking up really early and getting out before the throngs.
It's been fun catching the AM Manhattan Beach surfers against the water, Pier and Strand. Because let's face it—beach shots just look way better with a surfer in them, don't you think?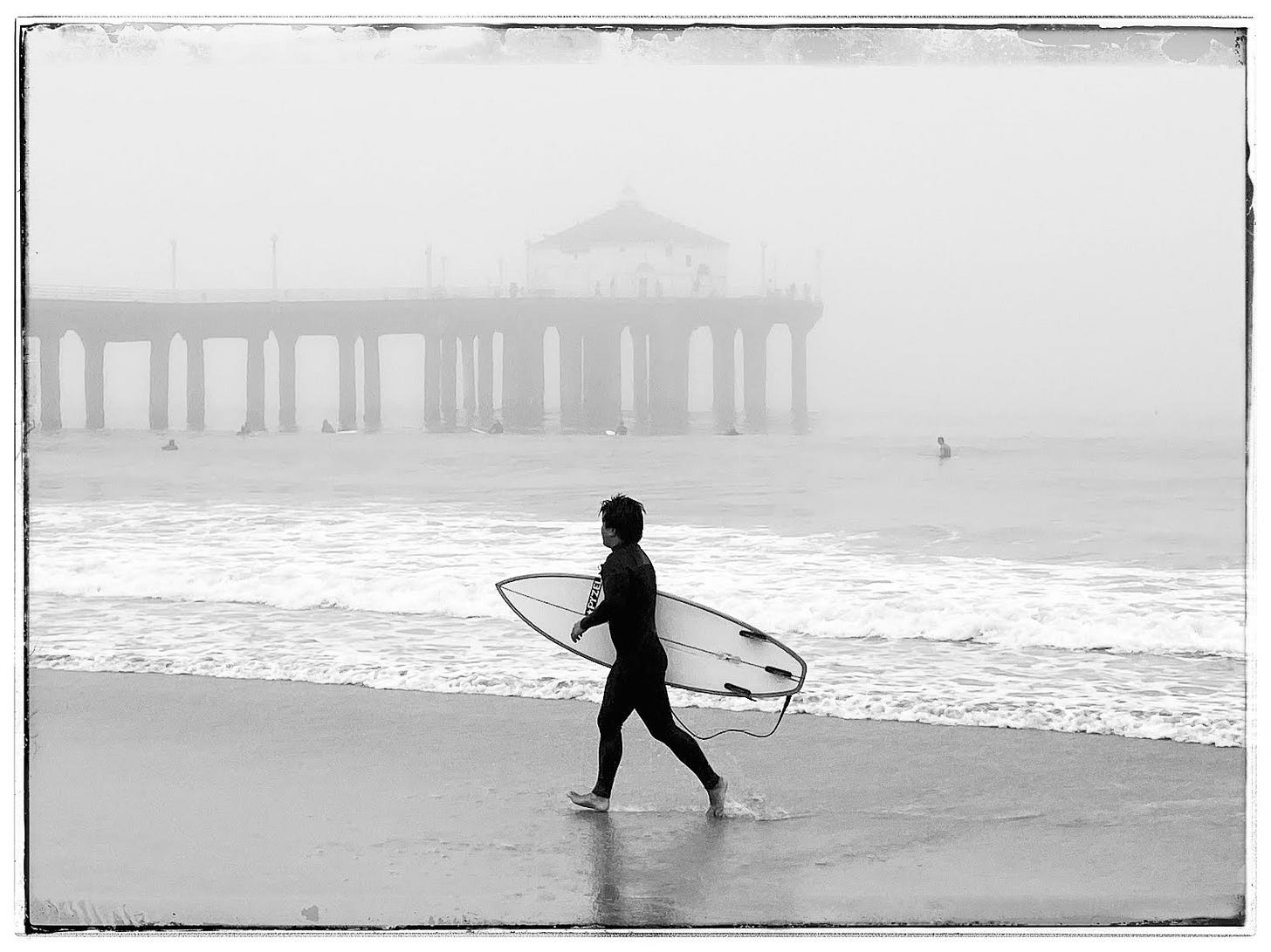 The basic photography rule: something in the foreground makes the background look way more interesting. Witness below and above. Which one really catches your eye?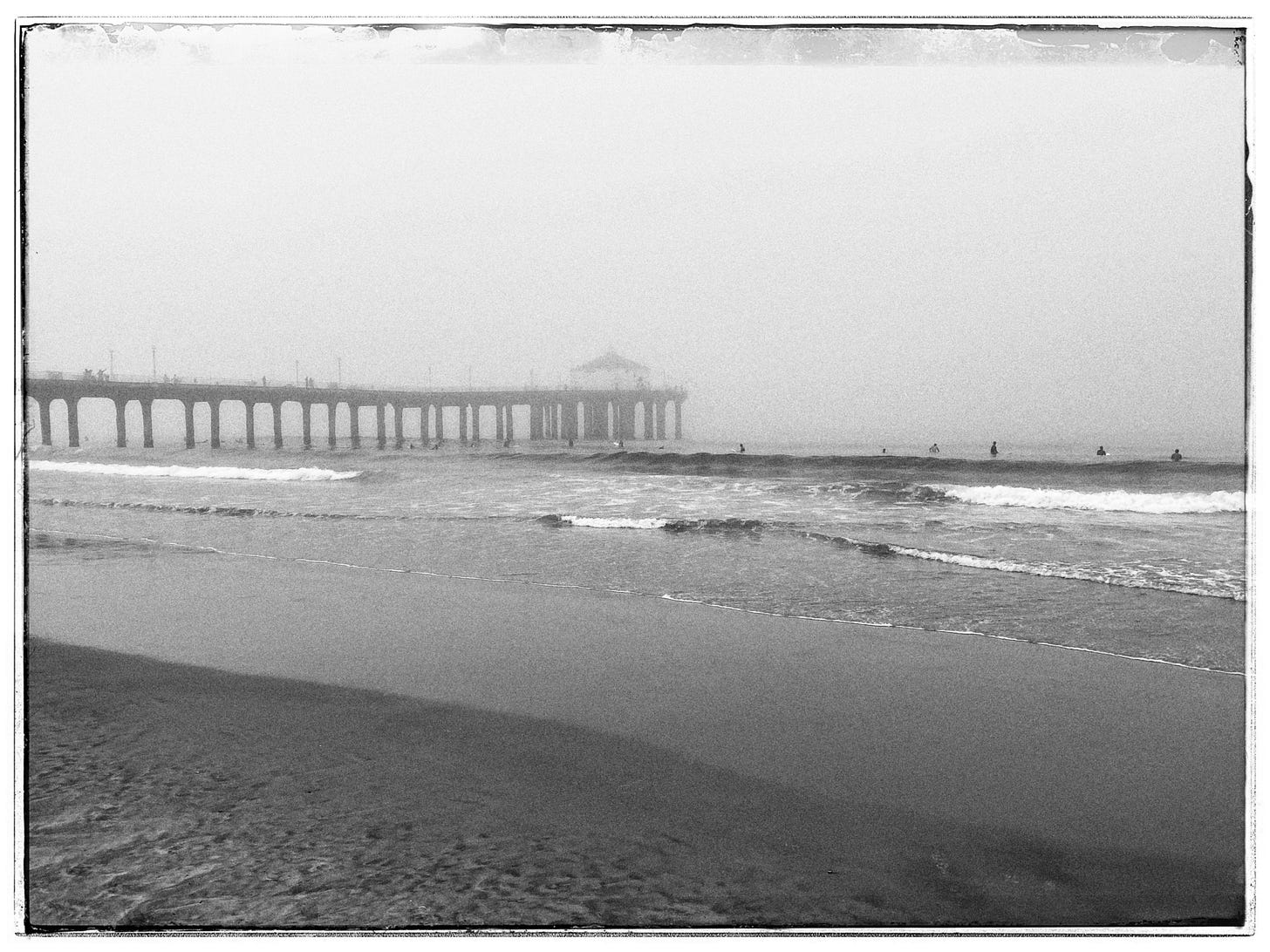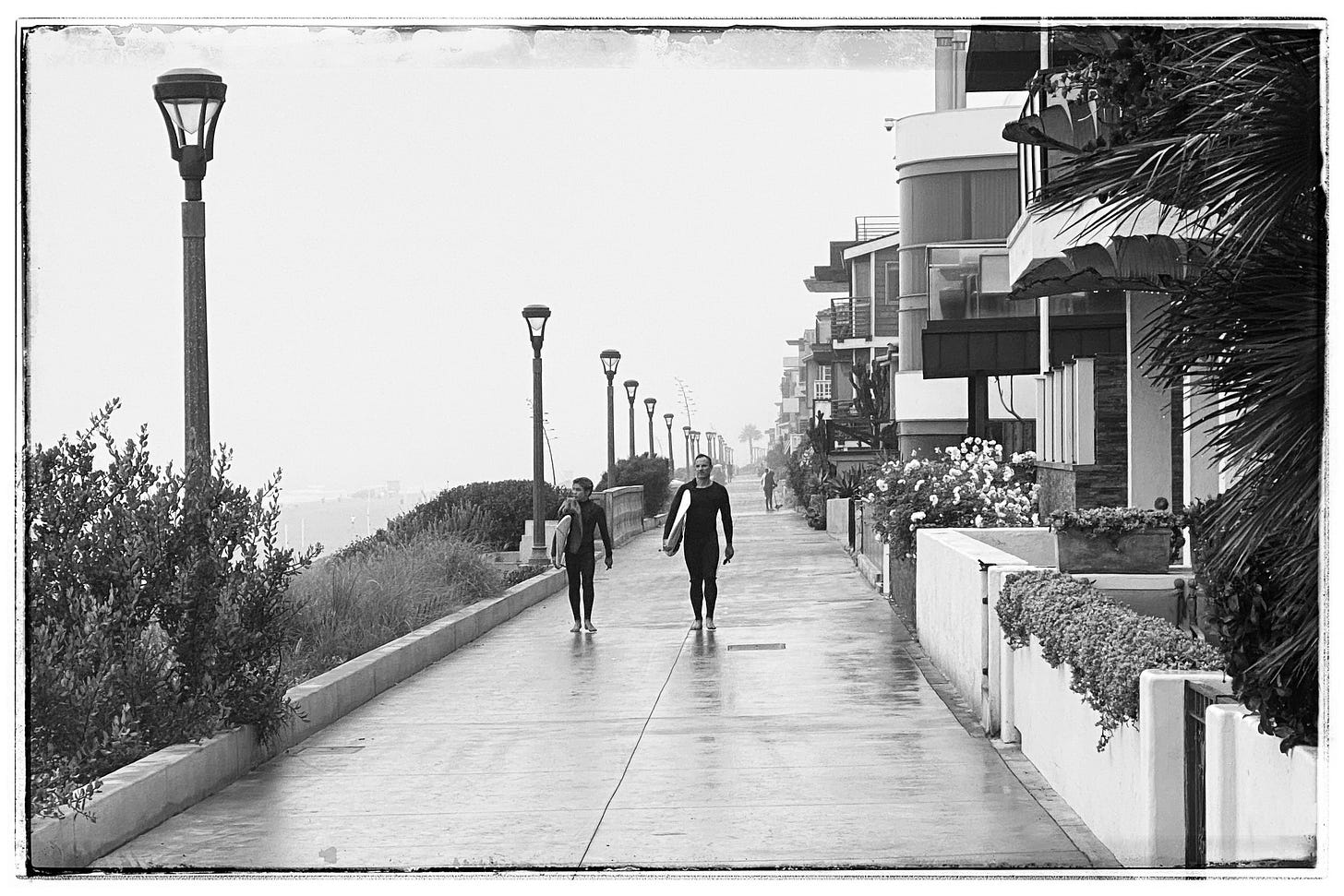 The same goes for an early morning shot on the Strand, the ocean and those glorious reflections as well. Take a good look at any promo brochure for a beach town, and you'll see the surf shot prominently displayed. Even for those who don't surf, it just screams, the beach, right?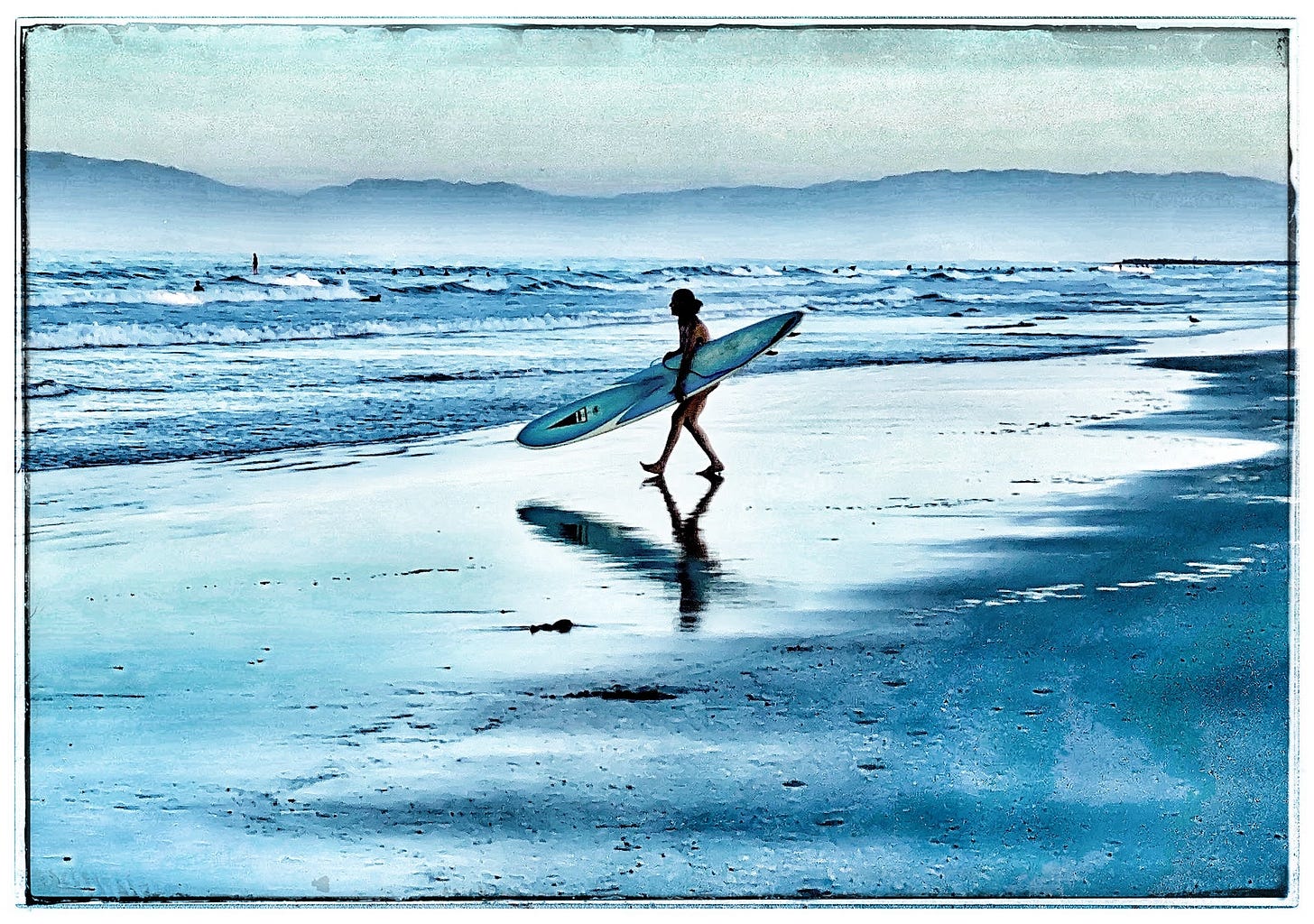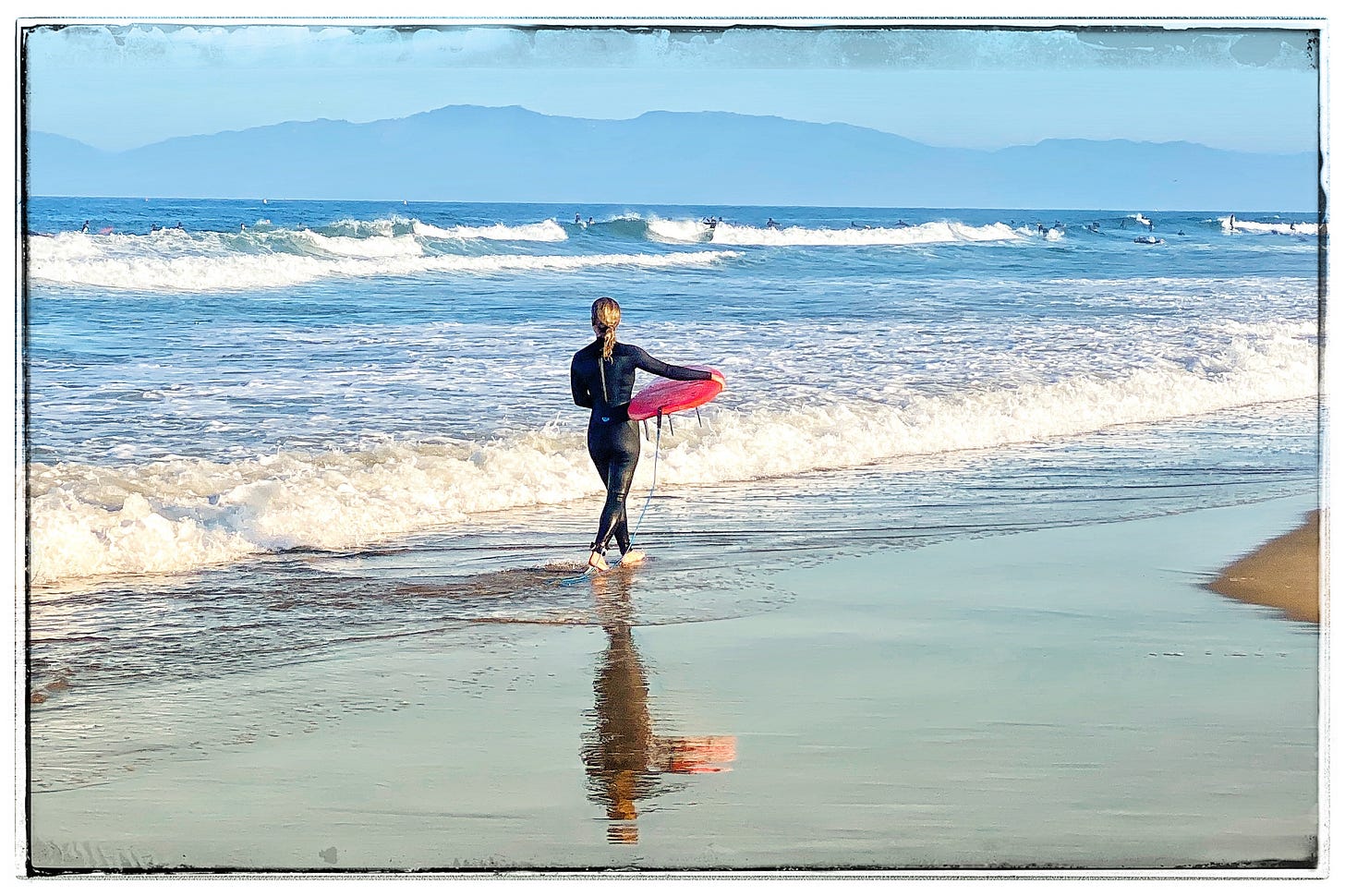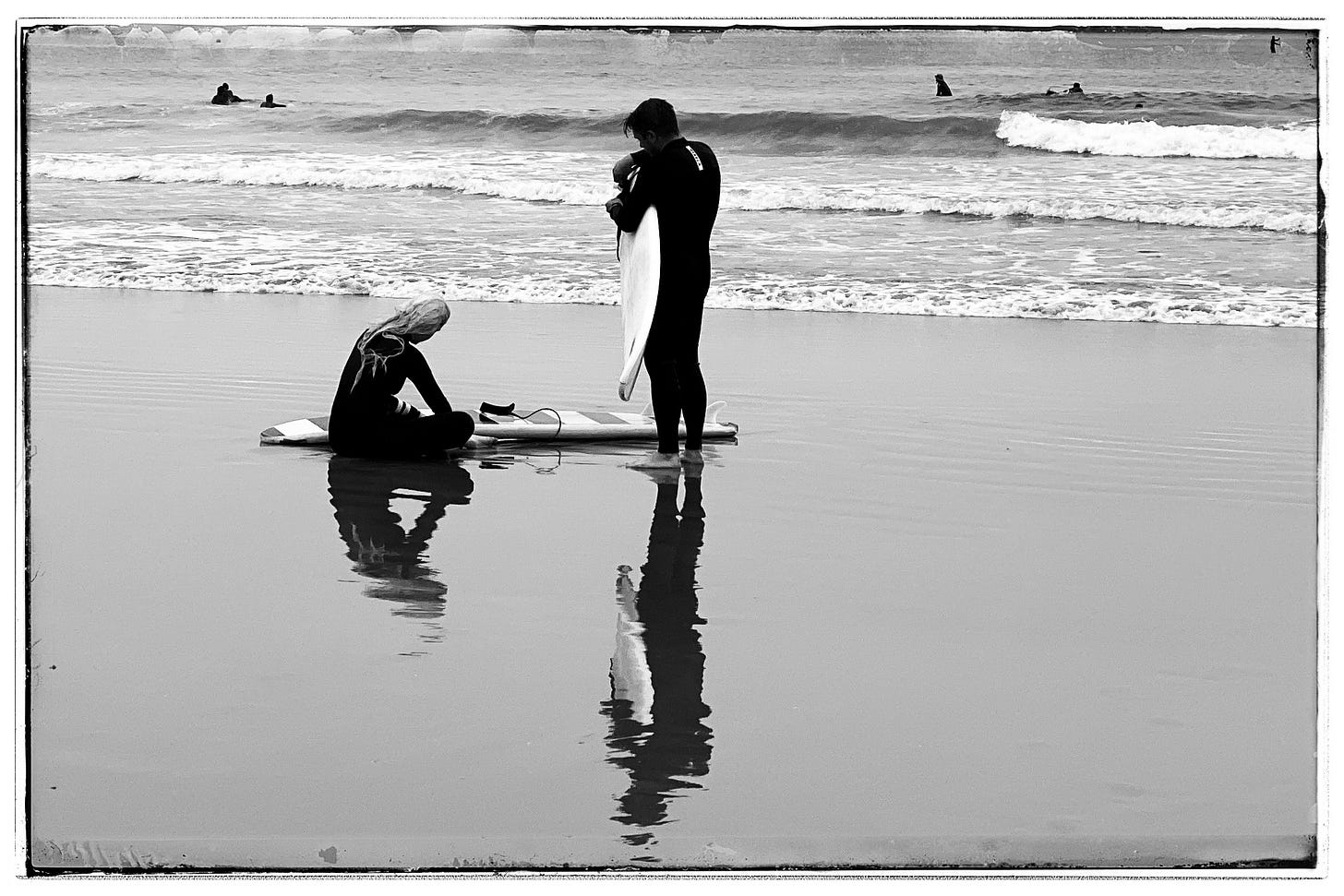 Finally, some flying birds, as seen below, are always nice too, right? (All photos taken on iPhone 11 Pro, and processed in the Snapseed app.) You can see more of the morning photos on my website, where, if you're so inspired, prints are available for sale, direct to your home!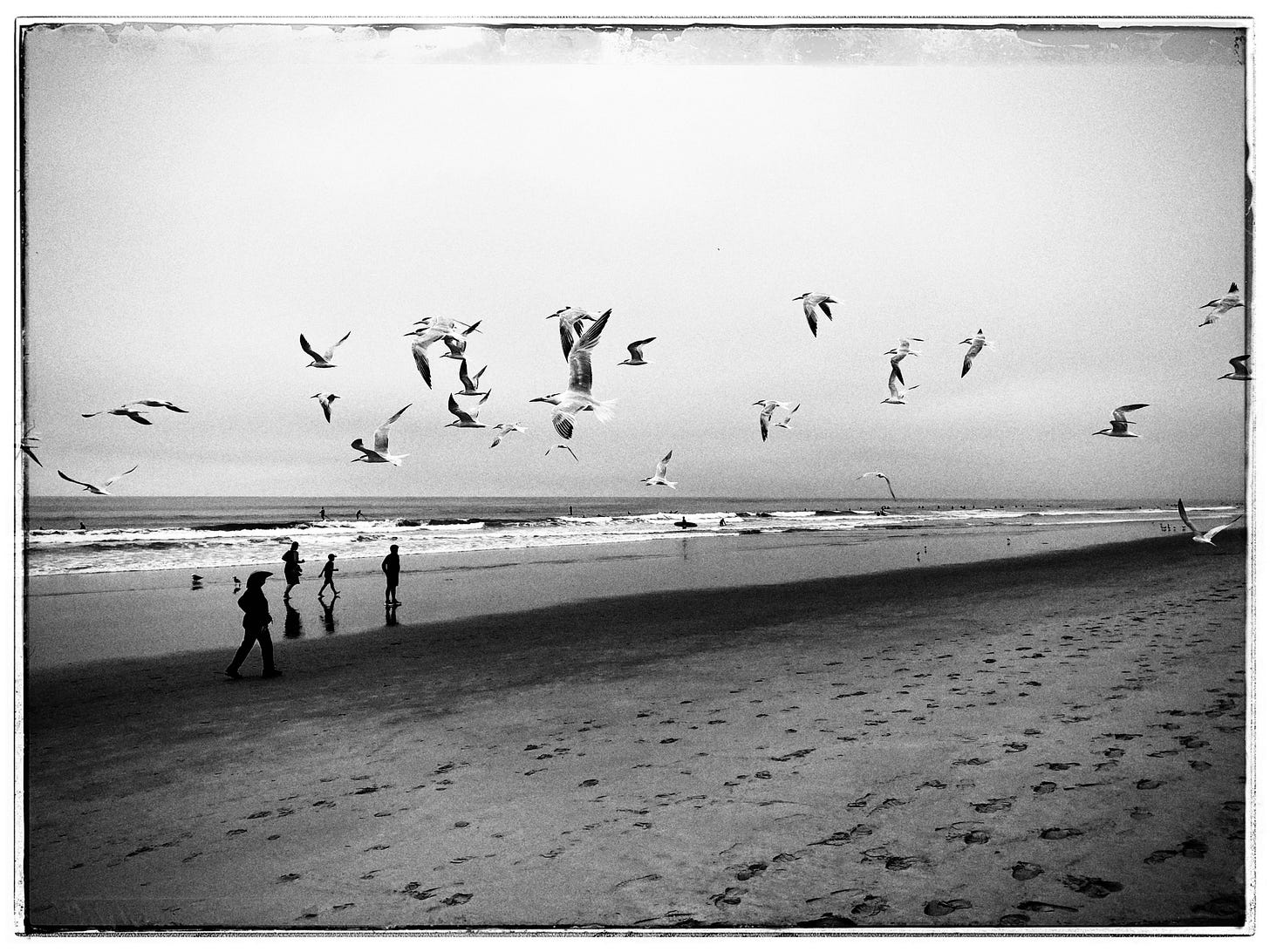 As you read this, hopefully early, I'll be out there again this morning, aiming to pick up a few new angles on what's expected to be a glorious August a.m. I'll report the results back to you real soon.
Tweet of the week
Your musical pleasure. Happy to oblige.
The latest tech updates
I've tried to keep the Photowalk newsletter and my day job separate, just because, but what the heck—I've done lots of great work lately, and would love to show you some of the recent articles as well.
If you're looking for a new phone, and don't want to spend $1,000, I can point you to one that's almost as good as the iPhone 11 Pro, but sells instead for $349. The only catch: you're going to get one camera lens instead of 3. Can you live with that?
The big tech execs went to DC recently for five hours of political theater that showed how out of touch our elected officials are. They seemed clueless, and only interested in performing for the camera, not asking substantive questions. Had they asked, I easily came up with ten good ones I would have liked to have seen posed.
If you're constantly running out of storage, like I am, and would love to own a reliable hard drive without moving parts that you can bring anywhere without fear of failure, I found a fantastic little 2 terabyte wonder from Western Digital that I fell in love with.
The CES show, that annual January rite of torture (massive crowds, super long days) where we get to see the latest gizmos and gadgets, has surrendered to reality, by canceling the physical show for 2021. The new deal: four days of an online presentation. How to make it interesting? I have some ideas!
I hope, I mean, I wish, I mean….
That's it for today's installment. I'm thrilled to be back and it's my wish that you enjoyed getting the newsletter. I say "wish" because if you follow me on social media, you know that I believe the most overused expression these days is "I hope," as in, "I hope you're well," or "I hope this e-mail finds you well," "I hope you're having a great day," or my favorite, "Hope you're well and staying safe."
So actually, I have to take back the wish, because I hate to think that so many people are hoping things for me. Or wishing.
So I don't want to pass on any of my hopes and dreams on you. Instead, how about a heartfelt, good ol' thank you for taking a read?
In Manhattan Beach this week, a woman tossed a cup of coffee in a dude's face because he refused to wear a mask.
I have a better idea. Keep walking, stay away from idiots who put your safety at risk, and if you're looking for a great place to escape them all, all you have to do is wake up early.
You know where to find me, right?
Jeff